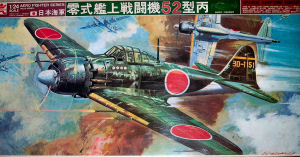 Bandai 1/24 A6M5 Zero Type 52 (Zeke) Kit First Look
By Ray Mehlberger
| | | | |
| --- | --- | --- | --- |
| Date of Review | July 2007 | Manufacturer | Bandai |
| Subject | A6M5 Zero Type 52 (Zeke) | Scale | 1/24 |
| Kit Number | 38507 | Primary Media | Styrene |
| Pros | Nice detail, easy construction | Cons | |
| Skill Level | Basic | MSRP (USD) | Out of Production |
First Look
The most famous of all Japanese aircraft possessed the unique distinction of being the first carrier-based fighter ever to out-perform corresponding land based machines. It was also a singularly unpleasant shock to U.S. and British staff, which had apparently never studied the behavior of this fighter in China or even discovered its existence.
It was designed by Mitsubishi to meet the severe demands of the 1937 Navy carrier-based fighter specification. The Navy was also seeking a successor to the A5M "Claude". Demands included a speed of 500 km/h (311 mph) and armament of two cannon and two machine guns. Under team leader Jiro Horikoshi, the new fighter took shape as a clean, efficient – but lightly built aircraft with outstanding maneuverability. With a more powerful engine it was accepted for production in 1940, the Japanese year 5700. Thus it became popularly known as the Zero-sen (type 00 fighter). To millions of it's enemies, it was simply the "Zero".
Before official trials were completed, two squadrons with 15 aircraft were sent to China in July 1940 for trials under operational conditions. They eliminated all opposition, as forcefully reported to Washington D.C. by Gen. Claire Chennault, commander of the Flying Tigers volunteer force. His warning was obviously "FILED" before ever being read. More than 400 had been delivered by the time the A6M2 version and the chopped-wing M3 version appeared at the Pearl Harbor attack.
During the subsequent year, it seemed that thousands of these fighters were in use. Their unrivalled maneuverability being matched by unparalleled range with a small engine, 156 gallon internal fuel and drop tanks. So completely did the A6M sweep away Allied air power, that the Japanese nation came to believe it was invincible. After the Battle of Midway, the Allies slowly gained the ascendancy and the A6M Zero found itself outclassed by the F4U and F6F. Mitsubishi urgently tried to devise improved versions and the A6M5 (subject of this kit) was built in quantities far greater than any other Japanese combat aircraft.
Improvements were mainly small and the combat boosted Sakae 31 engine did not appear until the end of 1944. Only a few of the much more powerful A6M8c type were ever produced. The main reason for the change of engine being the destruction of the Nakajima factory. The final model was the A6M7 Kamikaze version, though hundreds of Zeros of many sub-types were also converted for suicide attacks. Total production of all types combined was 10,937, of which 6,217 were built by Nakajima, which also designed and built 327 of the attractive A6M2-N seaplane version (code name "Rufe") which operated throughout the Pacific War. The A6M2-K was one of several dual seat trainer versions.
The kit comes in a large tray and lid type box. The box art shows two A6M5's from the 302nd Air Corp, Imperial Japanese Navy, attacking a flight of B-29 Superfortresses. A side panel has a history of the Zero in English and Japanese. However, this is the only English provided with the whole kit and…boy…is it ever fractured English. For one thing, it says that the Zero was a "Jet-fighter" and a "Dive bomber". Both statements not true. It also says that the A6M5 was the last version ever built. This only holds true of it being the last type mass produced. As mentioned above, there were a few versions after the M5, but in very limited quantities. Another side panel shows the box arts of four other kits marketed by Bandai: a Messerschmitt Bf-109E-4 in 1/24th scale and a "Val" type 99, a Ju-87 Stuka and a Douglas SBD "Dauntless" – all of these three in 1/50th scale (this scale never really caught on with modelers much).
Inside the box are 7 large trees of dark green parts, a tree of clear parts, two black vinyl tires, two large decal sheets (Bandai accidentally put a second one in my kit) and the instructions. Everything is nicely individually cello-bagged.
The instructions consist of a stapled booklet, 8 ½" x 11" format of 12 pages.
Page one shows a full color 4-view of the aircraft featured on the box art from the 302nd.
Page two has some illustrations of various versions of the Zero with long captions below each of these line drawings. Unfortunately, all in Japanese…and strangely printed in brown ink…as is the whole rest of the booklet almost.
Pages three through 9 give a total of 20 assembly steps. You get the options of a drop tank and two sizes of bombs in the kit. The gun bays in the wings can also be posed open or shut and the canopy is designed to allow it to be opened and closed after assembly. The engine in this kit is very detailed and a model in itself.
Pages 10 and 11 are the parts tree drawings.
Page 12 is again in full color (like the first page was). You get side profiles of three Zeros and illustrations of just the vertical tail units of Zeros from various units, showing their coding.
The side profiles have the tail codes:
Backwards E D-1151 of the 302nd (the only outfit I was able to identify)
Tail code 653-111
Tail code backwards E –156
The vertical tail illustrations show the unit codes:
131-111
653-111
252-90
64-121
131-121
313-52
I would be very obliged to anyone that could tell me what units any of these were.
Large letter A parts tree holds, engine parts, drop tank halves, cowling, fire wall, engine bearers, fuel tank etc. (25 parts) I have already assembled the first row of cylinders of the engine, but that is as far as I got.
Large letter B tree holds: rudder, horizontal tail surfaces, machine guns and cannons, gun bay doors etc. (26 parts)
Large letter C tree holds: two sizes of bombs, bulkheads, cockpit floor, propeller, instrument panel, tail wheel assembly etc. (41 parts)
Large letter D tree holds: the pilot figure, wing flaps, exhaust pipes, landing gear doors, landing gear oleo struts, main wheels centers etc. (51 parts)
Letter E parts tree is clear parts for the cockpit canopy & navigation light lenses (7 parts).
An un-alphabetized tree holds the two fuselage halves.
Another un-alphabetized tree holds the upper and lower wing halves (4 parts).
Two black vinyl tires complete the parts in the kit.
The decal sheet is large and (as mentioned earlier) I got two of these sheets in my particular kit. You get the Japanese red circle national markings, wing leading edge yellow stripes, white and yellow tail code numbers, some chrysanthemum type "Kill" markings, a manufacturer's data panel and some landing gear door stripes. All appear to be in good register.
The Zero has always been popular amongst modelers of WWII Japanese aircraft. This big beauty will please others, like myself, that wear tri-focal glasses. Big parts!! Great engraved panel lines, to scale rivet patterns and fabric pattern on flaps.
I bought the Waldron set of Japanese instrument faces to go on this kit and also on Bandai's 1/24th scale George (reviewed elsewhere here on Cyber). Some scratch-built seat belts would be the only other thing needed to enhance the cockpit. Sadly, the after-market parts makers never saw fit to little or nil for 1/24th scale aircraft,
Recommended to modelers that have a few other aircraft kits under their belts, because of the complexity of this kit.