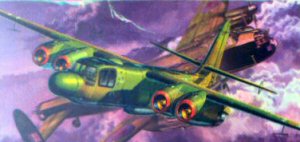 DML 1/72 Ar 234P Blitz Kit First Look
By Ray Mehlberger
| | | | |
| --- | --- | --- | --- |
| Date of Review | October 2005 | Manufacturer | DML |
| Subject | Ar 234P Blitz | Scale | 1/72 |
| Kit Number | 5026 | Primary Media | Styrene |
| Pros | Easy Build | Cons | |
| Skill Level | Basic | MSRP (USD) | $23.00 |
First Look
The Arado Ar 234 "Blitz" (Lightning) was the only turbojet-powered bomber to achieve operational status in World War II, and as such was an important milestone in the development of military aviation.
The origins of the type can be traced to a 1940 requirement, issued by the German air ministry for a turbojet-powered fast reconnaissance aircraft. An extensive program of design and development resulted in no fewer than 18 prototypes with a powerplant of two Junkers 004 or four BMW 003 turbojets, provision for rocket-assisted take-off units, a cabin with or without pressurization and a pilot's ejection seat, and a clumsy combination of a drop-away trolley for take-off and extendable skids for landing.
The wheeled trolley/skid used on the Ar 234 prototypes for take-off and landing was clearly impractical for an operational airplane. Plans were made for a Ar 234A production derivative of the Ar 234V3, but this was dropped in favor of the Ar 234B model. This aircraft used tricycle landing gear in which all three units retracted into the fuselage, an arrangement that was earlier pioneered on the Ar 234V9.
The Ar 234B was intended for the reconnaissance bomber role with hardpoints under the fuselage and under two of the engine nacelles for bombs up to 1,102lbs. Some 20 of the Ar 234B-0 pre-production aircraft were followed by 210 more Ar 234B-1 reconnaissance aircraft with drop tanks in place of the bombs, and Ar 234B-2 reconnaissance bombers.
This type entered service in 1944, and the Ar 234B was further complemented by a production of just 14 examples of the Ar 234C with the revised powerplants of four 1,764lb. BMW 109-003A-1 turbojets.
The Arado Ar 234P (subject of this new DML kit) was a proposed design for a two-seat night fighter variant with a variety of different powerplant options and a lengthened nose to accommodate a Berlin centimetric air to air radar unit. None ever went into production.
The aircraft was to have a stepped canopy vs the round-nosed types seen on earlier versions and a belly tub that housed two forward-firing 20mm cannon. (Source: Wikipedia.com)
The kit comes in a tray and lid type box. The box art shows a illustration of a Ar 234P attacking a British Lancaster. This is rather speculative, as the aircraft never got off the drawing board or was built.
The kit contains 2 trees of light gray parts, 2 trees of clear parts, a small fret of brass PE parts, the decal sheet, and the instructions.
Large letter A parts tree holds: The fuselage halves, horizontal tail pieces, tail skid, main wheel tires, landing gear legs, radar antenna, some cockpit parts etc. (51 parts) Fourteen of these parts are shaded out, in blue color, on the instruction sheet parts drawings, indicating that they are excess or not needed to complete the model.
There is no letter B parts tree.
Large letter C parts tree holds: the upper and lower wing halves, engine nacelles parts, cockpit tub. Nose wheel, etc. (31 parts) Six of these parts are excess.
Tree lettering now jumps to letter H. This clear parts tree holds wing light lenses and a canopy part. It is co-joined to letter J parts tree.
Letter J tree is also clear parts. Although there are 3 parts on this tree, only one is used.
There is no letter K parts tree.
Letter L parts tree is another clear parts tree. It holds: cockpit transparencies, the thimble-like nose cap, dorsal dome piece, and the ventral gun blister parts. (6 parts).
The final parts are a fret of brass PE and are marked as tree MA. This tree holds: wing antenna parts, 2 DF antennas, a cockpit gun-sight mounting shelf, and an under-wing pole antenna . (6 parts)
The decals, PE fret, and one of the trees of clear parts are packaged with a stiff cardboard insert into a cello bag. Each of the other parts tree has it's own cello bag also.
The decal sheet is by Cartograf. It gives us a variety of various types of crosses and even some speculative kill markings as well as werk numbers for the tail of the aircraft.
The instructions consist of a single sheet that accordion folds out into 6 pages.
Page 1 starts with a black and white repeat of the box art, followed by the parts tree drawings.
Page 2 starts with general warnings about the kit in 6 languages, including English. This is followed by international assembly symbol translations and a paint color listing of either Gunze Sangyo or Model Master colors suggested for use to complete the kit. The bottom of the page gives us the first 4 assembly steps.
Page 3 gives us the balance of 7 total assembly steps.
Pages 4 through 6 give us two 4-view and two 3-view marking and marking options. These are all speculative markings for defense of the Reich in 1945.
If you like "WHAT IF" or "Luftwaffe 1946" type German aircraft subjects, this one will be to your liking. The molding is very well detailed and flash free.
I recommend this kit to modelers who go for aircraft that could have been, had the war continued onwards past 1945.