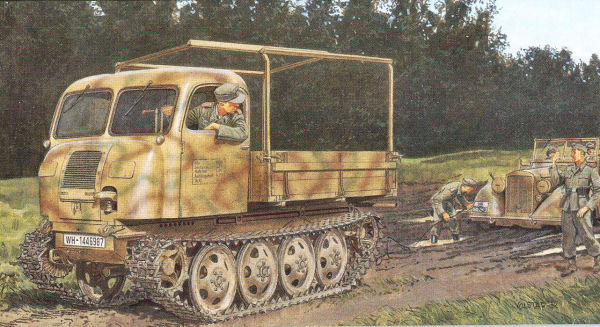 DML 1/35 RSO/1 Type 470 - Smart Kit First Look
| | | | |
| --- | --- | --- | --- |
| Date of Review | August 2012 | Manufacturer | DML |
| Subject | RSO/1 Type 470 - Smart Kit | Scale | 1/35 |
| Kit Number | 6691 | Primary Media | 506 parts (305 in grey styrene, 144 "Magic Track" single links, 50 etched brass, 7 clear styrene) |
| Pros | Essentially completes the series of RSO chassis; many new parts from first two releases; thorough chassis detailing | Cons | Single link tracks very small; snow tracks add to complexity |
| Skill Level | Experienced | MSRP (USD) | $48.95 |
First Look
Anyone who went to the 2012 AMPS International Show at the Kruse Victory Museum in Auburn, Indiana, most likely looked at the 130 odd 1/1 scale vehicles on display. One thing that was notable was the fact that the museum had one each of the major versions of the Steyr RSO tracked prime mover and carrier. Now DML has matched them with their own new kit of the RSO/1 Typ 470 with pressed steel cab.
Old hands will recognize this version as the one modeled over 35 years ago by Peerless Max. While the conversions have generally been more popular with modelers over the years, this was the original cargo carrier and light prime mover which the Germans adopted (and nicknamed "Austria's Revenge" for its nasty riding habits).
Once again DML has redone or reworked the original two kits. The lovely little 49 piece air-cooled V-8 engine has returned in this, and another
Quite a bit has changed. The original kit came with a 49 part air cooled eight-cylinder diesel engine as well as more than 50 parts to the new steel cab. But you will have to leave the cab loose to display any of that detail, or leave the doors open and leave out the three-section engine access cover (parts H10/11/12).
As before assembly is straightforward. The chassis takes the first eight steps of the instructions (once again, as this is a small and "clean" vehicle the directions are easier to read than many DML efforts).
The running gear is simple but nicely done, with the bogie mount and springs as separate parts. The entire lower running gear forms one giant bogie assembly when done. There is a lower chassis pan all of this mounts on and it comes with separate frame risers and crossbars. Note that the drivers and idlers on an RSO are nearly interchangeable so you must keep them straight during installation.
The steel cab comes with three-piece seats – "lawn chair" type slat frames and a pad which attaches to the assembled frames. The doors each consist of inner and outer halves and external handles plus window inserts. All of the primary controls are provided.
The body (the same as the RSO/3) is typical for open bodied cargo vehicles and also gives several options, including folded sides and either metal or wooden top bows for the canvas. Racks are provided from either styrene or etched brass for stowing the snow track links on the body sides.
The latter items are apparently only for "show" as the directions simply show where they are stowed (the "bin" from the RSO/3 is now missing, however) with 10 on each side of the cargo body). But these are just the plates and need only attachment, not assembly. and are assembled – three parts to each one. But installation is not covered very well, with the directions seemingly saying the side stowed plates store cleats out with wooden frames.
But once again DML shows the "Magic Tracks" assembled (67 links per side) and simply slipped onto the running gear. Not gonna happen. Most modelers know there are many ways to skin this mule but this is NOT one of them without DS plastic one-piece tracks. 
Tom Cockle and Gary Edmundson are cited as the consultants for this kit.
Finishing information is provided for seven different vehicles: Unidentified Unit, Eastern Front 1944 (sand with brown/green overspray, WH-1446987); 1st Skijaeger Division, Eastern Front 1944 (white over sand, WH-1500128); Unidentified Unit, 1942 (grey with tactical marking); 19th Volksgrenadier Division, Western Front 1944/45 (sand with green/brown dot pattern, no registration number); Unidentified Unit, Eastern Front 1943 (green over sand, shipping stencils, no registration number); Unidentified Unit, Eastern Front 1943 (sand, shipping stencils, WH-1446645); Unidentified Unit, Eastern Front 1943 (green over sand, white Mu, no registration number). A sheet of Cartograf decals with a "number jungle" is provided for the RSO.
Overall this completes the basic "set" of RSO vehicles and is a contemporary design and production quality kit.
Thanks to Freddie Leung of Dragon Models USA for the review sample.
Sprue Layout:
A 41 RSO - frame sides, control linkages, details
B 27x2 RSO - wheels, drivers, final drives
C 1 RSO - differential
D 14 RSO/3 - platform body, sides, mounts
E 25 RSO/3 - cab, seats, details
E 49 RSO - V-8 engine
H 47 RSO/1 cabe and interior details
J 3 RSO/3 - top bows and frame
J 1 RSO - main frame
M 70 RSO/3 - snow track plates
W 7 RSO/1 - clear styrene
Z 144 RSO - "Magic Track" links
MA 50 RSO/1 - etched brass