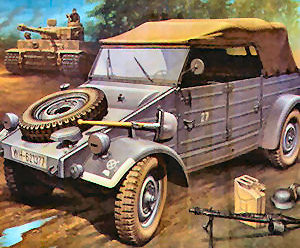 Revell 1/9 German typ 82 Kubelwagen Kit First Look
By Ray Mehlberger
| | | | |
| --- | --- | --- | --- |
| Date of Review | May 2007 | Manufacturer | Revell/Germany |
| Subject | German typ 82 Kubelwagen | Scale | 1/9 |
| Kit Number | 3703 | Primary Media | Styrene |
| Pros | Big is beautiful | Cons | Big can be expensive too |
| Skill Level | Basic | MSRP (USD) | $176.75 |
First Look
The Kubelwagen was built in 1938 to meet requirements of the German Army ordinance office for a light, cross-country, personnel carrier. The design originated from the pen of Ferdnand Porsche and was a version of the well-known "Power through pleasure" car (in practice, a predecessor of the VW Beetle).
Between 1940 and 1945, about 55,000 of these vehicles were built, just a few of which survived WWII undamaged. The good traction of the rear-wheel-drive vehicle was achieved by means of an intermediate gearbox in front of the rear wheels. The horizontally opposed engine developed 24.5 bhp and could reach a top speed of 80 kph. It was capable of climbing a 40 degree gradient with four occupants and had a fording depth of 45 cm. The total unladen weight of the vehicle was only 725 kg and it proved itself in all theatres of the war.
The kit comes in a very large tray and lid type box. The box art shows a Kubelwagen in the markings of the Panzer Grenadier Division "Grosdeutschland", Eastern Front, Charkow, May 1943. (one of the five marking options included in the kit).
The box contains ten light large light tan parts trees, one black vinyl parts tree, one clear parts tree, wire sleeving, metal springs, a large sheet of cloth with a pattern printed on it to fabricate the canvas roof out of, five black vinyl tires, the decal sheet and a 24 page unbound instruction booklet.
Letter A parts tree holds engine and exhaust parts (70 parts).
Letter B tree holds: foot pedals, suspension parts, the battery, steering parts, axles, transmission, etc. (100 parts)
Letter C tree holds the vehicle's floor and some side panel parts (8 parts).
Letter D tree holds wheel rims (10 parts)
Letter E tree holds: the front baggage compartment hood, steering wheel, front seat frames, dash board and it's frame, steering linkage, rear view mirrors, siren, head-lights, some shift levers, windshield wipers and their motors etc. (26 parts).
Letter F tree holds: more side panels, fire wall, shovel, doors etc. (50 parts).
Letter G tree holds: the fenders, gas tank, notek lamp etc. (15 parts).
Letter H tree holds: the tail light, rear seat back frame, engine compartment hatches and hinges, grab bar for between the front and rear seats etc. (22 parts).
Letter I tree holds: the engine compartment rear wall, it's hood frame and an interior shelf, more shift levers etc. (9 parts).
There are no letter J or K parts trees.
Letter L tree is the black vinyl seat cushions, some steel helmet straps, fan belt pulley etc. (13 parts).
Letter M tree is the clear window panes and headlight lenses (10 parts).
Letter N tree holds: more seat frames, an MG 42 machine-gun with it's central mount and ammo drum, a gas mask canister, steel helmet with separate liner, a jerry can etc. (64 parts).
Final items are the metal springs, some wire sleeving (to plumb the engine) and the decal sheet.
The instructions consist of an unbound booklet of 24 pages.
Page one begins with a black and white photo of the kit made up. Strangely, it shows markings for the Luftwaffe and the Rampke Division (markings not provided on the decal sheet). This is followed by a one paragraph history of the Kubelwagen in German and English.
Page two has "Read before you start" instructions in 18 languages, followed by scrap illustrations of how to hold, remove from the trees, glue and paint the parts.
Page three gives international assembly symbol explanations, followed by "Safety advice".
Page four gives a hobby paint color listing of colors to use to decorate the kit.
Page five is the parts tree drawings.
Pages six through the top of page 21 give no less than 124 assembly steps.
The bottom of page 21 through page 23 gives five markings and painting scheme drawings. All are for Wehrmacht vehicles.
Panzer Grenadier Division "Grosdeutschland", vehicle no. 27, Charkow, Eastern Front, May 1943 (the box art subject.) Overall panzer gray
1st Panzer Grenadier Division, Italy, July 1944. Overall earth yellow
6th Panzer Division, Russia, December 1941. Panzer gray with a well-worn white-wash covering
21st Panzer Division, Caen, Normandy, July 1944. Earth yellow with green stripes
A captured Kubelwagen in Soviet markings (license plates only). Overall earth-yellow
The decal sheet also includes steel helmet decals for Luftwaffe, Wehrmacht and SS (minus the swastika), the speedometer dial face, tire pressure stencils and load stencils, motorcycle and panzer unit tactical signs.
Page 24 of the instructions is blank.
The kit is an ex-ESCI kit. Revell of Germany bought the molds and re-issued the kit under its label in 2004. ESCI did several 1/9th scale military and civilian motorcycles and a kettenkrad. These molds later went to either Revell of Germany or DML Dragon, who each re-issued a few of them.
The kit features working steering, complete reproduction of the engine and it's plumbing and wiring, the transmission, vinyl tires, canvas roof cover (optional and Revell recommends a textile adhesive to assemble it), an optional MG 42 machine-gun on it's centrally located pedestal mount, doors and hoods that can be posed open or shut.
Excellent detail and molding throughout the kit.
I highly recommend this kit. Especially if you wear tri-focal glasses like me. It is definitely only for advanced armor modelers, because of it's 500 parts and complexity. Not exactly a week-end project.