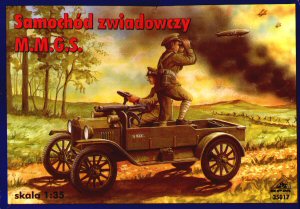 RPM 1/35 British WWI Ford of the MMGS Kit First Look
By Ray Mehlberger
| | | | |
| --- | --- | --- | --- |
| Date of Review | January 2008 | Manufacturer | RPM |
| Subject | British WWI Ford of the MMGS | Scale | 1/35 |
| Kit Number | 35017 | Primary Media | Styrene |
| Pros | Nicely molded WWI subject | Cons | No part numbers on trees and 2 figures shown on box art are not included in the kit |
| Skill Level | Basic | MSRP (USD) | Out of Production |
First Look
At the outbreak of WWI in August 1914 the tactical potential of machine-guns was not appreciated by the British Military. The Army therefore went to war with each infantry battalion and cavalry regiment containing a machine gun section of just two guns each. This was supplemented in November 1914 by the formation of the Motor Machine Gun Service (MMGS), administered by the Royal Artillery, consisting of motor cycle mounted machine gun batteries. A machine gun school was also opened in France.
A year of warfare on the Western Front proved that, to be fully effective, machine guns must be used in larger units and crewed by specially trained men. To achieve this, the Machine Gun Corps was formed in October 1915 with Infantry, Cavalry and Motor branches, followed in 1916 by the Heavy Branch. A depot and training centre was established at Belton Park in Grantham, Lincolnshire, and a base depot at Camiers in France.
The Infantry Branch was by far the largest and was formed initially by the transfer of battalion machine gun sections to the MGC, these being grouped into Brigade Machine Gun Companies, three per division. New companies were raised at Grantham. In 1917 a fourth company was added to each division. In February and March 1918, the four companies in each division were formed into a Machine Gun Battalion.
The Cavalry Branch consisted of Machine Gun Squadrons, one per cavalry brigade.
The Motor Branch, after absorbing the MMGS, formed several types of units: motor cycle batteries, light armored motor batteries (LAMB) and light car patrols. As well as motor cycles, other vehicles used included Rolls-Royce and Ford Model T cars (subject of this kit)
The Heavy Section was formed in March 1916, becoming the Heavy Branch in November of that year. Men of this branch crewed the first tanks in action at Flers, during the Battle of the Somme in September 1916. In July 1917 the Heavy Branch separated from the MGC to become the Tank Corps, later called the Royal Tank Regiment.
In its short history the MGC gained an enviable record for heroism as a front line fighting force, seeing action in all the main theatres of war. Indeed, in the latter part of the war, as tactics changed to defense in depth, it commonly served well in advance of the front line. It had a less enviable record for its casualty rate. Some 170,500 officers and men served in the MGC with 62,049 becoming casualties, including 12,498 killed.
At the end of hostilities the MGC was again re-organized in a smaller form as many of its soldiers returned to civilian life. However, the Corps continued to see active service in the post-war campaigns in Russia, Afghanistan, and the Northwest Frontier of India. It also served prominently in the British army which occupied parts of Germany in the period between the1918 Armistice and the Versailles Peace Treaty. Its equipment and training made it possible for a relatively small garrison to control a large population.
By 1920 the headquarters in Belton Park was closed and the War Office was seeking to dispose of the many buildings. The Corps was disbanded in 1922 as a cost-cutting measure.
The kit comes in an end-opening type box. The box art shows a Ford Model-T of the M.M.G.S. on patrol with a crew of two. It is stopped on a road and one figure is standing in the vehicle looking trough binoculars at a couple Allied aircraft attacking a German Zeppelin. This box art is misleading, as there are no figures included in the kit.
RPM is a model company in Poland. A side panel shows 3 other 1/35th scale kits based on the Ford Model-T chassis: an armored car (which I built years ago and managed to smash), an ambulance and a lorry.
The back of the box has the assembly instruction drawings on it, along with the parts tree illustrations. There are 25 assembly steps shown, labeled alphabetically from A to Y. Only the parts trees illustrations have part numbers on them. The trees themselves DO NOT. So, you are forced to refer to the drawings to identify where the parts are…and…on which tree. Bad move RPM.
I also notice on these drawings that some of the parts have no number, probably meaning that they are excess and not needed for this kit.
If there was an instruction sheet originally in this kit, my kit is missing it, along with the decal sheet. I didn't discover that my kit had these two items missing until I got home from an IPMS contest, where I bought the kit, and looked inside the box.
The kit contains one cello bag that holds one large battleship gray colored parts tree and a small one that color of plastic. There are two identical cream white colored parts trees.
The large gray tree holds: a 50 gallon fuel drum, the vehicles floor with fenders molded to it, the hood, radiator, steering wheel, head lights, a canvas roof, steering wheel column, fire wall, control lever, gas tank and numerous other small fittings (61 parts).
The small gray tree holds: a water-cooled machine-gun and its pedestal mount, the diver's seat and it's floor mount box (10 parts)
As mentioned, there are two identical cream white colored parts trees. They hold: the spoked wheels, the drive shaft parts, leaf springs, frame members etc. (23 parts per tree)
There is an illustration of the decal sheet on a side panel of the box. Like I said, mine is missing and I will have to contact RPM and hope they can send me one. It shows that the decal is all lettering, in red and white letters. It says:
20. BATTERY (in red) 3 SEC. (in white) M.M.G.S. (in red)
This goes on each side of the vehicle.
This kit looks to be a fairly easy build. It will surely be a welcome change from all the WWII stuff on the market. Just a darn shame that those two figures on the box art are not included. Detail is pretty good and I found no flash present. Most pushout pin marks, except for a few, appear to be all on inside surfaces, where they would not be apparent after assembly.