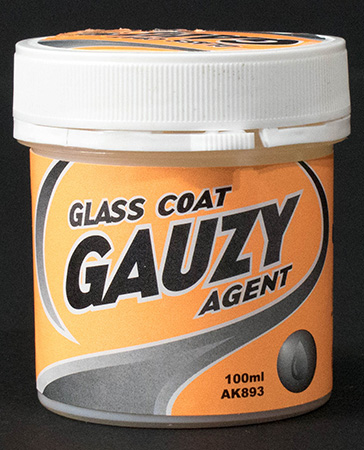 AK Interactive Gauzy Agent Family First Look
| | | | |
| --- | --- | --- | --- |
| Date of Review | October 2016 | Manufacturer | AK Interactive |
| Subject | Gauzy Agent Family | Product Number | AK893, AK894 |
| Pros | New family of clear coats | Cons | TBD |
| Skill Level | Basic | MSRP (Euro) | AK893: 6,50€; AK894: 5,95€ |
First Look
For many decades now, the magic fluid in modeling for enhancing the clarity of clear parts and for providing a clear coat on models is none other that Future. Rumor has it that it is also effective on tile floors. Future has unknowingly set a high bar within the modeling community and all of the varnishes and clear coat lacquers can't replace it on my bench. It would take something extraordinary to get my attention. I think AK Interactive may have achieved this.
You can see in the images above that there are two products in this Gauzy series (so far). The Glass Coat Guazy Agent (AK893 - orange jar) is purpose-packaged to dip your canopies and transparencies straight into the jar. I am trying to get a project together to test this myself, but I've seen a few demonstrations via YouTube to show 1) this isn't repackaged Future and 2) it does have some capability to clarify scratched clear parts. When I get my own tests completed, I'll follow this first-look up with a full review of both products.
The bottle with the green label is Intermediate Gauzt Agent Shine Enhancer AK894. This too is not Future but it does another of Future's jobs. It provides a solid clear-coat over your paint for decals and over the decals for weathering. What makes this different from Future is that it works over bare metal paints as well. Whether you're using lacquer, enamel, or acrylic-based metalizers, you'll read lots of recommendations never to apply a clear coat over the metalizers as it will dull down the shine and contrast between metallic shades.
I've often ignored that advise because metalizers also tend to be touch-sensitive so you're liable to leave fingerprints when handling the model either on your workbench or months later on your shelf. While Future does 'dumb-down' the shine and contrast, I've compensated by using greater constrasting metalizers to start with so they dumb down to where they should be after clear coat.
Gauzy Shine Enhancer provides a clear protective layer over your metallic paints and decals but the demonstration I saw appeared to show that it doesn't dumb-down the shine or contrast. Once again, I've got a project coming up that will put this to the test and I'll report back, but from what I've seen online, I am hopeful and have already acquired another bottle of the Shine Enhancer (they were out of the Glass Coat product. Stay tuned for further details!
My sincere thanks to AK Interactive for these review samples!