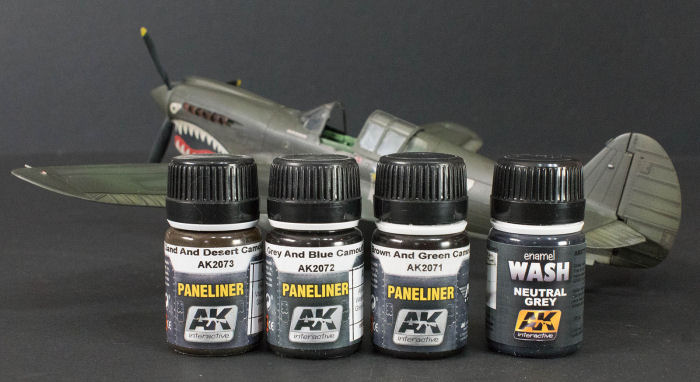 AK Interactive Panel Line Wash Review
| | | | |
| --- | --- | --- | --- |
| Date of First Look | July 2016 | Manufacturer | AK Interactive |
| Subject | Wash and Paneliner | Product Numbers | Various |
| Pros | Enamel-based washes | Cons | Nothing noted |
| Skill Level | Basic | MSRP (Euro) | 6,90€ per bottle |
Review
For years I've been making my own washes to weather my projects and while I've tried several brands of washes to see if there as a better solution, I always wound up back with my own homebrewed stuff. When AK Interactive released their series of panel line washes and a neutral gray wash, I had to obtain some for my own evaluation.
The first real opportunity to try these products was with my build of Kinetic's (Vintage Fighter) 1/24 P-47D Razorback Thunderbolt ( look here) and these washes not only brought out the details molded into the model quite well, they also provide the appearance that the base colors had been applied over pre-shading. What's more, these are extremely easy to use: finish the model including decals, provide a solid coat of gloss clear to protect the paint and decals (I use Future), brush the wash along the various panel lines and lines of rivets around the airframe, let dry, then wipe away the excess. If you need more in a given area, apply more, let dry, and wipe away. If you need to remove excess wash, use a brush with clean AK Interactive Odorless Thinner to the spot.
This worked well with an intended project, but what happens if you use these products on a completed model? I pulled out an old project - the Hasegawa 1/32 P-40E Warhawk ( look here).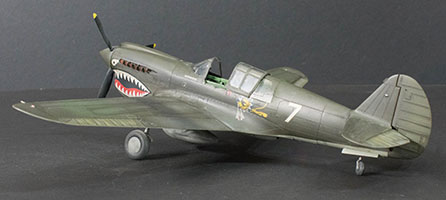 Just like the P-47, these products are easy to apply and work into the existing finish. Now the P-40 looks more batte worn without being ready for the scrap pile.
AK Interactive has produced a series of panel line wash colors that are useful to aircraft and armor modelers:
Green and brown camouflage
Sand and desert camouflage
Gray and blue camouflage
Black camouflage
Winter camouflage
I also like the Neutral Gray wash as it is useful for a wide variety of applications where you want to see some detail but you don't want the stark contrast of a black wash.
Give some of these a try for yourself. They will enhance the details of your model without much effort.
Definitely recommended!