Warpigs Pigment Powders First Look
| | | | |
| --- | --- | --- | --- |
| Date of Review | June 2010 | Manufacturer | Warpigs |
| Subject | Pigment Powders | Primary Media | Acrylic based powders |
| Pros | Easy to apply | Cons | Nothing noted |
| Skill Level | Basic | MSRP (USD) | $3.00 per color |
First Look
Warpigs is a brand of hobby product produced by the folks at Modeler's Warehouse. They currently offer a family of earthtone and plant-colored acrylic powders which have a wide range of applications for weathering of armor, aircraft, and ship models. Let's take a look.
If you're not sure what colors you'd be using more often, they offer four sets of five pigment powders in 5-gram jars. These include Dark Earth Tones, Light Earth Tones, Green Tones, and Neutral Tones.
If you do use one or more colors frequently in your weathering, then larger jars of individual colors are available. We'll list those later.
The uses for armor modeling is fairly obvious as tanks and fighting vehicles wear the dust and dirt of the terrain they operate in. For ship modeling, thess pigment powders are ideal for the algae and rust stains that accumulate around the hull. For aircraft, the Neutral tones are great for scorching from engine exhaust stains, hydraulic leaks, gun gas stains, etc. So why pigment powders over other means?
There are a number of pigment powders out there. While one of my favorites is one I use for rust, it is a fine powder with no persistence. These acrylic-based powders are much more persistent and less prone to coming off when handling the model. Warpigs pigments are finely ground-down to 50 microns and can be applied dry, mixed with Titanium White paint (acrylic or mineral-based), or suspended as a wash or filler. When properly mixed, they can be sprayed through an airbrush for that perfectly dusted look.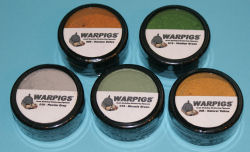 Burnt Umber
Brown Ochre
Red Ochre
Natural Sienna
Havana Ochre
Natural Umber
Burnt Sienna
Light Sienna
Natural Yellow
Light Yellow
Green MC
SOF Green
Nicosia Green
Veridian Green
Pistachio Green
Natural Black
Faded Panzer Gray
Pewter Gray
Slate Gray
Titanium White
These pigment powders are quite versatile and will definitely make your project look as weathered as you wish to portray.
My sincere thanks to Warpigs for these review samples!