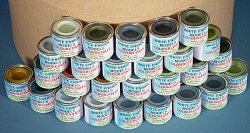 White Ensign Models' USN WWII Colourcoats Paint First Look
| | | | |
| --- | --- | --- | --- |
| Date of Review | August 2007 | Manufacturer | White Ensign Models |
| Subject | USN WWII Colourcoats | Primary Media | Enamel |
| Pros | Color matched to the Snyder & Short published paint chips | Cons | Not available as acrylics |
| Skill Level | Basic | MSRP (BP) | £1.32 per tin |
First Look
If you are a model ship builder, you've no-doubt heard of the excellent product line offered by White Ensign Models in the UK. If you have struggled with color accuracy of your WW2 era ships and the seemingly limited information from which to find the right colors, you've no-doubt heard of the work by Snyder & Short Enterprises and their line of accurate color chips. So what would happen if these two great undertakings were to join forces?
For reasons that will remain blatently obvious to me, John Snyder of Snyder & Short joined forces with the folks at White Ensign Models, and with that team came a new line of enamal paints - the White Ensign Models 'Colourcoats' series. Are these just another range of model paints? If you are a WW2 era shipbuilder, these are manna from heaven as these are the best paints I've seen that are specifically designed to match the color chips used by the various services and replicated by Snyder & Short.
If you have been reading these pages of the last several years, you'll know that Snyder & Short produced two sets of color chips that span most (if not all) of the colors used 'officially' by the US Navy prior to and during WW2. These releases currently represent 30 of the 50 chips that are documented on the Snyder & Short sheets. These include: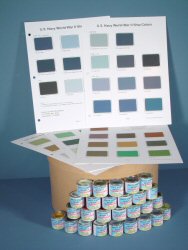 US01 - Prewar #5 Standard Navy Gray
US02 - Prewar #20 Standard Deck Gray
US03 - Early 1941 5-L Light Gray
US04 - Early 1941 5-D Dark Gray
US05 - Late 1941 5-H Haze Gray
US06 - Late 1941 5-O Ocean Gray
US07 - 5-S Sea Blue
US08 - 5-N Navy Blue
US09 - 5-B Thayer Blue
US10 - 1942 Revised Deck Blue 20-B
US11 - Flight Deck Stain 21
US12 - 5-P Pale Gray 1943
US13 - 1943 5-L Light Grey
US14 - Norfolk 65A Anti-fouling Red
US15 - Mahogany Flight Deck Stain
US16 - 20-G Deck Green
US17 - 5-HG Haze Green
US18 - 5-LG Light Green
US19 - 5-OG Ocean Green
US20 - 5-NM Navy Green
US21 - 5-PG Pale Green
US22 - #1 Green
US23 - #2 Green
US24 - #3 Green
US25 - #4 Brown
US26 - MTB Green
US27 - Norfolk 250N Flight Deck Stain
US28 - Late WWII #27 Neutral Haze Gray
US29 - Tropical Green
US30 - USN Buff
US31 - #17 Neutral Ocean Gray
US32 - #46 Neutral Outside Gray (1945)
US33 - #37 Neutral 5-L Light Gray (1945)
US34 - #11 Neutral Outside Gray (1945)
US35 - #7 Neutral 5-N Navy Gray (1945)
US36 - #4 Neutral Deck Gray 20 (1945)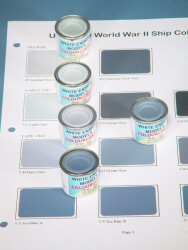 This paint line is packaged in the same familiar tins that are also used by Humbrol and XtraColor which also provide excellent shelf life. The paints themselves are formulated with work with any standard enamal thinner. Given the close relationship between Snyder & Short and White Ensign Models, there is no doubt about the accuracy of these colors. The photo to the left shows a sample of these colors against their corresponding paint chips.
If you are wanting to build a Trumpeter Essex-class aircraft carrier with one of the unique anti-submarine camouflage schemes, these paints are a must. If you have been struggling with what color the flight deck should be, once again these paints will help. If you're wanting to build multiple ships in the future and not having to worry about mixing your colors each time, your worries are now over.
If you're modeling Royal Navy, German, Japanese, Italian or other subject areas, don't worry as Colourcoats has a similar line-up for you. Check them out on the White Ensign Models website for more information.
You can purchase these and any of the Colourcoat line directly from the White Ensign Models website. They have great service and are a unique resource for the ship modeler - give them a try!
My sincere thanks to White Ensign Models for these review samples!