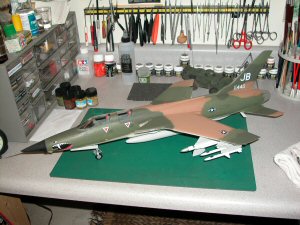 Xtracrylix Paint First Look
By Dave Manter
| | | | |
| --- | --- | --- | --- |
| Date of Review | December 2005 | Manufacturer | Xtracrylix |
| Subject | Xtracrylix Arcylic Paints | Primary Media | Acrylic |
| Pros | Good cover, similar color availability to Xtracolor | Cons | |
| Skill Level | Basic | MSRP (BP) | £1.50 |
First Look
Though I normally use Tamiya Acrylic paint for all of my modeling, I thought I would give the new Xtracrylix a try on my latest project, Trumpeters 1/32nd scale F-105G. A friend had ordered the matched Vietnam camo colors and offered to let me try them out, so what the heck, might as well try them on something big right?!
First let me say that the Xtracrylix are all glossy so I would not have to gloss coat before I begun to decal. I started by thinning the paint with Tamiya Thinner at 60% paint to 40% thinner. This is a little less thinner than I normally use for Tamiya paint. I sprayed some on a test piece and found it was spattering a bit so I added more thinner to make a 50 – 50 mix and that smoothed out the problem.
All painting was carried out with an Iwata Revolution Gravity feed airbrush at 24 pounds of air pressure.
Painting on the F-105 began with the Light Grey on the bottom. After a couple of minutes of spraying the tip of the airbrush clogged up. A quick swipe with a Q-Tip soaked in water removed the build up. This continued every couple of minutes of spraying. The paint finish was laying down very smooth with a nice satin finish. The first camo color was then applied. I started with the tan color and found that I could cut very fine lines with little effort. Just remember to keep a wet Q-Tip handy and keep wiping the needle off. I did apply each color still running with the 50 – 50 mix of paint to Tamiya Thinner.
I outlined each color patch first then filled in the spots. The edge separation of each color was as fine as any I sprayed with other paints. This stuff dries very fast and was completely dry to the touch in about 15 minutes. After the last color was put one I cleaned the airbrush out with water and Windex window cleaner. Then masked off the nosecone and sprayed it black.
Lifting the masking tape off also lifted a couple of chips off the dark green color. This was the last color I sprayed and had only dried for about 20 minutes. A couple of drops were mixed up and I retouched the chips. After about an hour I reapplied some masking tape to test the lift off and found no more problems after sufficient drying time.
The next day decals were applied using the Gunze Decal solutions and they had no effect on the paint at all. The decals laid down beautifully directly over the paint. My final step was to flat coat with Gunze flat to seal the decals in. All in all this is a fantastic paint to use especially if you are working on aircraft models. The satin/gloss finish is perfect for laying decals on. Clean up is easy with just plain tap water. Give it a try!