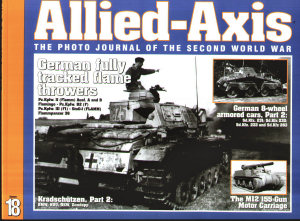 Allied - Axis Volume 18 Book Review
By Ray Mehlberger
| | | | |
| --- | --- | --- | --- |
| Date of Review | January 2007 | Title | Allied - Axis Volume 18 |
| Publisher | Ampersand Publishing | Published | 2006 |
| Format | softbound | MSRP (USD) | $15.95 |
Review
This new book, by Ampersand, is in their usual 11" x 8 ½" softcover format for this series of books. Each new issue is a virtual picture album of Allied - Axis armor from WWII with captions below them. The pictures are some of the sharpest and clearest of any I have ever seen any books about WWII and are usually full page shots. This issue came in a re-sealable cello bag. Nice touch Ampersand.
Ampersand also produces a quarterly magazine called Military Miniatures in Review. It is an excellent armor modeling magazine.
This new book is 96 pages long and has 102 black and white photos in it.
Chapter 1 is "Schwere Panzerspahwagen 8-wheel Armoured Cars" It has shots of:
The Sd.Kfz. 231, including one of the chassis minus it's body sheel
The Sd.Kfz. 232
The Sd.Kfz. 233, including a nice overhead shot of the interior & some with the banister type radio antenna
Chapter 2 is "The U.S. M-12 155mm Gun Motor Carraige" with good overhead interior shots plus shots of the M30 cargo carrier version.
Chapter 3 is "Kradschutzten & Kradmelder, Part 2" about German motocycles. It has shots of:
BMW R4's, R12's (with sidecar) including some in the Munster Museum & the R35
Zundapp KS750, KS600 (with sidecar), KS800
NSU 251-OSL, 601-OSL, 201-ZDB showing some walk-around shots of this one at Munster. I was unaware that NSU did anything other than the well known Kettenkraftrad, halftrack motorcycle
The ex-Czech CZ brand motorcycle, nicknamed the "ROBOT"
DKW NZ350, again with some walk-around shots of one at Munster
Chapter 4 is "German Fully Tracked Flamethrowers" It has shots of:
The Pz.Kpfw. II (Flamm) Ausf. A & B.
The B2 (F), captured French Char B, converted by the Germans to flamethrower
The Pz.Kpfw. III (FL)
The Sturmgeschutz I (Flamm)
Flammpanzer 38 "Hetzer"
The photos in this book will be of great interest to both historians and modelers, with lots of ideas for dioramas. I look forward to every book in this series.
Highly recommended.