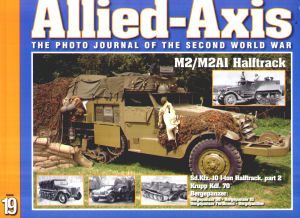 Allied - Axis Volume 19 Book Review
By Ray Mehlberger
| | | | |
| --- | --- | --- | --- |
| Date of Review | December 2007 | Title | Allied - Axis Volume 19 |
| Publisher | Ampersand Publishing | Published | 2007 |
| Format | softbound | MSRP (USD) | $15.95 |
Review
The Allied-Axis series of books on military vehicles are always a picture album with many very clear photos of both Allied and Axis vehicles used during WWII. Some of them never having been in print before. Text is not overbearing in them, and usually is just the captions under the pictures. Color shots are usually of vehicles that have been restored, in private hands and in museums and are of the walk around type.,
The books are in Ampersand's usual 11" x 8 ½" format (similar to the layout of Squadron in Action books). This new book is 96 pages in length and has the usual soft cover. Strangely, this time, the book does not show a ISBN number anyplace.
The book comes in a form-fitting clear cello bag that is re-closable with a sticky flap. Good move Ampersand.
This new book in their series covers:
The U.S. M-2 & M2A1 car/half track Part 2 of coverage of the German Sd.Kfz.10, Type D7 half track German Bergepanzer recovery vehicles German Krupp L2H143 Mammschafttransportwagen truck
The book contains 75 black and white wartime photos of these various vehicles. There is a small illustration out of a tech manual of the M55 quad-gun mount that was on the U.S. M-2 half track. There are 10 black and white and one color photo of a restored U.S. M2A1 that was seen at the Beltring Military Vehicle show in 2004. These are all walk around type shots.
In the chapter on Bergepanzers, these 4 are covered:
The Bergepanzer III Sd.Kfz. 144
The Bergepanzer chapter covers the Bergepanzer 38(t) on the "Hetzer" chassis,
The Bergepanther (with 4 walk around shots of it and 7 line drawings of fittings on it)
The Bergepanzer Tiger (p)
In the chapter on the Krupp Kdf. 70 there are 35 black and white and one color walk around shots of one that is restored at the Wheels Motor Museum in the UK.
This book will be of great interest to both military historians and modelers alike. Lots of details can be seen clearly on these vehicles and most of them have kits available of them for modelers. Highly recommended.