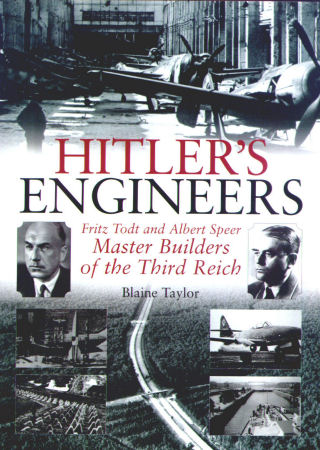 Hitler's Engineers Book Review
by Ray Mehlberger
| | | | |
| --- | --- | --- | --- |
| Date of Review | December 2010 | Title | Hitler's Engineers |
| Author | Blaine Taylor | Publisher | Casemate Publishing |
| Published | 2010 | ISBN | 978-1-932033-68-7 |
| Format | 272 pages, hardbound | MSRP (USD) | $39.95 |
Review
This new book is copiously illustrated with 228 black and white photos, 10 illustrations of propaganda posters, a map of the autobahn, a map of Germany in 1942, 2 maps of the West Wall fortifications, 2 maps of German research centers and a map of Spandau Prison. There are also a cut-away drawing of a V-1 rocket and a black and white 3 view of it, a cut-away of a V-2 rocket also. There are 15 illustrations of wartime paintings.
The book is hard-bound and contains 272 pages in 8 ½" x 11" format.
Engineering projects are carefully described. This is the first full treatment of two of the Third Reich's most important figures. While Nazi Germany's temporary ascendency owed much to military skill, the talent of its engineers not only buoyed the regime but allowed it to survive longer than would normally be expected. This unique work focusing on Dr. Fritz Todt and Albert Speer, based on many previously unpublished photographs and artwork from captured Nazi records, describes how engineering, as well as military skill, allowed the Third Reich to survive.
Dr. Todt was the brilliant builder of the world's first superhighway (the Autobahn) that still exists today, as well as the architect of the German West Wall (Siegfried Line) that predated the later Atlantic and East Walls. The builder, also, of each of the wartime "Fuhrer Headquarters", as well as the submarine pens, Dr. Todt was killed in a still-mysterious airplane crash that may well have been a Nazi death plot, though he was given a State Funeral by Hitler.
Todt was succeeded in death as German Minister of Armaments and War Production by the Fuhrer's longtime personal architect (actually one of several), Albert Speer, who was credited by the Allies after the war as having prolonged the conflict by at least a year. Called a genius by Hitler himself, Speer designed and built the prewar Nuremberg Nazi Party Congress rally stands and buildings. Many of which can still be visited.
More importantly, under the constant rain of Allied bombs and the encroachment of soviet advances from the east, Speer managed to keep the German industrial machine running until the spring of 1945. Though it was driven ever further underground. He also allocated resources to fortifications and counter-attacks (the V-2 installations) against both West and East, in attempts to stave off defeat. Convicted as a war criminal at Nuremberg, Speer served his entire 20 year-long sentence at Spandau Prison, then went on to become a best-selling author as a Nazi apologist who died in London suddenly in the arms of his lover on Sept. 1, 1981, the anniversary of the German invasion of Poland.
Together, Todt and Speer were the pillars that supported the Third Reich throughout the vicissitudes of battlefield fortune. This is the first book that examines their unique roles in history's most terrible war.
Blaine Taylor is the author of eight previous photographic studies on the WWII era. The winner of six awards for writing and editing, he is a veteran of the US Army's 199th Light Infantry Brigade in Vietnam, and has 12 medals and decorations, including the Combat Infantryman's Badge. He is an international magazine writer. Mr. Taylor lives and works in Towson, Maryland.
Coverage of this title includes:
Dr. Fritz Todt: Naxism's Master Engineer Builder
The Fuhrer's Roads: Nazi Autobahn
The West Wall: Hanging out the Washing on the Siegfried Line
Minister of Armaments & Munitions, 1940-1942
1942: A Funeral in Berlin (for Todt)
Enter Dr. Albert Speer
Nazi Rocketry, 1939-1945
Speer & the German Atomic Bomb, 1942-1945
Reich Minister of Armament & War Production, 1942-1945
From Capture to Nurenberg, 1945-1947
Prisoner #5: from "Spandau" to Best-selling Author, 1947-1981
This book will be of great interest to WWII enthusiasts and historians. It will also be of mild interest to modelers of WWII subjects.
I want to thank the folks at Casemate Publishing for this review sample. Highly recommended.
Information about all Casemate books can be found at Casemate Publishing.