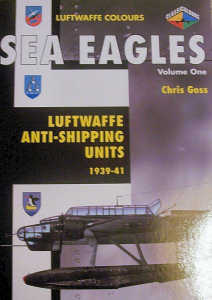 Sea Eagles Volume One Book Review
By Ray Mehlberger
| | | | |
| --- | --- | --- | --- |
| Date of Review | March 2007 | Title | Sea Eagles Volume One |
| Author | Chris Goss | Publisher | Classic Publications |
| Published | 2006 | ISBN | 1-903223-55-5 |
| Format | 96 pages, softbound | MSRP (USD) | $29.95 |
Review
This new book forms one part of a comprehensive two-part study of the aircraft, camouflage, markings and operations of Luftwaffe's anti-shipping units between 1939 and 1945.
The book is in a 11 ¾" x 8 7/8" soft-cover format of 96 pages.
Chapters in the book are on:
Early mine-laying operations
The war over the North Sea
Closing the English Channel
The Norwegian Campaign
The Battle of Britain
Torpedo-bomber operations
The Focke Wulf Condor and the Battle of the Atlantic
Attrition over the Bay of Biscay and the Mediterranean
Glider bombs
Long-range anti-shipping operations
Normandy
There are 159 black and white wartime photos and three color ones. Ten squadron badges are illustrated in full color. There is a map, showing an operational area and an illustration of an award certificate given to one of the Luftwaffe crews.
14 full color profile paintings grace the book. They are shown along with a photo of the actual aircrafts being illustrated. Aircraft covered are:
Ar 95A-1 & Fw 200 Condor
Do 18D
Do 217E
He 59B-2 and D versions
He 60B, C and D versions
He 111H-4 and H-6 versions
He 114A-2
He 115B-1 and C-1 versions
He 177V-6
Ju 88A-1 and A-4 versions
There is also a German propaganda poster on the last page of the book. There are numerous personal accounts, by Luftwaffe pilots that flew anti-shipping missions during the war.
This book is just one of numerous titles in this series of books. All are great reading and of value to historians, aircraft enthusiasts and aircraft modelers.
Highly recommended.