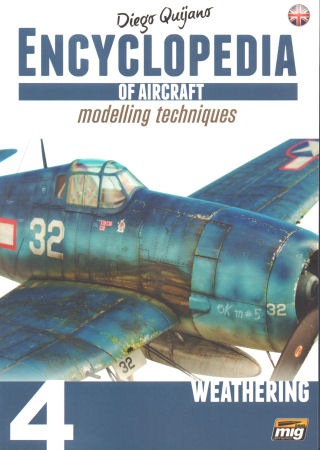 The Encyclopedia of Aircraft Modelling Techniques Part 4 Book Review
| | | | |
| --- | --- | --- | --- |
| Date of Review | May 2016 | Title | The Encyclopedia of Aircraft Modelling Techniques Part 4 |
| Author | Diego Quijano | Publisher | Ammo of Mig Jimenez |
| Published | 2016 | ISBN | 978-84-945130-3-9 |
| Format | 160 pages, softbound | MSRP (Euro) | 31,00€ |
Review
There are a growing number of modeling 'how-to' titles on the market and the folks at Ammo by Mig Jimenez are producing a five-volume series covering different aspects of aircraft modeling techniques. While the first three volumes provide nice insights into model building and painting, this is the first to deal with Ammo of Mig Jimenez's core business - weathering. The problem I have is that many of these products use terms like 'chipping' and 'filters' that mean something to me but not necessarily what the authors mean. Did you ever have the feeling that you missed a critical staff meeting somewhere?
The chipping technique fascinated me and I even have some of the product here (based upon the 'hairspray' technique which I also missed hearing about) but I never could find an article or even YouTube video that could walk me through the steps to my satisfaction. At last I have my answers. In fact, the chipping section is the first technique covered in this title and I read through that with great interest. In fact, the use of 'chipping fluid' (or even hairspray) is only one five different approaches presented in that section to achieve chipped paint on your model. Filters is the term for applying different variations of your base color(s) to different panels on your aircraft much as you would apply different metalizer colors to different panels on a bare metal aircraft. This isn't rocket science after all...
This title walks through a wide variety of weathering effects and different ways to achieve those effects. They are presented in an order you might use to weather your model, so you can review and select different effects as appropriate for your project. Most of these effects originated with armor modeling and it isn't unusual to see an operational tank look like well-worn road kill but you will want to apply some restraint since aircraft that look half as bad as some of these tanks would be ready to be sent to the scrap yard. Weathering is another dimension to the art of modeling and like the paint and decals, weathering can tell a story about your model in one glance.
Let's take a look at the coverage:
Weathering

Preparation
Chipping
Filters
Dirt, Grime and Worn Paint
Panel Line and Surface Detail Washes
General Washes
Streaking Effects
Spill Stains
Exhaust Stains
Graphite Effects
Weathering Effects with Pigments
Effects with Color Pencils
Extreme Weathering and Fading
Each section contains a selection of techniques and emphasizes how you can achieve master's level results with a little extra effort and patience. Whether you're a novice or experienced modeler, this title presents a nice variety of solutions to each aspect of weathering and I've already spotted more ideas I'm going to try on the bench soon. If the head chef in your household can collect recipe books for inspiration, why not indulge in some modeling inspiration of your own and check out this series.
My sincere thanks to Ammo of Mig Jimenez for this review copy!