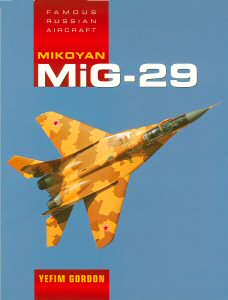 Mikoyan MiG-29 Book Review
| | | | |
| --- | --- | --- | --- |
| Date of Review | February 2007 | Title | Mikoyan MiG-29 |
| Author | Yefim Gordon | Publisher | Midland Publications |
| Published | 2006 | ISBN | 1-85780-231-4 |
| Format | 512 pages, hardbound | MSRP (USD) | $62.95 |
Review
It has been over a year since author Yefim Gordon's fantastic look at the MiG-31. That book (reviewed here) covered the development of the next generation of heavy interceptor to follow the MiG-25, and the title was a dramatic contrast to the fuzzy imagery and vague detail we've been so used to in dealing with Soviet-era subjects. That title set the bar very high for the quality of images as well as the depth of coverage on systems and operations of that aircraft. Many books on western aircraft have never come close to the work that Yefim Gordon put into the MiG-31 title. So how could he possibly top that?
In this title, the author has definitely set the bar even higher. The book starts off with the threat in the west with the production of the F-15 Eagle and the competition between the YF-16 and YF-17 for the Lightweight Fighter program. These developments proved the need for the MiG OKB to develop a follow-on to the MiG-23 tactical fighter in line with the anticipated performance of these new threats. The result of this development was the MiG-29, which was developed in parallel with the Sukhoi OKB's equally impressive Su-27.
Coverage of this title includes:
Introduction
Taking Shape
The Family Starts Growing
The New Generation
Pushing For The Navy
New Lords, New Upgrages
The 21st Century Generation
The MiG-29 in Action
The MiG-nificent Displays
The MiG-29 in Detail
The MiG-29 vs the Competition
The Operators
Production List
This title is a modeler's dream and an aviation researcher's treasure chest. The book is very well illustrated with excellent color photography around each of the variants and their weapons. The book is almost exclusively color photography except for the very beginning to illustrate the (lack of) quality of information availble during the 'Cold War'. In addition, the title contains a wealth of three-view drawings and data tables to illustrate the similarities and differences between each of the MiG-29 variants. There are also some excellent color profiles of some of the more colorful MiG-29s 'out there'.
At 512 pages, this title will take some time to digest, but it will be worth every second. From what I can see from my whole day of ownership, this title has about all of the information I need to transform or just detail out any of the MiG-29 kits out there into virtually any of the production variants and concept aircraft that made it to the airshow circuit. If you haven't seen the videos of the MiG-29OVT flight demos on YouTube, stand by for some awesome aviation. I can't wait for the new F-22 flight demo team to get their routines online for aviation equality.
This is an excellent title from Midland Publications and fills another void in the published information about this aircraft. Highly recommended!