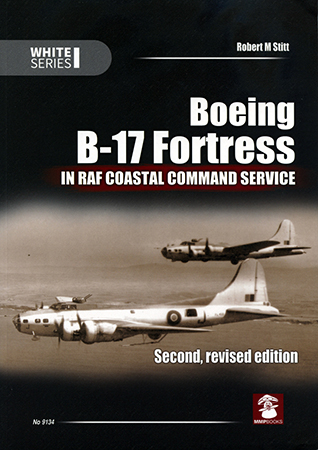 Boeing B-17 Fortress in RAF Coastal Command Service Book Review
by Ray Mehlberger
| | | | |
| --- | --- | --- | --- |
| Date of Review | June 2010 | Title | Boeing B-17 Fortress in RAF Coastal Command Service |
| Author | Robert M Stitt | Publisher | Mushroom Model Publications |
| Published | 2010 | ISBN | 978-83-89450-88-3 |
| Format | 248 pages, softbound | MSRP (BP) | £24.99 ($59.00 USD) |
Review
Mushroom Model Publications is based in the UK. Their books are printed in Sandomierz, Poland by their associate Stratus Publications in the English language. Stratus also does books in the Polish language too.
This book is announced as being the release of MMP/Stratus's 100th bookl. It is an in-depth history of the B-17 Fortress in RAF Coastal Command service during WW2.
Best known as a heavy bomber with the USAAF, the Fortress was rejected as a bomber by the RAF, but found an invaluable niche as a maritime reconnaissance aircraft with Coastal Command. For a brief, but critical period from late 1942 to mid 1943, the small number of RAF B-17's played a major role in combating the U-boat menace, flying from bases in the UK and the Azores.
Once sufficient B-24 Liberators became available the B-17's were phased out, but took on the equally important, but less permanent, role of meteorological reconnaissance, flying long and lonely sorties to provide the weather data essential for the bomber offensive.
The author, Roger Stitt has spent many years researching this history, and has been in touch with many of the (sadly dwindling number of) surviving air and ground crews. He describes in meticulous detail the history of those operations, quoting many personal reminiscences. He was born in Kent and spent much of his youth plane-spotting at airports around south-east England. Following Technical training with Hawker Siddeley aviation at Brough in Yorkshire, he spent five years managing projects among the former battlefields of the South-West Pacific, where he developed a keen interest in aviation archaeology. After moving to Canada, Robert worked in the aerial forest fire-fighting industry, where he began chronicling the fascinating variety of "retired" types employed in specialty aviation. In-depth articles on other rarely covered aviation topics followed, totaling some twenty published works to date. Robert lives with his wife on Vancouver Island.
The book is 248 pages long, soft-cover bound with a paper cover jacket in 8 ¼" x 11 ¾" page format. There 276 black and white photos. 77 of these are of aircraft crews and single individuals. 13 are portraits of crewmen that were killed and 9 are shots of nose arts on B-17's used by the RAF.
The book's cover art is in color as well as 7 other photos in the book. 3 maps are included. There are 3 technical drawings, one of which shows how dorsal antennas were fitted.
Renowned aviation artist Juanita Franzi has drawn up accurate line-drawing plans of all the B-17 variants used by Coastal Command, including all the special modifications and radar fits. She has also prepared full color profiles of the colors and markings used by these aircraft, to provide modelers and enthusiasts with accurate information and inspiration. There are 18 of these color profiles. A full index is at the rear of the book and 23 information lists are included.
Highly recommended.
I want to thank Mushroom Model Publications (MMP) and Casemate for this review sample.