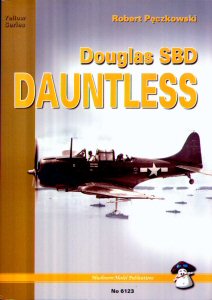 Douglas SBD Dauntless Book Review
By Ray Mehlberger
| | | | |
| --- | --- | --- | --- |
| Date of Review | September 2007 | Title | Douglas SBD Dauntless |
| Author | Robert Peczkowski | Publisher | Mushroom Model Publications |
| Published | 2007 | ISBN | 978-8389450-39-5 |
| Format | 136 pages, softbound | MSRP (USD) | $27.00 |
Review
This latest book from Mushroom Model Publications (MMP) is in their usual 9" X 6 ½" soft-cover format that they use for their books on aircraft. It contains 136 pages.
MMP is based in England and these books are printed in Poland, but are in the English language. I am told this is to save production costs. A lot of the authors are Polish also.
The book covers the design and development of the SBD "Slow But Deadly" Dauntless, from the XBT-2 & XSBD-1 to the SBD-6 version. The Dauntless was the most significant and effective naval aircraft of WWII. In many ways an obsolescent design by 1941, the SBD nevertheless managed to sink a great many Japanese warships and was instrumental in the U.S. victories at Midway and elsewhere. For all of its performance limitations it served throughout the Pacific war, and was used effectively by the French in the later stages of the European war. It was used half-heartedly by the USAAF as the A-24, this service never appreciated the potential of dive bombing.
All versions of the SBD and the A-24 are described and illustrated. There are 70 black and white photos, 106 color photos of restored Dauntless' (most are walk-around type). There are thirteen 1/72nd scale line drawings, 11 data charts, a cut-away drawing, eight illustrations out of SBD tech manuals and 30 full color profile paintings. Three of these profiles are two-views and one of them is a three-view.
There are brief details of service with all users: USN, USAAF, New Zealand, France, Mexico and Chili. The color profiles illustrate the markings of all users.
This is rather popular aircraft subject with modelers. They will find it an invaluable reference source. Aircraft enthusiasts and historians will too.
I want to thank Mushroom Model Publications (MMP) and Casemate for this review sample.