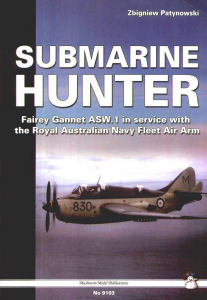 Submarine Hunter Book Review
By Ray Mehlberger
| | | | |
| --- | --- | --- | --- |
| Date of Review | August 2008 | Title | Submarine Hunter |
| Author | Zbigniew Patynowski | Publisher | Mushroom Model Publications |
| Published | 2008 | ISBN | 978-83-89450-57-9 |
| Format | softbound | MSRP (USD) | $55.76 |
Review
Mushroom Model Publications is a book company based in Redbourn, Herts, UK. They have published many books about individual aircraft and a few on armor. Their books are mostly printed in Poland in association with, and by Stratus. These are in the English language.
This latest book is probably one with the most pages I have seen in an aircraft book by Mushroom Model Publications (MMP). It has 248 pages and is in a large page format of 8 ¼" x 11 ½". Most of their other books I have in my possession are smaller size. The book is soft cover.
The book describes the operational career of the Gannet ASW.1 in the Royal Australian Navy (RAN). The author has tracked down a wide cross-section of pilots, aircrew and ground crew, who provided first-hand reminiscences of their experiences with the Gannet, from initial training in the UK, through to operations on the RAN's carrier from 1956 to 1967.
The book is laced with some typical Australian humor, their stories cover all aspects of Gannet operations, from learning to fly the "Beast" (as it was sometimes called) and operating it from carriers. Also, the sometimes complex and arduous job of maintaining and servicing the aircraft – especially at sea. The aircraft's problems are recounted, but overall the affection for the ungainly Gannet, and appreciation of it's qualities shines through.
The ungainly-looking and unconventional Fairey Gannet served with several naval air arms in the 1950's and 60's. It was a very effective carrier-borne submarine hunter. Successes, failures, high-points and tragedies are all described by the men that worked with and flew the aircraft.
The book is profusely illustrated with photos (many previously unpublished). There are 57 photos of Gannets in color (counting the one on the cover), 36 color photos of individuals and crews, 84 black and white photos of the aircraft, 9 color illustrations of Gannet Squadron badges, 77 black and white photos of pilots and crews, 15 cartoons referring to the Gannet, 20 color side profile paintings of Gannets (4 are 2-views and one is a 2-view of the top of the aircraft), there is an illustration of how the wings were removed from Gannets, obviously out of the tech manual for the aircraft, 4 charts of information, a copy of a ship's log and 3 map illustrations.
The book will be an invaluable reference source for aircraft historians, aviation enthusiasts and scale modelers about the Gannet.
I want to thank Mushroom Model Publications (MMP) and Casemate for this review sample.