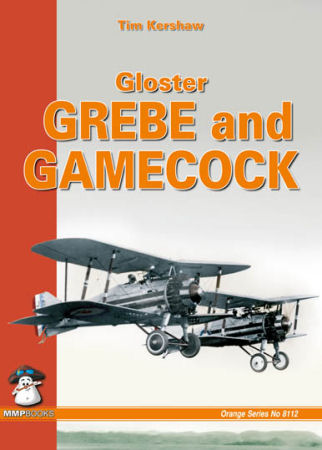 Grebe and Gamecock Book Review
By Ray Mehlberger
| | | | |
| --- | --- | --- | --- |
| Date of Review | April 2011 | Title | Grebe and Gamecock |
| Author | Tim Kershaw | Publisher | Mushroom Model Publications |
| Published | 2011 | ISBN | 978-83-61421-17-7 |
| Format | 160 pages, softbound | MSRP (GBP) | £17.99 |
Review
Mushroom Model Publications (MMP) is based in the UK. They have all their books printed in Poland by their associate Stratus in Sandomierz. This book was sent to me from Poland. It is in English. Stratus also does their own books in both Polish and English.
This latest book in Mushroom Model Publications (MMP) "Orange Series" describes the design, development and service history of two classic British "between the wars" fighter biplanes, the Gloster Grebe and Gamecock.
Designer Henry Folland developed these aircraft from the WWI SE-5A, via various British Nieuport designs. The Grebe was the first new fighter for the RAF after WWI, and the Gamecock was the last wire-braced wooden fighter in the RAF. Wearing the bright squadron colors of the era, these agile and aerobatic types thrilled crowds at the annual Hendon displays.
In addition to these 2 operational machines, a variety of closely related test and development aircraft were produced over the same period. These used different engines, tested variable-pitch propellers and other technical innovations. The Gorcock, Goldfinch, Guan and Gambet are described here. The Nakajima A1N fighter for the Japanese Navy was also part of this family, and the final version of the Gamecock saw service with Finland, the last one surviving until 1944.
All these aircraft are described and illustrated, with 1/48th scale line drawings, over a hundred black and white photos (including many rare ones) and color profiles. The author Tim Kershaw is a leading person in the Gloucestershire Aviation Collection's Jet Age Museum, which holds the Gloster archives and whose members have built a "new" Gamecock from surviving parts and official plans. Detail photos of this splendid reproduction aircraft fill a section of this book. Short biographies of Henry Folland and the key Gloster test pilots of the period round out the text.
The excellent color profiles are a fitting memorial for artist Krysztof W. Wolowski, who sadly died shortly before the book went into print. The book is dedicated to him.
This book will be essential reading for aircraft historians, enthusiasts and modelers.
I want to thank Mushroom Model Publications (MMP) and Casemate for this review sample.