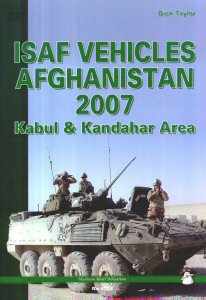 ISAF Vehicles Afghanistan 2007 Book Review
By Ray Mehlberger
| | | | |
| --- | --- | --- | --- |
| Date of Review | April 2010 | Title | ISAF Vehicles Afghanistan 2007 |
| Author | Dick Taylor | Publisher | Mushroom Model Publications |
| Published | 2007 | ISBN | 978-83-89450-76-0 |
| Format | 96 pages, softbound | MSRP (USD) | $35.00 |
Review
Mushroom Model Publications (MMP) is based in the UK. They have their books printed in Poland by Stratus in the English language. MMP now has a U.S. distributor for their books, located in Pennsylvania by the name of Casemate.
This book was first published in 2007, and is about what vehicles were used in Afghanistan back then by the ISAF (International Security Assistance Force). It is virtual picture album of those vehicles.
The ISAF in Afghnistan was set up in 2002 and in the summer of 2007 was in it's tenth iteration, or ISAF X. It is often described as a "Coalition of the Willing". At that time, although this flucuated, around 17,000 troops – the U.S. had nearly 15,000, whilst the UK was the second largest contingent with over 7,000. Others contributing significant numbers (over 1,000) were: Germany (nearly 3,000), Italy (around 2,500), Canada (2,000+), as well as the Netherlands, Poland and Turkey. Amongst the smallest contributing nations were Iceland with 10, Ireland with 7, and the smallest of all, the Ukraine with a single soldier.
This photo-reconrd contains nearly 200 color photos, and the intention of the book is to focus primarily on these photos. However, explanatory notes and captions are included where these will be helpful.
In the first part of the book you will find some of the types of vehicles (18) used in Afghanistan in 2007, mainly in the Kabul and Kandahar area. In the second section of the book, it concentrates on the schemes and markings noted. A huge number and variety of vehicles was to be found around the country then, and this photo-book cannot hope to show all of them in all their various configurations. One reason for this was the extensive up-armouring that was an ongoing feature of the fleets. In some instances, this up-armouring used traditional steel armour plate, but increasing use was being made of other materials too.
For obvious reasons, wheeled vehicles far outnumbered tracked AFV's. However, normal trucks and lorries were increasingly being armed and armoured, as the traditional "rear areas" were no longer clearly defined, and logistic troops often found themselves attacked whilst on convoy duties. Many countries supplied protection enhancement kits designed to be fitted onto such vehicles in this theatre, and which could also be moved between vehicles as required, for example – if the fleets were rotated for maintenance reasons.
For those interested in the camouflage and markings of these vehicles, it will be seen in the second part of the book that many of them remained in the European schemes. As a general rule, tactical vehicles employed in the rural areas for operations were in various sand-colored schemes, but urban vehicles were often left in the plain green or normal European camouflage colors.
The author's fee for this book has been donated to British servicemen's benevolent funds.
He is a serving army officer, who spent some time in the Kabul and Kandahar regions in 2007. His photos and detailed colors and marking notes form the basis of this new book, which will be invaluable to anyone interested in modern-day conflicts, or modelers of modern military vehicles.
I want to thank Mushroom Model Publications (MMP) and Casemate for this review sample.