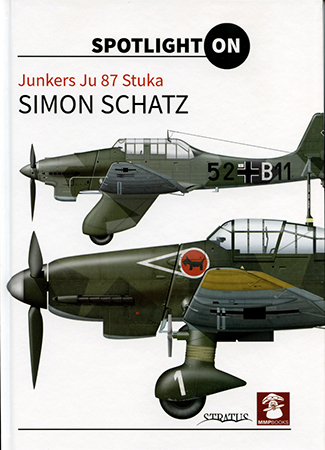 Ju 87 Stuka Book Review
By Ray Mehlberger
| | | | |
| --- | --- | --- | --- |
| Date of Review | February 2008 | Title | Ju 87 Stuka |
| Author | Robert Michulec & Matthew Willis | Publisher | Mushroom Model Publications |
| Published | 2008 | ISBN | 978-83-89450-49-4 |
| Format | 96 pages, softbound | MSRP (USD) | $24.95 |
Review
Mushroom Model Publications (MMP) is based in the UK. They have their books printed in Poland in cooperation with Stratus there in the English language.
This new book is in MMP's usual 6 ½" x 9" page format with soft cover, that they use for all their aviation books. This book has 152 pages.
The Junkers Ju 87 "Stuka" was the spearhead of the German Blitzkrieg. It was a feared and infamous weapon used by the Luftwaffe from the Spanish Civil War until the end of WWII. A superb dive-bomber, later used as a close-support ground attack and anti-tank weapon, the Stuka thrived when air superiority could be guaranteed – but suffered badly when faced with effective fighter opposition, as in the Battle of Britain. Perhaps the most renowned aircraft used by the Luftwaffe, the Ju 87 is the one aircraft brought to mind when "dive-bomber" is mentioned.
All versions of the Ju 87 are described and illustrated in this new book, from the initial production "Anton" A model to the tank-busting Ju 87G. The book is profusely illustrated with 113 black and white wartime photos, 41 line drawings in 1/72nd scale, 78 full-color walk-around type photos of Ju 87's that are in the Museum of Science and Technology, Chicago USA, the Museum Lotwictwa Polskiego in Krakow Poland and the RAF Museum in Hendon UK. There are also 33 illustrations out of German tech manuals and 52 color profile paintings and 3 top view paintings of Ju 87 variants. The last page of the book has a bibliography.
The profile paintings are all in Luftwaffe markings. No illustrations of Stukas that served with other air forces are shown. For information on the Stuka in foreign service, refer to this earlier Mushroom title.
Chapters in the book include:
Ju 87 Genesis
Junkers Ju 87A
Junkers Ju 87B
Junkers Ju 87R
Tropical versions
Junkers Ju 87C
Junkers Ju 87D
Junkers Ju 87D night versions
Junkers Ju 87E
Junkers Ju 87G
Junkers Ju 87H
Uncompleted developments: Ju 87F, Ju-187 & Ju-287
Junkers Ju 87 production
Technical data
Detail photos: Ju 87A, Ju 87B & Ju 87D-G
Color profiles
On the back cover of the book are illustrations of the covers of 3 other books by MMP. One is titled "German Air Projects, Vol. 3". It is reviewed elsewhere here on Cybermodeler. The other two are future releases: "Henschel Hs-126" and "Messerschmitt Me-163B Komet".
This is one neat book about the famous Stuka. It will be of interest to both air enthusiasts and modelers alike. Highly recommended.
I want to thank Mushroom Model Publications (MMP) and Casemate for this review sample.