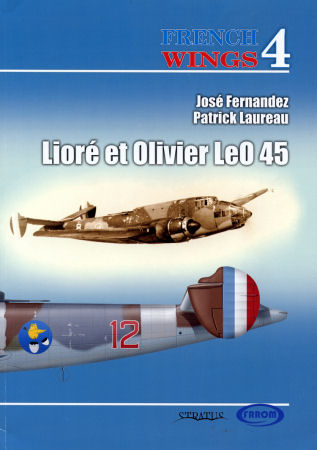 Lioré et Olivier LeO 45 Book Review
| | | | |
| --- | --- | --- | --- |
| Date of Review | January 2016 | Title | Lioré et Olivier LeO 45 |
| Author | Patrick Laureau, Jose Fernandez | Publisher | Stratus Publications |
| Published | 2015 | ISBN | 9788363678784 |
| Format | 80 pages, hardbound | MSRP (USD) | $25.00 |
Review
One of World War II's comeliest combatants, France's promising Lioré et Olivier LeO 45 medium bomber fundamentally failed to meet the sanguine expectations of Armée de l'Aire planners.
Now Jose Fernandez and Patrick Laureau capably chronicle those dashed hopes in their eponymous effort, Lioré et Olivier LeO 45 – fourth installment in Stratus/FRROM's superb "French Wings" series.
Available in North America from Casemate. coverage courses chronologically – from design and development through deployment and demise.
Teething troubles – especially engine cooling and handling issues – proved so vexing that, two months before Hitler unleashed his Western Blitzkrieg, an Inspecteur Général report declared LeO 45s "'not safe enough to be used at night, nor fast enough for daytime missions.'"
Once fighting began, results proved mixed. Groupment de Bombardement no 6, for instance, "carried out 312 sorties out of an intended 400 and lost 55 aircraft, less than half of them to enemy action, while 12.6% of those which did in fact attack the enemy were lost in combat".
The design's "advantages and defects," authors conclude, "cancelled one another out in service, except in the hands of very experienced crews".
But a year later, results of fierce fighting in Syria suggest that the Armée de l'Aire warplane finally gained a modest measure of maturity. Around 50 LeO 45s robustly resisted British Commonwealth forces during Operation Exporter. Over 482 sorties, the French bombers suffered 1% losses. And LeO 45 "vulnerability while on the ground" ultimately proved "the main cause of operational losses".
Too late. A malignant mix of aging airframes and armistice constraints gradually scoured LeO 45s from service. After the November 1942 invasion of France's Unoccupied Zone, Germany and Italy seized 160 as war booty. Only cannibalization kept survivors flying – surprisingly, in some cases, into the 1950s.
What a riveting read! The copiously illustrated effort features photos, tech-manual excerpts and stunning color profiles. Dust off Heller's classic kits!
Let's hope "French Wings" eventually offer a similarly superb study on the rival Amiot 350 series!
Rabidly recommended!
With thanks to Casemate for the review copy.