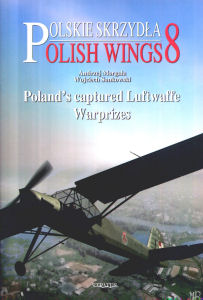 Polish Wings 8 Book Review
By Ray Mehlberger
| | | | |
| --- | --- | --- | --- |
| Date of Review | October 2008 | Title | Polish Wings 8 |
| Author | Andrzej Morgala & Wojciech Sankowski | Publisher | Mushroom Model Publications/Stratus |
| Published | 2008 | ISBN | 978-83-89450-81-4 |
| Format | 56 pages, softbound | MSRP (BP) | £9.99 |
Review
Stratus is a publishing company based in Sandomierz, Poland. They are partnered with Mushroom Model Publications (MMP) that is based in Redbourn, Herts UK. MMP has their books printed in Poland in the English language. The book is available from MMP. The book is in 8" x 11 ¾" soft cover format. It contains 56 pages.
This new book describes the refurbishment and use of captured Luftwaffe aircraft in Poland after WWII. A great many front line combat aircraft were found, mostly in damaged or incomplete states. Although the cover letter says that none of these were subsequently restored or used, the book shows a Bf 109G that was restored. Strange, that they say that then.
Utility types, training aircraft and gliders were repaired, restored and put to good use by the military or civil air organizations. This book describes and illustrates all these aircraft, with photos and full color profiles. From the twin engined Caudron Goeland and Fw 58, through the Fiesler Storch and various trainers, to the many gliders which were used to establish post war flying training, all the individual aircraft histories are described and tabulated.
The book contains 47 black and white photos, 7 color photos (2 of which are the front and back cover shots), color illustrations consist of 43 side profiles, 2 four views, 2 two views and 3 three views. There are also 2 information charts included in the book. All these color illustrations are right next to actual photos of the aircrafts being depicted…neat!
Aircraft shown as wrecks are the Bf 109G (one shown in walk around photos under restoration and then in color shots as finished), the Bf 109G, FW 190A's, Ju 87G's, Bf 110, Ju 88's, He 219, Arado 196A, Do 18's, Arado Ar 66C, Junkers W 34 and a Siebel Fh 104A.
Utility type aircraft are shown in black and white photos and color illustrations. These include the Fiesler Fi 156 Storch, the Focke Wulf FW 44 Stieglitz, Heinkel He 72 Kadett (miss labeled as a Fw 44 in black and white pictures on page 27), Bucker Bu 181 Bestman, Bf 108 Taifun, Klemm Kl 35D, Bucker Bu 131B Caudron C 445A, FW 58 Weihe, Moller 3V11.
Gliders are also illustrated in color next to black and white photos of them. These include the SG 38 Stick, GB IIB2 Grunau Baby, DFS Kranich II Crane, Goppingen Go 4, LWD Osa, DFS Olympia Meise, Goppingen Go 3 etc.
Some of these are well known types. There were some rarities, such as the Moller 3V3 Stomo D YDAL, "Temperolus" and Moller 3VII Sturmer D YNET "Ruth". Gliders ranged from the very basic SG 38 through to various high performance types, including the Horton II.
This new book gives a fascinating glimpse into an almost unknown area of aviation history, and an intriguing view of many ex Luftwaffe aircraft operating in the post war world. A must for students of post war aviation, Luftwaffe enthusiasts and scale modelers.
Techmod decals, in cooperation with MMP/Stratus has prepared a decal sheet for the Fiesler Fi 156C Storch, based on this book. The sheet is available in 1/72nd , 1/48th and 1/32nd scales (Techmod decals no. 72053, 48084 & 32036).
I want to thank Mushroom Model Publications (MMP) and Casemate for this review sample.