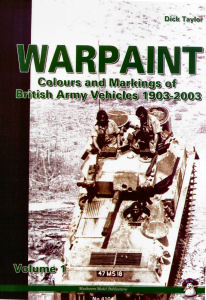 Warpaint, Colours and Markings of British Army Vehicles 1903-2003 Book Review
By Ray Mehlberger
| | | | |
| --- | --- | --- | --- |
| Date of Review | June 2008 | Title | Warpaint, Colours and Markings of British Army Vehicles 1903-2003 |
| Author | Dick Taylor | Publisher | Mushroom Model Publications |
| Published | 2008 | ISBN | 978-83-89450-63-0 |
| Format | 124 pages, softbound | MSRP (USD) | $36.99 |
Review
This new book in the Mushroom Model Publications (MMP) "Green Series" is the first in a 4-volume series describing the colors and markings applied to British Army vehicles in the 20th century.
Volume 1 covers:
The basics of colors and interpretation of photos, and the sources used in this study
Paint and camouflage in WWII, two sub-unit markings and callsign systems
Paint and camouflage post WWII, two arm of service markings, 3 formation signs
Ground and air recognition systems, two vehicle names, 3 miscellaneous marking systems
Overall, the series will be a complete description of British Army vehicle colors and markings, both official and unofficial. The books are an invaluable reference source for military vehicle enthusiasts and modelers.
The author is a keen modeler, and wrote these books because he couldn't find the information he needed elsewhere. All the volumes in the series are profusely illustrated with photos. This volume has: 10 color photos of modern AFVs and three of WWII vehicles. There are 53 black and white war-time photos from WWI and WWII. For color profile paintings, we get 5 that are of WWI vehicles. Added to this are color patches of camouflage patterns used on WWI vehicles too. 25 vehicle markings, used from WWI to 2003 are illustrated. The back of the book has 9 pages of T-Numbers (serial numbers) used on British vehicles, telling what vehicles these appeared on. There are 2 pages of F-Numbers and one page of D & S-Numbers. Markings for post 1949 are also shown on four and a half pages. On the last few pages there is a long bibliography.
The author, Dick Taylor, joined the British Army as a junior Leader in 1976, and served as a tank crewman and commander in the 3rd, 2nd and 1st Royal Tank Regiments, reaching the rank of Warrant Officer Class One. He has served in many countries worldwide, and operationally in Northern Ireland, Cyprus, Bosnia and Croatia, Macedonia, Kuwait and Iraq, as well as Kosovo where he was awarded the Queens Commendation for Valuable Service. He was commissioned in 2000, and his specialties have included tank gunnery instruction, chemical, biological, radiological and nuclear operations. Psychological operations and lately, defense exporting. He has a first class degree in History, and is currently reading for his master's degree at Dundee University. He is married, with two sons and lives in Blandford, Dorset.
The book comes in a 11 ¾" x 8 ¼" soft cover format of 124 pages.
The cover art shows a British modern Scorpion tank photographed from above while on trials on Cyprus. The book describes in great detail not only the official paint schemes ordered, but also many of the variations often seen in practice. Also, the individual and unit markings applied to tanks and armored cars, soft-skin vehicles, and towed and self-propelled guns. For the first time ever it offers a fully comprehensive guide to what many consider to be a very confusing topic.
Highly recommended.
I got my copy in a well padded, bubble pack lined, envelope from Stratus in Poland. Stratus is the sister company of MMP, where most of the MMP books on aircraft and armor are printed in English.
I want to thank Mushroom Model Publications (MMP) and Casemate for this review sample.