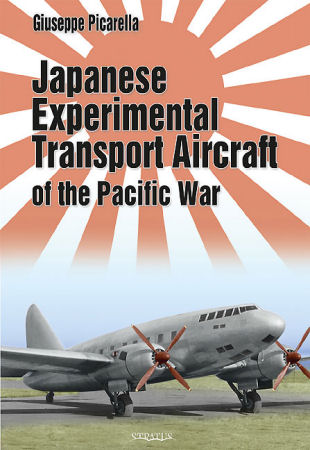 Japanese Experimental Transport Aircraft of the Pacific War Book Review
By Ray Mehlberger
| | | | |
| --- | --- | --- | --- |
| Date of Review | January 2012 | Title | Japanese Experimental Transport Aircraft of the Pacific War |
| Author | Giuseppe Picarella | Publisher | Mushroom Model Publications/Stratus |
| Published | 2012 | ISBN | 978-83-61421-41-2 |
| Format | 200 pages, hardbound | MSRP (BP) | £29.99 |
Review
Mushroom Model Publications is based in the UK. All of their books are printed by their partner Stratus in Sandomierz , Poland in English. Stratus also does books in Polish tool. This new book was sent to me directly from Stratus.
The book is hard-bound and 200 pages long in 8 ½" x 11" format. The cover art shows a Japanese flag with a color photo of a Tachikawa Ki-92 below it. The author's photo appears in color on the back cover of the book. He is posed on the wing of a plane in a museum. Next to his photo is a biography about him. It says:
"A full time member of Flight International – the oldest weekly aviation magazine in the world – Giuseppe "Joe" Picarella, in his role as Senior Technical Artist, is responsible for the world-renowned cutaway illustrations that appear in the magazine.
While his day-to-day job brings him into contact with the most modern and diverse aerospace projects, he has devoted more than 25 years of his free time to restoring and researching many of the surviving Japanese aircraft held in museums and private collections around the world.
As the Japanese aviation consultant to the Royal Air Force Museum (Hendon) he has been involved with and surveyed all of the Japanese aircraft within the collection, together with all the surviving Japanese aircraft in the UK. Internationally, he consults for several private and national collections and is currently involved with numerous static and flying Japanese aircraft restoration projects.
A member of the Royal Aeronautical Society and pilot, he and his wife own and operate an original 1942 Piper L-4B "Grasshopper" liaison aircraft in the south of England"
Below this is a color photograph of a Japanese "Betty" in surrender markings sitting on a runway.
There is very little information in English on Japanese transport aircraft of WWII. This new book from the well-known illustrator and author Giuseppe Picarella covers all the experimental transport aircraft of the period (including gliders), and puts them into context with the overall story of Japanese military transport operations of the period.
Both the Navy and the Air Force in Japan neglected transport aviation, with disastrous consequences for logistics in the extended theatres of the war. The most important aircraft built and used in Japan were copies of the DC-3 and various Lockheed types! Japanese designs were mostly converted bombers – but there were some interesting projects and prototypes, all described in detail here.
The book is profusely illustrated with 309 wartime black and white photos and 17 color ones. Many of these photos are rare. Added to these are the author's own superb illustrations.
The table of contents include:
Imperial Japanese Army Transport Aircraft – an Overview
Imperial Japanese Navy Transport aircraft – an Overview
Paratroop and Special Forces Operations
Experimental Transport Aircraft of the Imperial Japanese Army Air force 1941-1945
Experimental Transport Aircraft of the Imperial Japanese Naval Force
Silent Wings of the Empire Experimental Transport and Assault Gliders of Imperial Japan
Emissaries to the Emperor
The Sun Goes Down
Post-war Japanese Transport Operations
Allied Test Flights of Japanese Transport Aircraft
Surviving Transport Aircraft of Imperial Japan
Japanese Transport Aircraft Photo Album
I recommend this book as an essential guide to Japanese Transport Aircraft design and operational use before and during the war. It will be great reading for all aviation enthusiasts, historians and modelers with an interest in Japanese aircraft of the period.
I want to thank Mushroom Model Publications (MMP) and Casemate for this review sample.