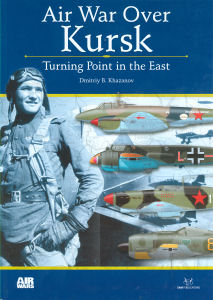 Air War Over Kursk Book Review
| | | | |
| --- | --- | --- | --- |
| Date of Review | August 2010 | Title | Air War Over Kursk |
| Author | Dmitriy B. Khazanov | Publisher | SAM Publications |
| Published | 2010 | ISBN | 978-1-906959-26-5 |
| Format | 144 pages, softbound | MSRP (BP) | £19.99 (Approx 31.30 USD) |
Review
SAM Publications has launched a new series of monographs that focus on key air campaigns in the history of aerial warfare with its first installment covering the airborne portion of the Battle for Kursk. Authored by Russian historian Dmitriy Khananov, this title looks at the Kursk campaign from the Soviet Air Force (VVS) as well as the German Air Force (Luftwaffe) perspectives.
This title covers this period of history:
On the eve of the battle
'Zitadelle': The battle begins
Breakthrough to Kursk
Operation 'Zitadelle': The downfall
Operation 'Kutuzov': The counter offensive
War in the night sky
The Red Army advances to Kharkov
Outcome of the Kursk battle
Each section looks at the battle from both perspectives with very nice period photography and color profiles of each of the aircraft variants involved with the air campaign. The side-by-side perpectives are also carried over in these period images such as the contrasting air ambulace shots of VVS personnel loading wounded soldiers into the dorsal bays of a Po-2 whilst Luftwaffe personnel are doing loading a Storch in the next image.
What is really refreshing is a more realistic look at the composition of the Soviet Air Armies that were deployed against the Luftwaffe. In the air war titles published in Russian before the fall of the Berlin Wall, you'd rarely see any reference to lend-lease aircraft in VVS combat operations. One title on the 16th Air Army had nothing but Soviet-made aircraft in their squadrons during the war. The author has lifted the propoganda vail to show where the lend-lease aircraft were woven into different squadrons to augment or replace combat losses and this title has some nice shots of B-25 Mitchells, P-39 Airacobras, and A-20/Bostons in VVS service. There are also some really nice shots of the Il-4, Pe-2 and Pe-8 bombers which you don't see very often. The Luftwaffe imagery is equally good and in fact, I don't recall seeing hardly any of these photos before!
This title will be a nice addition to the modeler and historian alike as this coverage provides a nice top-level overview of the subject.
My sincere thanks to SAM Publications for this review sample!