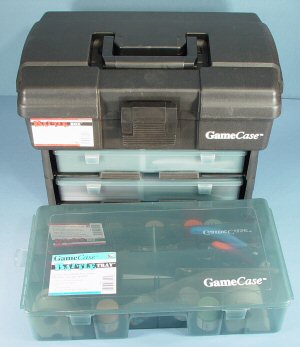 Flambeau Battle Box GameCase First-Look
| | | | |
| --- | --- | --- | --- |
| Date of First Look | November 2003 | Manufacturer | Flambeau |
| Subject | Battle Box GameCase | Pros | Excellent tool storage and organizer to clean up the workbench! |
| Cons | | MSRP (USD) | $48.00 |
First-Look
While attending the Las Vegas Hobby Show in 2003, I spotted an interesting booth that was stacked full of plastic toolboxes. The vendor was from a company called Flambeau that is a plastics company is based in Ohio, which makes a wide range of storage, sporting goods and even automotive parts. One of Flambeau's brand names that might sound familiar to you is Duncan – the yo-yo manufacturer!
The toolboxes that were being highlighted at Hobby Visions were from a new line called GameCase, and one of the first models was appropriately called the 'Battle Box.' The Battle Box resembles a combination of a Sears Craftsman tool chest with a set of reconfigurable, sealable, compartmented drawers. The Battle Box was designed for war gamers that carry their armies of custom-painted figures around to the next battle and to carry supplies to assemble and paint reinforcements between the wars. On closer inspection, however, I saw how useful these would be for any modeler who likes to have flexible storage, portability and durability is a case that can carry models, tools and supplies. Judging from some of the logistics I've seen modelers use to bring their 'stuff' to club meetings and contests, these GameCases are just the ticket to make mobile modeling easier.
The whole system is quite modular. The overall case iis approximately 18"W x 12"H x 12"D. There are five major components to the Battle Box. The top chest module, the two lower drawer frame modules, and the two drawers. The drawer frame modules are locked securely together with four clips, and these modules are secured to the bottom of the chest module again with four clips. Additional modules can be purchased separately to expand the system to your own needs.
Each drawer module is a self-sealed case that has lengthwise compartments molded into the case and a number of configurable dividers included. One very nice touch is the inclusion of an ample supply of foam to line the compartments and protect any fragile contents during transportation. Two of these 'drawers' are included with the basic GameCase and are locked into place by a pair of tabs when slid back into place.
The chest module is a wide-open case that also comes with two full-size pieces of foam to protect larger delicate objects. You can remove the foam and fill the chest with tools, paints, or whatever. Or you can purchase the optional expansion box, called the Battle Tray, which is a larger version of one of the drawers that will fit nicely inside the chest module and provide more compartmentalized storage options.
This new GameCase family is so new that distribution is still being worked out. For those of us who can't wait to get our collective logistics together, you can contact one of the factory representatives directly to order. Pricing on the Battle Box is $48.00 USD while the Battle Tray is priced at $18.50 USD.
My sincere thanks to Flambeau (http://www.flambeau.com/) for these review samples!