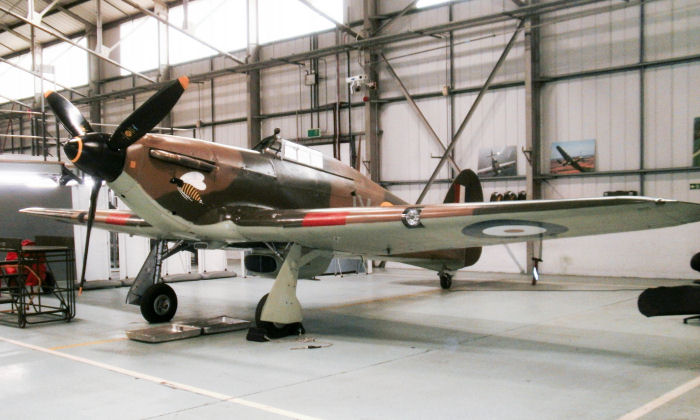 Battle of Britain Memorial Flight – Hangar Visit
Earlier this month, I was given an opportunity to look around the Battle of Britain Memorial Flight (BBMF) hangar at RAF Coningsby, ahead of this year's air show season. All but one of the Flight's aircraft were there, undergoing various stages of maintenance. The missing aircraft, the second Spitfire PR Mk XIX  (PS915) was away undergoing a full 'major plus' refurbishment with the Aircraft Restoration Company (ARCo) at Duxford and is not due to re-join the BBMF until late-2016. When it does return, it will be finished in high-speed silver overall, as flown by Flt Lt Ted Powles DFC, 81 Sqn detachment, Kai Tak, Hong Kong, late 1952-53.
Time being of the essence, and only having my 'baby' camera with me, this gallery of pictures offers views all aircraft within the hangar, apart from Chipmunk (WG486), still in the BBMF 'corporate' colour scheme of black with white training bands, applied in 2000, which was not photographed as the engine was removed for servicing.
My thanks to Sqn Ldr Clive Rowley MBE RAF(Ret'd), a former 'Boss' of the BBMF and now one of the Flight's volunteer guides, for facilitating my visit.
Spitfire Mk IIa: P7350 – depicts EB-G flown by Plt Off Eric Lock of 41 Sqn RAF in September 1940 (later Flt Lt DSO, DFC and Bar).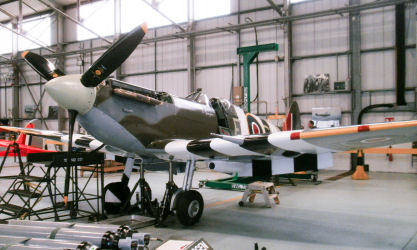 Spitfire Mk Vb: AB910 – depicts SH-F / 'Peter John I' as flown by Flt Lt Tony Cooper of 64 Sqn RAF, 1944.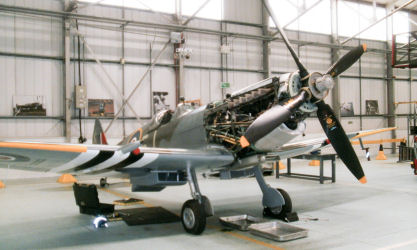 Spitfire LF Mk IXe: MK356 – depicts 5J-K / 'Kay' as flown by Sqn Ldr 'Johnny' Plagis, DFC and Bar, of 126 Sqn RAF, July 1944 (later Wg Cdr, DSO, DFC and Bar).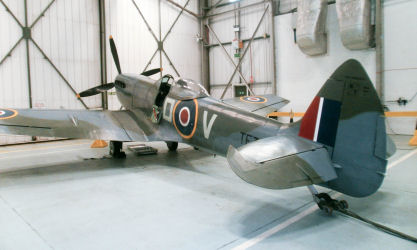 Spitfire LF Mk XVIe: TE311 – depicts 4D-V as flown by Sqn Ldr Tony Reeves, DFC, officer commanding 74 Sqn, April 1945.
The cockpit of the Spitfire LF Mk XVIe TE311.
Spitfire PR Mk XIX (PR.19): PM631 – depicts an aircraft of 541 Sqn RAF, 1944-45.
Hurricane Mk IIc: LF363 – modified (i.e. cannon removed) to depict a Mk I (JX-B) as flown by Sgt Pilot Arthur Clowes DFM of 1 Sqn RAF during the Battle of Britain, 1940. (He was commissioned as a Plt Off in September 1940 and later DFC, DFM.)
Hurricane Mk IIc: PZ865 – depicts EG-S as flown by Flt Lt Jimmy Whalen, DFC of 34 Sqn RAF, serving with SEAC (South East Asia Command) in early 1944.
Lancaster B Mk I: PA474 – depicts KC-A 'Thumper Mk III' of 617 Sqn RAF, as issued to that unit following the Dams raid of 1943, highlighting the rear Fraser-Nash gun turret with four 0.303 in machine guns.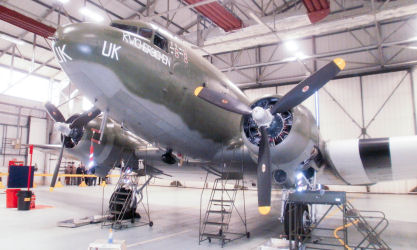 C-47 Dakota: ZA947 – built in 1942, this ex-Royal Canadian Air Force (RCAF) aircraft depicts 5T-UK/ 'Kwicherbichen' of 233 Sqn RAF as photographed in flight on 28 July 1944.
Another view of Dakota: ZA947 with the codes '5T' covered over by the D-Day stripes).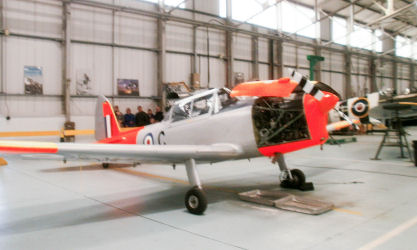 Chipmunk T.10: WK518 / C – as flown by the author in 2007, now wearing the colours of Hull University Air Squadron (UAS), with which it actually flew in 1961.