Notice: The appearance of U.S. Air Force, U.S. Army, U.S. Navy, U.S. Marine Corps, U.S. Coast Guard, Department of Defense, or NASA imagery or art does not constitute an endorsement nor is Cybermodeler Online affiliated with these organizations.
CultTVman Science Fiction 2014
1/12 Dr. Who A036
Model by Richard Clothier, UK
The diorama was created by combining the two Airfix Dr Who model kits: 'Welcome Aboard' (A50006) and 'Daleks in Manhatten' (A50007). The scale is 1/12th. Everything is out of the box except the base. I have wired a light in the bulkhead behind the Doctor figure to complement the lights and sound provided with the Dalek kit. I am particularly pleased with the detailing on Martha's T-shirt which was hand painted. The goo leaking out of the Dalek is coloured PVA glue.
Click on any image to see a larger view.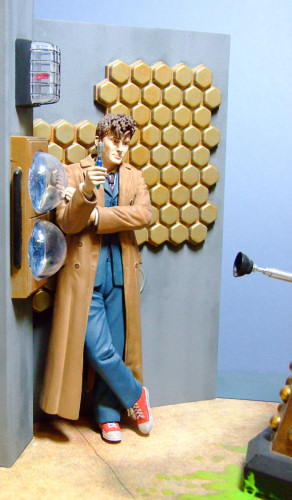 Return to the CultTVman Science Fiction 2014 Virtual Contest Room