Entry Rules for the MRC 2014 Global Helicopter Contest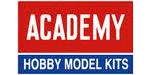 The MRC 2014 Global Helicopter contest starts Friday, 24 October and will run through Friday, 28 November. The contest is open to models from all manufacturers (and scratchbuilt) and from modelers from around the world. Helicopters, autogyros, even tilt-rotors may enter. The top three modelers will each win the new MRC/Academy 1/35 MH-60S Seahawk which is due for release at the end of the contest by some coincidence. Please read and heed the following rules:
The contest is open to modelers around the world.
Models can be built straight out of the box or loaded with aftermarket details, scratchbuilding, etc.
Entries will be accepted between Friday, 24 October and 12 PM (noon) EST Friday, 28 November 2014.
Submit five photos of your entry.
Each of the submitted photos must be at least 1600 pixels wide.
Do not add watermarks or copyright information to your images.
At least one photo will show the entire model, the others can also be overviews at different angles or close-ups of your handiwork. Of course your photos need to be good as we'll be judging your model based on them.
Please provide your name, postal address (in case you win), email address, kit manufacturer, kit number, subject and scale, and a brief (1-2 sentence) description of what you did to the model (out-of-the-box or how enhanced).
You may enter as many models as you wish, but only one prize will be awarded per person.
Each entry must include all five images and the information in line 8 above.
Each entry must be submitted by separate email to contest@cybermodeler.com.
Please include your photos with your entry - do not send links to download sites like Photobucket for your images, these entries will be disqualified.
If there is a problem with your entry, we'll email you so you can correct the problem. Problems not corrected before the entry deadline will be disqualified.
Submitting photos for entry into this contest constitutes permission for Cybermodeler Online and the contest sponsors to reprint these photos.
All entry photos will be posted in a virtual contest room for all to view. Judging will begin after 1200 EST on 29 November and you can vote for your top five favorites. Your votes will be totaled and the results will be posted in our Wednesday evening (3 December 2014) edition.
Good luck!