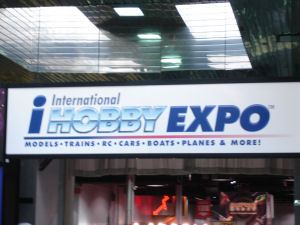 iHobbyExpo 2008 Report
Background
I've attended this show now every year over the last 10 years except for the one year it was held in Los Angeles. The year that it was held in Las Vegas was a blast and I wish they'd reconsider that location in the future, but the remaining years have been held in the convention center in Rosemont, IL, right outside the perimeter fence of Chicago's O'Hare airport. Why here? The area used to be the hub of the US hobby industry and many of the larger sponsors of iHobbyExpo are still based nearby.
So what's new in the 2009 show? It was clear that while the stock market so high over the last year that many of the companies presenting here were spinning up their product lines. The tragedy is the market crash that hit just before the show was reflected at the show as well. Attendance at the show was definitely off on day one. Every year that I've attended this show, I park in the multi-story parking garage across from the convention center and I usually have to park on the fourth or fifth level due to all of the cars for all of the attendees and exhibitors. This is the first year that I actually arrive a little late for the show and still park on the first level. While I'm certain that the public days of the show on Saturday and Sunday will be well attended and we'll see the usual press releases on the record success of the show, the real gauge of success of the show are the trade days and hopefully day two (Friday) will be much busier that day one.
What else was new and interesting was the presence of what I'll call the 'branding police'. You'll remember over the last few years the campaign that the hobby industry pushed on the US Congress to keep defense companies from licensing military products like F-16 Fighting Falcon and M1 Abrams that were developed under taxpayer dollars. That effort backfired last year and now many defense contractors are indeed branding their aircraft, combat vehicles, engines, etc. I witnessed one member of the 'branding police' inspecting several booths to ensure that the packaging of any products for certain aircraft type that they represent were properly licensed and labeled.
Okay, back to the fun part – as I said, a number of companies were spooling up their lines in anticipation of a growing consumer demand for new and popular products. What follows is a detailed run-down of what was on display at this year's show, plus a few pleasant surprises. I won't bother listing those attendees that were displaying the same old announcements from last year's show.
---
Academy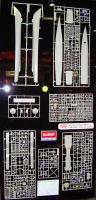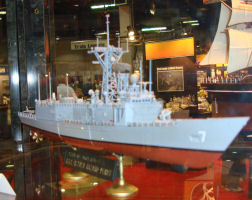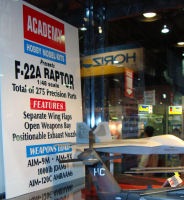 1/350
USS Oliver Hazard Perry FFG 7
1/48
F-22A Raptor
MH-53E Sea Dragon
1/72
---
Airfix
Airfix has definitely emerged from receivership (bankruptcy) after the duo of Airfix and Humbrol were purchased by Hornby. We've seen a number of kits released since then including the 1/48 Canberra and the 1/72 Nimrod. They've also released the first of the Dr. Who and Shaun the Sheep series kits which are doing well. Coming very soon are the next installments of the 1/48 Canberra, including the B-57, and the 1/48 TSR-2. What was also good to see were the CAD drawings of the 1/24 Mosquito fighter. While some of these kits have already hit the streets, here is a list of what's coming from Airfix: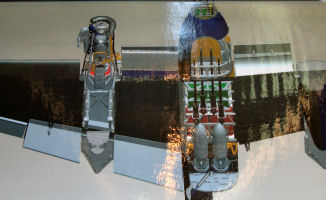 1/400
HMS Montgomery
HMS St. Albans
1/76
Bedford Tactical Aircraft Refueller
Bedford Mk.II
Churchill Bridge Layer
Landrover (hard top)
Landrover (soft top)
Landrover 1-ton FC Ambulance
Landrover 1-ton FC Truck
LCM III Landing Craft and Sherman Tank
M113 ACAV
M113 Fire Support Vehicle
M119 105mm Field Gun
Matilda Hedgehog
Saladin Mk.II
Saracin Mk.I/II/III
Sherman Calliope
Vickers Light Tank
1/72
Alpha Jet
Canberra B(I).8
Canberra PR.9
Chinook
Hawk 128/132
Horsa Glider
Meteor F.8
Mistel (Fw 190/Ta 154)
Sea King HAS.5/AEW.2
Spitfire Mk.IXc
Tempest V
Typhoon (Eurofighter)
Wellington Mk.Ic/Mk.III
1/48
B-57B Canberra
Canberra B(I)8
Canberra B.2/B.20
Canberra PR.9
TSR.2
1/24
1/12
Dr Who Dalek Encounter
Shaun the Sheep w/Tractor
---
AMT
See Round 2
---
Classic Airframes
The big show announcement: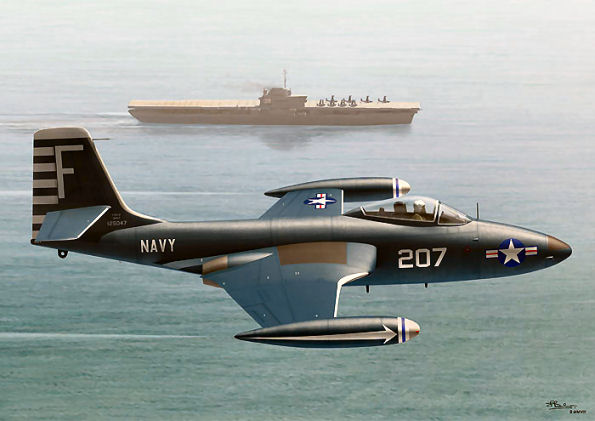 1/48
F2H Banshee
Fiat Br 20
Fokker D.XXI Dutch
Gannet AEW
P-6E
Sea Venom
---
Eduard
Eduard was on hand to display the wonders of their wide range of hobby products including the new F6F Hellcat Royal Class (that we just reviewed) and a test shot of the upcoming 1/32 Bf 109 series. As a definite sign of their success, Eduard has given up trying to print catalogs containing the breadth of their photo-etch, mask, and kit lines, and have moved to CD-ROMs to make life much easier for them as well as for those of us carrying around those catalogs at the show!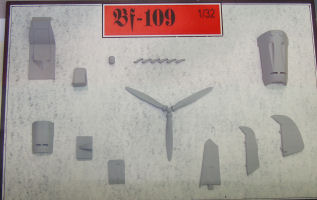 1/32
---
Hawk
Hawk was present again with a variety of kit re-releases that were pending from last year's release list, though coming online VERY soon are the Japanese submarines. On display as well is their new-tool, HUGE, 1/187 Graf Zeppelin aircraft carrier due out late next year: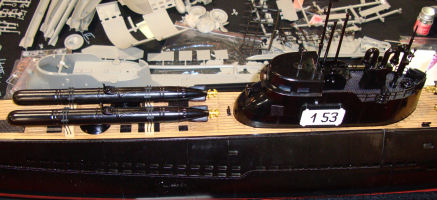 1/72
IJN C-1 class I-20 w/HA-20 Midget Submarine
IJN C-3 class I-53 w/Kaiten 'kamikaze' Torpedoes
The BIG new from this company was this surprise announcement:
1/187
Graf Zeppelin Aircraft Carrier
---
Hobby Boss
This wasn't announced at the show, but the news came in at the same time:
1/48
F-100D Super Sabre
F-100F Super Sabre
No more waiting on Accurate Miniatures for their long delayed releases!
---
Hobbycraft
Last year, Hobbycraft announced an ambitious list of kits that were delayed while they sorted out some production and quality challenges. The company is re-launching their brand with a line of interesting subjects with an eye on accuracy and at the same time, keeping the prices low. As you read this, the long-awaited P-51, P-51A, and A-36 kits are here and will be heading to distributors and hobby shops in the coming weeks. On the list of kits to follow:
1/32
Bf 109B/C/D
Spitfire VII/VIII/IX
T-6 Texan/SNJ Harvard
1/48
A-4 Skyhawk series (reissue)
1/144
B-36B (reissue)
B-36D (reissue)
GRB-36 FICON (reissue)
RB-36E (new)
---
Italeri
Italeri's new 1/35 Schnellboot Typ S-100 was on display at show-center of the MRC model showcase and it looks magnificent! In addition, the long-awaited PT Boat crew was also shown in one of the cases.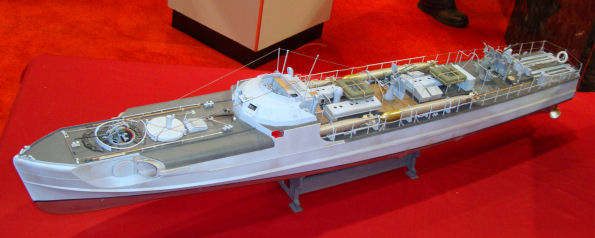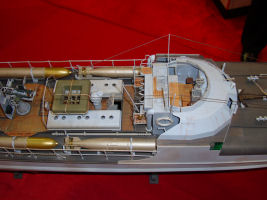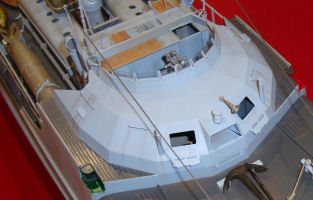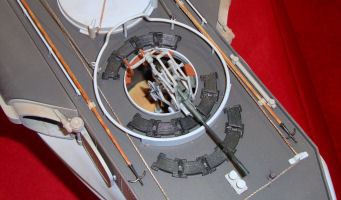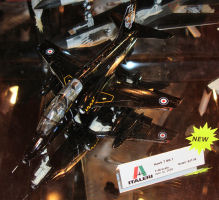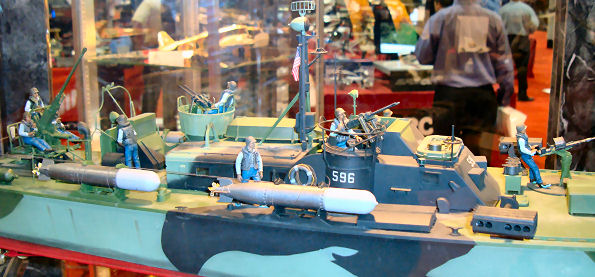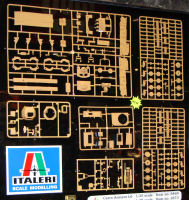 1/72
1/48
Hawk T.1
SBD-5 Dauntless (Accurate Miniatures kit)
1/35
Carro Armato L6
Elco PT Boat Crew
Schnellboot Typ S-100
Schnellboot Crew
---
Kinetic
Stevens International had the F-16AM on display and we'll be taking a closer look at the kit soon.
---
Lindberg
See Hawk above.
---
Minicraft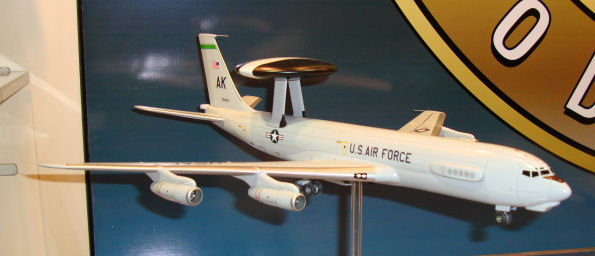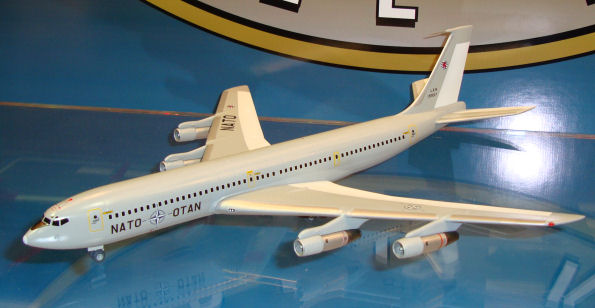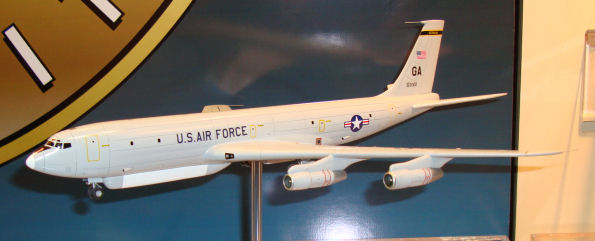 1/144
E-3 AWACS
E-3 AWACS (trainer version)
E-8 Joint Stars
1/72
1/48
C-20B/C Gulfstream III VIP
---
Moebius
Moebius Models continues to turn out some interesting subjects. Among their scheduled releases: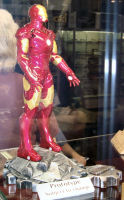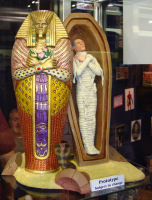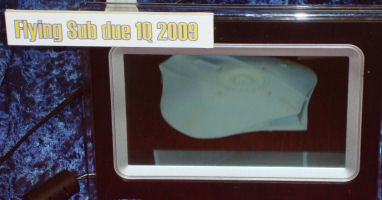 Voyage to the Bottom of the Sea
Figures
Conan the Barbarian
Frankenstein
Invisible Man
Iron Man
The Mummy
---
Monarch Models
Monarch Models started their release of Aurora-styled figure kits with Nosferatu and are releasing the same kit in a glow plastic. On display were resin prototypes of what will be styrene kits coming over the next year including: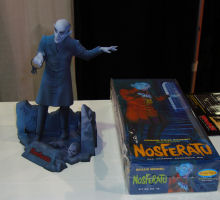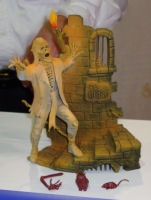 Ghost
Glowing Nosferatu
Gorgo
Nosferatu
Sinbad
---
MRC
MRC was present at show-center with their well-rounded hobby pavilion and a nice array of plastic models at one end. Academy's kit line well represented as was Italeri. You can see details of both brands under their own headings. The hot news from MRC is the introduction of their new brand of kits - Prestige Models, the first of which is the 1/350 Wasp-class LHD. MRC was also displaying the upcoming releases in their Easy Model pre-finished model line.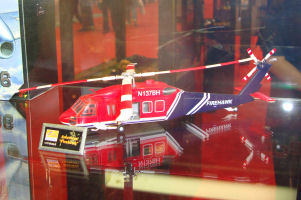 1//350
---
Pegasus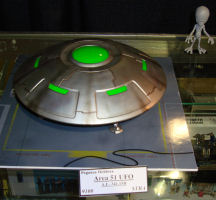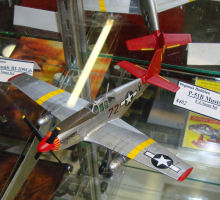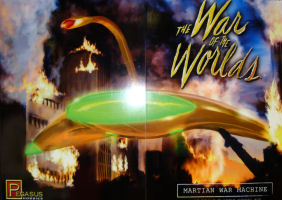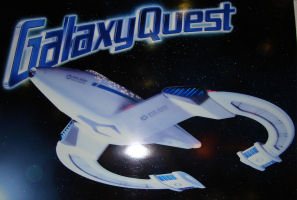 1/48
A6M2 Model 21 Zero
Fw 190A-3
P-51B Mustang 'Tuskegee Airmen'
P-51D Mustang 'Tuskegee Airmen'
War of the Worlds War Machine
1/144
War of the Worlds Attack Diorama
Misc
Apollo 27 Rocket
Area 51 UFO AE-341.15B
Nautilus Submarine (20,000 Leages Under the Sea)
NSEA Protector (Galaxy Quest)
---
Polar Lights
See Round 2
---
Revell
It is very clear from their presence here that Revell was diversifying their hobby kit line-up for 2009 and they're re-issuing a number of their classic kits that haven't been on the market for a while. For 2009, one of the cool campaigns Revell will be running will commemorate the 40th anniversary of the lunar landing. You can look forward to seeing: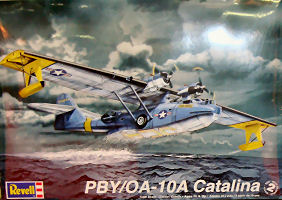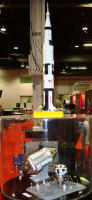 Babylon 5
Starfury Mk.I – 1/72
Babylon 5 Space Station
Star Wars
Republic Gunship
Sith Infiltrator
Universal Studios Monsters
Dracula 1/8
Frankenstein 1/8
Mummy 1/8
Wolfman 1/8
Space
Saturn V – 1/144
Lunar Landing – 1/48
Apollo Spacecraft – 1/32
Air
EF-111A Raven – 1/72
A-26B Invader – 1/48
Bf 109G – 1/48
Do 217E-4 – 1/48
F-14D Tomcat – 1/48
Ju 52/3m Transport – 1/48
PA-18 Super Cub – 1/32
Armor
M3 Lee – 1/32
M4 Sherman – 1/32
Auto
'32 Ford 5-Window Coupe 2'n1 – 1/25
'36 Ford 2'n1 – 1/24
'62 Corvette Convertible 2'n1 – 1/25
'64 ½ Mustang Convertible – 1/24
'69 Chevy Nova Yenko – 1/25
'09 Dodge Challenger SRT8 – 1/25
---
Round 2
Remember all of those great kits from AMT, MPC, and Polar Lights that were put away a few years ago when Racing Champions bought up Playing Mantis? Well a new company has come online called Round 2 and they've acquired that tooling. We're already seeing some of these classic kits coming onto the street and more to follow. Here's a look at what we can expect in 2009: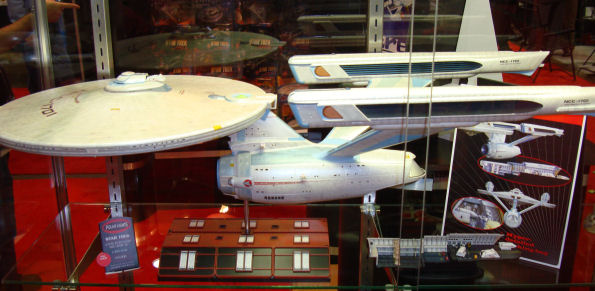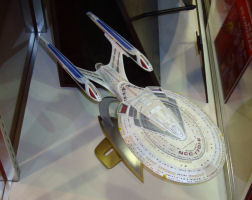 Auto
'25 'T' Coupe/Roadster
'50 Merc
'62 Buick Electra
'62 Pontiac Catalina
'08 Challenger SRT8
'08 Challenger R/T
Daisy's Plymouth
Depth Charger
Double Dragster
Fruehauf Flatbed Trailer
General Lee Charger
IH Transtar 4300 Eagle
Ivo Front Engine Dragster
Munster Koach & Dragula
Peerless Logging Trailer
Roscoe Police Monaco
Scooby Doo Mystery Machine
White-Freightliner Dust Drive
Willys Paddy Wagon
Figures
Mr Spock
Pteranodon
Robby the Robot
The Witch
Tyrannosaurus Rex
Space
Starcruiser C-57D Forbidden Planet
USS Enterprise NCC-1701A - 1/350
USS Enterprise NCC-1701E - 1/1400
Interplanetary UFO Mystery Ship
USS Thunderchild (Akira Class) - 1/1000
---
Trumpeter
Stevens International was on hand to show off some of the upcoming releases from this prolific manufacturer. Note that kits marked with an ** were just announced in Asia and not at iHobbyExpo: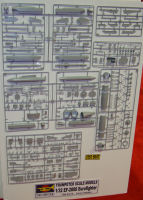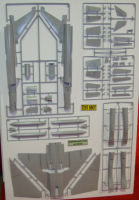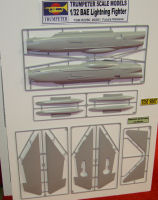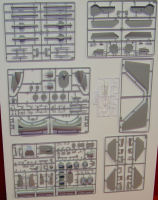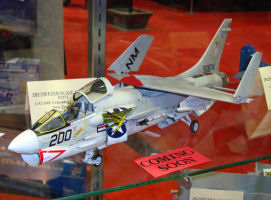 1/12 Scale
1/16 Scale
1/24 Scale
Fw 190A-6/8
Hurricane Mk.IID/Trop
Ju 87D-3 Stuka
P-51B/C Mustang III
1/32 Scale
A-4E Skyhawk
A-6A Intruder
A-6E Intruder
AV-8B Harrier II (early)
AV-8B Harrier II (night attack)
AV-8B Harrier II Plus
F-8E Crusader
F-8J Crusader
F/A-18F Super Hornet **
F-100F Super Sabre
Harrier GR.7
Lightning F.3
Lightning F.6
Mustang Mk.III
P-40E Kittyhawk
P-40M Kittyhawk
P-40N Kittyhawk
P-47N Thunderbolt
Su-30MKK
Swordfish Mk.I
Swordfish Mk.II
TBD-1 Devastator
Typhoon EF-2000A
Typhoon EF-2000B
1/35 Scale
BMP-3 IFV
BMP-3M IFV
BP42 B57 German Armored Train
German Railway Flatbed Car
German Railway Gondola
LAV-M
M1134 Stryker ATGM Vehicle
T-62 MBT
T-62M MBT
VK3001(H) Panzer VI A
1/48 Scale
1/72 Scale
A-6A Intruder
Be-6 Madge
F-100D Super Sabre
F-105G Thunderchief
Fw 200C-3 Condor
CH-47A Chinook
CH-47D Chinook
Lightning F.1a/F.2
Lightning F.3
MiG-19PM Farmer E
Su-15TM Flagon F
Su-15UM Flagon G
Su-27 Flanker B
Su-27 Flanker C
Tu-22M2 Backfire B
Wellington GR.XIV
1/144 Scale
1/200 Scale
1/350 Scale
HMS Repulse
USS Arleigh Burke DDG 51
1/700 Scale
HMS Eskimo
SS Jeremiah O'Brien
SS John W. Brown
USS Quincy CA 39
USS Minneapolis CA 36
USS Tuscaloosa CA 37
USS Vincennes CA 44