iHobbyExpo 2009 Report
Background
It is that time of year again, time for the annual trek to Chicago for iHobbyExpo 2009. The journey this year was rather symbolic: dark, gloomy, and rain all the way to the Rosemont Convention Center with frequent stops along the car park they call Interstate 90 going through downtown Chicago. If you read my notes from last year's show ( here), attendance then was down from previous years. While iHobbyExpo's press releases said that they had record attendance last year (record highs with consumer days perhaps, but no-doubt record lows with the buyers and sellers (the real purpose of the show)).
Last year, the organizers had backfilled the decline of North American participants with a large section of Chinese-based manufacturers which gave an interesting look at some of the technologies that were coming into toys and hobbies this year. This year the show floor space was reduced and partitioned to hide the further drop in attendance, even from China. Of the registered attendees, there were a number of no-shows (empty booths) throughout the show floor.
This was the first time I've attended the show on a Friday. Over the last 11 years, I'd always attend the first day of the show (Thursday) but I'd learned that more of the show business was done on Fridays, so this year I wanted to see just how much business was happening. I saw many familiar faces and once again, trade (buyer) attendance was really down. Is this signaling a decline in the hobby? Not at all. It is a sign that the market is transforming.
Of course the hobby industry slowed down through the recession, but to walk through the show floor this year, optimism is still present. While some of the old-school distributors and even some of the manufacturers are reluctant to acknowledge the online hobby marketplace, clearly some of the anti-online marketplace bias in the hobby industry is changing, but it's going to take a little more time and transformation before we see shows like this back on the rise again. The sad truth is that 'brick and mortar' hobby shops are declining, some of them are gearing up with an online retail presence to offset in-store sales, and others are remaining flexible to respond to the changing market - survival of the fittest. If shows like iHobbyExpo are going to continue, they've got to appeal to more of the online retailers to come and participate.
So what's new in the 2009 show? As I reported last year, the product planning that had started while the market was still strong resulted in a lot of interesting kits showing up on store shelves. Those that did their market research found niches in the market that made for lots of kit sales. Those that did what they wanted to do usually found themselves sitting on inventory as buyers that might have opted for an esoteric subject in the past held back for the more appealing subjects. This year revealed a number of successes from last years market choices and you'll be seeing some interesting new stuff on the schedule for 2010.
Without further adieu, let's look at this year's show:
---
Academy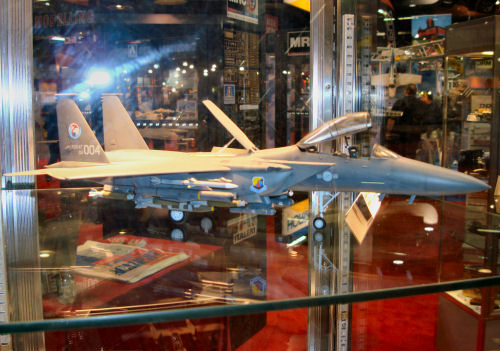 Academy, represented by Model Rectifier Corporation (MRC), had several recent releases on display including the new Graf Spee. When Academy learned that Trumpeter was producing the Graf Spee in 1/350, they were too far through the production process to change course, so instead they produced their usual good quality kit with a retail price of about 1/3 of the Trumpeter kit. Their advanced molding technology is now producing railings in styrene that look rather nice and slide molding to render hollowed-end gun barrels. We'll be taking a closer look at this kit soon. The F-15K was produced with new tooling and these updated tools were evidently used in the revised F-15E that was just released. We'll also be looking at this as well. According to the Academy 2010 catalog, we'll be seeing the following coming:
1/35
Swedish Army CV9040
M50 ONTOS
1/48
1/72
F-16I Sufa
MAN 8x8 Cargo Truck
---
Airfix
The long-anticipated 1/24th scale Mosquito will now arrive on store shelves early next year. The kits are due into Airfix in December and once they're packaged up, we'll be seeing serious plastic shortly thereafter. The 2010 kit release schedule will be announced at the IPMS/UK Telford show in a few weeks, so we'll have to be patient...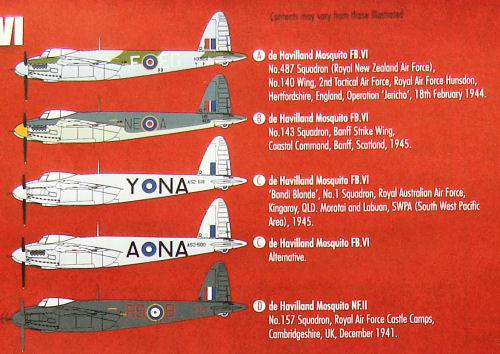 I did ask about their 1/48 scale Buccaneer - it is not due for re-release in 2010 but perhaps 2011? Here are the upcoming subjects from the 2009 release schedule:
1/48
Sea Vixen FAW.2 (Oct 2010 - delayed)
1/72
Hurricane Mk.IIc (Nov)
Sea Harrier FRS.1 (Nov)
Sea Harrier FA.2 (Nov)
Sea King HAS.5 (Dec)
1/76
1/350
---
Czech Model
Squadron had their latest Czech Model release - the Songbird - on display and the news was two-fold - first that the next kit out of the hopper will be a 1/32 T-33 Shooting Star to follow-up on the F-80C, and second that the T-33 will be one of the last kits in the Czech Model series as Squardon/MMD shifts over to a new product series to be announced in the future.
1/32
---
Eduard
Eduard was on hand to display the next big series to follow their outstanding line of 1/48 Fw 190A kits, the Doras! These will have the different fuselages for the D-9 and D-11/13 and if you note the hint in the image, perhaps we'll see the Ta 152 as well! In 1/32 scale, they'll finish up in the Bf 109E series and push beyond into the Bf 109F and Bf 109G variants. Eduard is currently looking at producing virtually all of the marks of the Spitfire in 1/32 as well.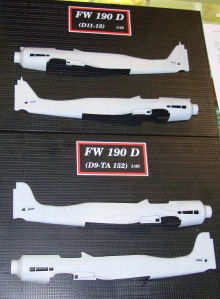 1/32
Bf 109F-2
Bf 109F-3
Bf 109F-4
Bf 109G Series
Spitfire Series
1/48
Fw 190D-9
Fw 190D-11/13
MiG-21MF
MiG-21SMT
MiG-21bis
---
Gallery Models
Gallery Models is a new brand from MRC and their first offering is the 1/350 USS Wasp LHD 1. This beauty was designed by Sherman Collings and features lots of detailing right out of the box, including photo-etch. It should be on store shelves for Christmas.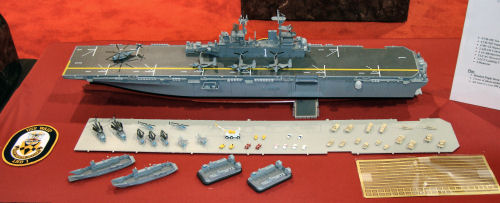 ---
Hobbycraft
Hobycraft Canada had their CAD drawings for the upcoming Bf 109B, Bf 109C and Bf 109D kits, all of which are in 1/32 scale. These will be released early next year. One of the next subjects coming will be the T-6 Texan, SNJ Harvard, and CAC Wirraway, all in 1/32 scale. No target dates on these at present.
1/32
Bf 109A
Bf 109B
Bf 109C
Bf 109D
T-6 Texan/SNJ Harvard
CAC Wirraway
---
Italeri
Not much news here from Italeri. The 2010 catalog/schedule wasn't available, so here are the upcoming items out of the 2009 catalog:
1/35
508C 1100 Coloniale
Autoblinda AB40
Biber Midget Submarine
Leopard 1A5
Semovente L40 da 47/32
Staghound Mk.III
1/48
8.8cm FLAK 37 AA Gun
Ar 196A-3
Kfz.385 Tankwagen
MC.200 Saetta
1/72
C-27J Spartan
Do 217M-1
Ju 88A-4
M7 Priest
PV-1 Ventura
1/144
---
Kinetic
Stevens International had the test shot of the upcoming 1/48 E-2C Hawkeye on display, but unfortunately my camera didn't get a clear focus on the sprues. We'll be taking a closer look at this kit soon.
---
Lindberg/Hawk
Lindberg was present again and they've once again blown everyone away with their big models. Last year, they showcased two large Imperial Japanese Navy submarines, this year we have the 1/144 USS Arizona and a licensed 1/32 kit of the F-35 Lightning II. This beauty comes with a super-detailed engine and parts to do your choice of F-35A, F-35B, or F-35C. I'm told their design team just returned from Lockheed-Martin to ensure they've captured the latest engineering changes to the airframe. In addition, we'll be seeing these other kits in 2010: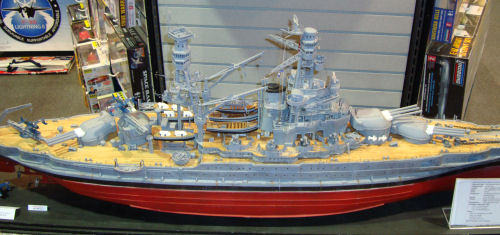 Aircraft
F-35A/B/C Lightning II 1/32
Martin Handasyde 1/72
TBF Avenger 1/72
Naval
Civil War Blockade Runner 1/124
Fulton's Clermont 1/96
LCI Infantry Landing Craft 1/600
Santa Catalina 1/700
Southern Belle 1/64
USS Arizona BB 39 1/144
USS Carronade Bobtail Cruiser 1/169
USS Olympia 1/240
---
Minicraft
Minicraft was showing off their 707 and C-135-based tooling with the first variants - the E-3 Sentry, E-8 Joint Stars, and C-137/T-18 (707 airframe) and the KC-135E Stratotanker.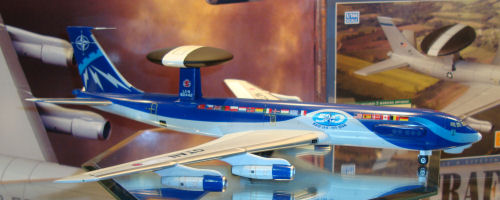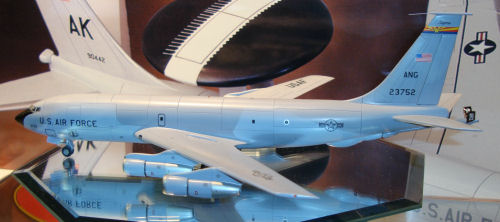 1/144
B-52H Stratofortress
C-130J Hercules
C-137/C-18A
E-3A AWACS
E-3A AWACS (NATO Anniversary)
E-8 Joint Stars
KC-97G
1/48
Cessna 172 Civil Air Patrol
---
Moebius
Moebius Models was on hand with an impressive list of subjects between now and the end of next year. Not only are they continuing to expand their outstanding science fiction subjects as well as building upon the horror figures and vignetttes, 2010 will add automotive subjects as well.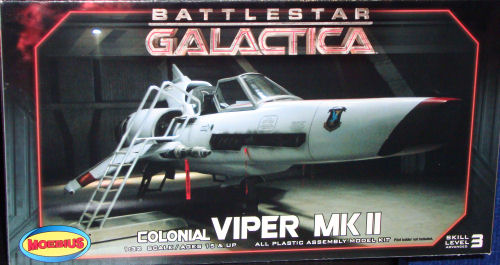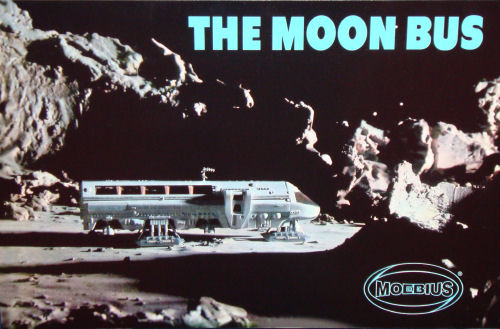 Automotive
'53 Hudson Hornet Business Coupe 1/25
'55 Chrysler 300 2-Door Hardtop 1/25
2010 Navistar Tractor 1/25
Battlestar Gallactica
Viper Mk.II 1/32
Galactica 1/4105
Lost In Space
Jupiter II (Dec) 1/35
Chariott (2010) 1/35
Space Pod (2010) 1/35
Figures
Dracula 1/8
Gruesome Goodies 1/8
Pain Parlor 1/8
Superboy (Aurora)
Wonder Woman (Aurora)
NOTE: Vampirella is cancelled
---
Pegasus
Pegasus took a pleasant turn last year by producing a number of notional space and science fiction kits. The NSEA Protector from Galaxy Quest that was announced is due out in the near future and this is going to be followed by some other interesting new subjects!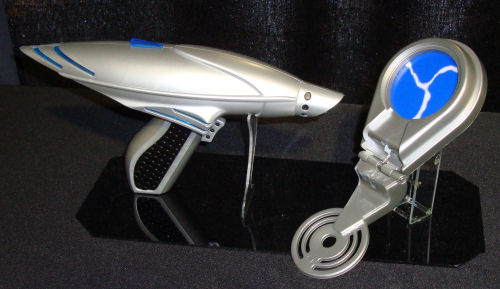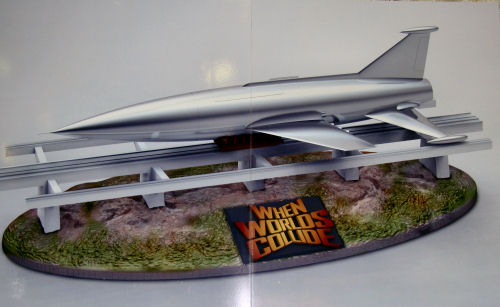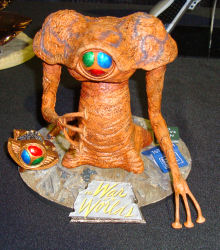 Galaxy Quest
NSEA Protector (Galaxy Quest) 1/144
Ion Nebulizer and Communicator 1/1
War of the Worlds
Martian Figure (1953 Movie) 1/8
Martian Figure (New Movie) 1/8
Martian Tripod (New Movie) 1/144
Other
Mercury 9 Rocket
MLEV Martian Lunar Explorer
Nautilus Submarine (20,000 Leages Under the Sea) 1/144
When Worlds Collide Space Ark and Launch Rail 1/350
---
Profiline
While I didn't see these in the MRC pavillion, their information pack had a flyer for this interesting new product line:
1/48
RQ-1A Predator
L-4 Grasshopper
1/72
MD-500
Steyr Cargo Truck
Steyr Funkkraftwagen
Steyr Krankenwagen
---
Revell
Revell is back and they are bringing out more classics we haven't seen for a while in addition to some new-tool kits. The line-up for the first half of 2010 is as follows: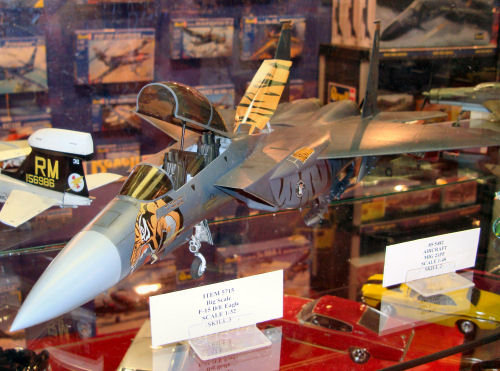 Figures
Creature from the Black Lagoon 1/8
The Red Knight of Vienna1/8
The Black Knight of Nurnburg 1/8
Space
Air
CH-54A Skycrane 1/72
F-82G Twin Mustang 1/72
B-26 Marauder 1/48
F-4C Phantom II 1/48
He 111H-22 w/Buzz Bomb 1/48
MiG-25 Foxbat 1/48
Naval
USS Buckley DE 51 1/249
USS Chicago CG 11 1/500
USS Bon Homme Richard 1/132
Auto
'32 Ford Street Rod 1/24
'37 Ford Sedan 1/24
'39 Chevy Coupe Street Rod 1/24
'48 Ford Woody 1/25
'55 Chevy Bel Air Hardtop 2'in1 1/25
'55 Ford Pickup Street Rod 1/24
'56 Chevy Bel Air 1/24
'57 Cadillac Eldorado Brougham 1/25
'57 Chevy Nomad 1/24
'62 Chevy Impala Hardtop 2'in1 1/25
'66 Shelby Mustang GT350 1/25
'67 Dodge Charger 426 HEMI 2'in1 1/25
'67 Ford Fairlane #29 Dick Hutcherson 1/32
'68 Dodge Hemi 2'n1 1/25
'69 Mustang Cobra Jet 1/25
'82 Corvette 1/24
Buick Grand National 1/24
Chi-Town Hustler Charger NHRA Funny Car 1/25
Corvette ZR1 1/25
Custom Ford Expedition 1/25
Dodge Viper SRT10 ACR 1/25
Ferrari California (Open Top) 1/24
Ford F-250 Super Duty Pickup 1/24
GMC Syclone Pickup 1/25
Hawaiian Charger NHRA Funny Car 1/25
Kurtis Kraft Indianapolis Racer 1/24
Lola T-70 Mk.II #98 Parnelli Jones 1/32
Mack R Conventional and Fruehauf Tanker 1/32
McLaren M6A #5 Dennis Hulme 1/32
Mongoose Duster NHRA Funny Car 1/25
Outlaw 1/25
VW T1 Samba Bus 1/24
---
Round 2
Round 2 had an impressive line-up to showcase many of the AMT, MPC, and Polar Lights kits that they've put back into production. In addition, they have an even more impressive selection of reissues and new-tool subjects to add to their growing portfolio. Check these out: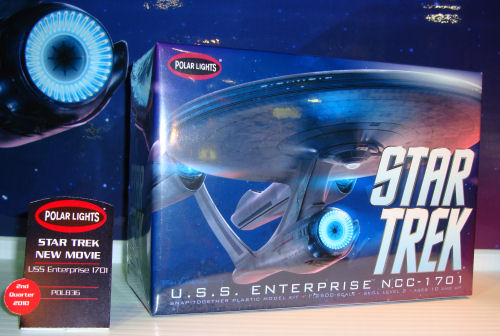 Auto
'25 'T' Coupe/Roadster (AMT) 1/25
'49 Mercury Coupe (AMT) 1/25
'61 Ford Styline (AMT) 1/25
'62 Pontiac Catalina 421SD (AMT) 1/25
Double Dragster (AMT) 1/25
Fire Truck (MPC) 1/25
Fruehauf Van (AMT) 1/25
Ivo Front Engine Dragster (AMT) 1/25
Meyer's Manx (AMT) 1/25
Road Runner (MPC) 1/25 1/25
Roscoe Police Monaco (MPC) 1/25
Stake Bed (AMT) 1/25
White Road Boss (AMT) 1/25
Wile E. Willys (MPC) 1/25
Figures
Ape Man (Glo-Head) (MPC)
Mr Spock (AMT) 1/12
Mummy (Glo-Head) (MPC)
Munster Coach/Drag-u-la (AMT)
Three Stooges - Curly (MPC)
Three Stooges - Larry (MPC)
Three Stooges - Moe (MPC)
Vampire (Glo-Head) (MPC)
Werewolf (Glo-Head) (MPC)
Space/SciFi
Batboat (PL)
Bates Mansion (PL)
Batmobile (TV-Version) (PL)
Pilgrim Observer Space Station (MPC)
Starcruiser C-57D Forbidden Planet (PL)
USS Enterprise (New Movie) (PL)
USS Enterprise NCC-1701A - 1/1000 (PL)
USS Enterprise NCC-1701D - 1/1400 (AMT)
Vulcan Shuttle Surak (AMT)
---
Testors
Testors has announced that they're bringing back a number of their classic kits as well as a few new new-tool kits. The line-up for 2010 looks like this:
1/6
Honda CBR 1000RR (2008)
Honda CBR 1000RR (2009)
1/12
Yamaha YZF-R1
Moto Honda CBR1000R
Suzuki GSX-R1000
Indian Sport Scout
1/32
1/24
BMW M3
Lamborghini
Ford GT
Dodge Coronet Superbee
Crown Victoria Police Car Black & White
Croiwn Victoria Police Car White
Ford Pickup
Chevy Stepside Pickup
1/48
Gee Bee Racer
Travel Air Mystery Ship
Curtis R3X-2 Racer
PT-20 Trainer
Nieuport
Me 163 Komet
Spad 13C.1
1/72
Spirit of St. Louis
F4U-1 Corsair
SBD Dauntless
T-6 Texan/SNJ Harvard
---
Trumpeter
Stevens International was on hand to show off some of the upcoming releases from this prolific manufacturer. While there weren't any new subjects announced that we don't already have listed here, there were many test shots on hand along with a nice build-up of the magnificent Ford GT40 kit released earlier this year.