iHobbyExpo 2010 Report
Background
It is October and once again it is time for the annual iHobbyExpo show in Rosemont, IL, just (literally) outside the perimeter fence of Chicago's O'Hare International Airport. If you read our show report from last year ( look here), the mood at the show was somewhat optimistic because everyone still believed the politicians that things were going to get better. This year, the mood was far more subdued given the reality that the economy has really tanked despite all of the political sound bites to the contrary. The visitor traffic was about the same as last year, but the number of vendors and the overall size of the show was smaller. The iHobby folks compensated for the smaller show by putting in more demonstration cages where the latest generation of radio control products could be test flown/driven. Even so, it was interesting to see the number of empty booths on the show floor for those vendors that opted out of iHobbyExpo at the last minute.
In terms of the scale modeling segment of the hobby show, this is the smallest show to date. A number of companies were absent, some of them permanently it appears:
Tamiya USA left iHobbyExpo a few years ago and has not returned
Hawk/Lindberg was present last year with a huge display, they are absent this year and no word on their previously announced 1/32 scale F-35 Lightning II kits
Hobbycraft Canada was present last year and while they didn't have a booth this year, the president was there for a few hours coordinating some business and showed the latest on their 1/32 Bf 109B/C/D kit designs
In contrast, Hasegawa has made a reappearance at this year's iHobbyExpo and was sharing pavillion space with their new US distributor Hobbico. If you've never heard of Hobbico, there are two major hobby distributors left in the US market, Great Planes and Hobbico. These two companies produce or import a wide range of products for all segments of the hobby industry from radio control to model railroading and from scale modeling to wood carving. Hobbico recently picked up the import of Hasegawa earlier and it was interesting to see their display next to Hobbico's other recent modeling acquisition: Revell-Monogram.
Overall, there was some interesting news at the show as well as previews of previously announced projects. For an itemized list of new releases, look here. Without further delay, let's go down the roster:
---
Academy
Academy, represented by Model Rectifier Corporation (MRC), had several recent releases on display including the new 1/32 F-16I Sufa. While Academy is keeping quiet on their release schedules, they were showcasing the latest items like the Leonardo Da Vinci kits which create working models of a number of his designs. These include:
Da Vinci
Solar Powered Turtle Ship (the solar powered part was a more modern addition to the baseline design)
Paddleboat
Armored Car
Self-Propelling Cart
---
Ace
Merit International announced that they will be importing the range of Ace kits into the US. Here is a look at one of their kits, a 1/48 Rafale M: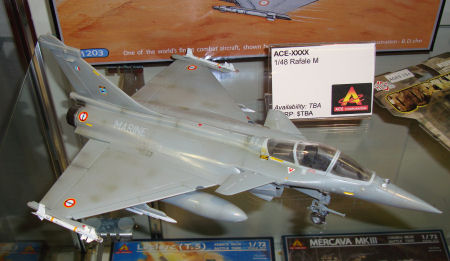 ---
Airfix
Airfix has definitely emerged from receivership with a vengence. Their bold statement last year with the release of their 1/24 scale Mosquito and the amazing 1/1 scale Spitfire told the world that Airfix is back in force. In addition to their larger accomplishments, Airfix has also brought much of their catalog back into production, many of which have been updated with new box art and decal options. The state of the economy has had its affect on release tempo, so some kits are coming online on a revised schedule, but they're coming online. Coming next include the previously announced HMS Illustrious, their first 1/350 scale kit, followed by the HMS Trafalgar also in 1/350. A new-tool 1/48 Bf 109E and 1/72 F-86F Sabre are also coming to the hobby shop in the near future.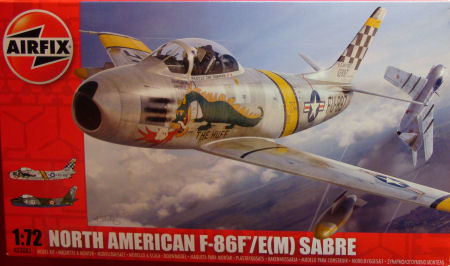 ---
AFV Club
Merit International was on hand to show off the upcoming AFV Club 1/48 F-5F Tiger II kit:
---
Aoshima
Aoshima is imported into the US by MRC and they had three interesting kits in their line-up: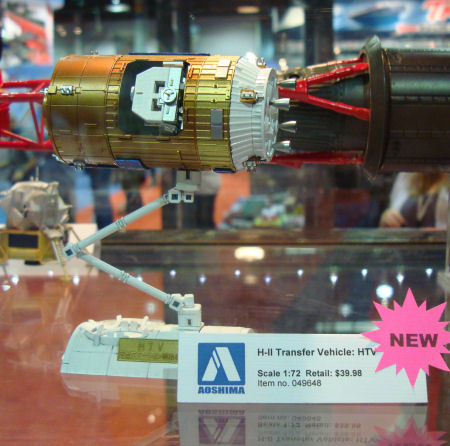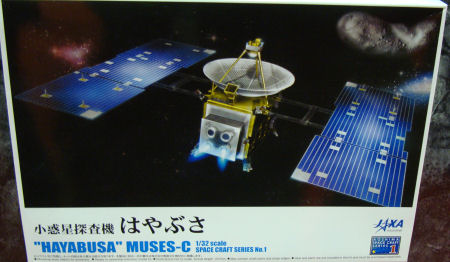 1/24 Lamborghini Countach 5000QV
---
Atlantis
Here was a bit of a pleasant surprise at the show - a new model company! Atlantis is a kit brand that is starting off by bringing back some classic kits. Atlantis is owned by the same company that runs the Megahobby online hobbyshop. Take a look at what's coming: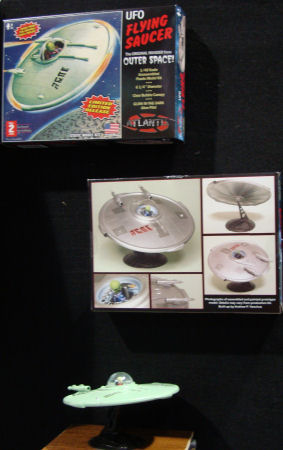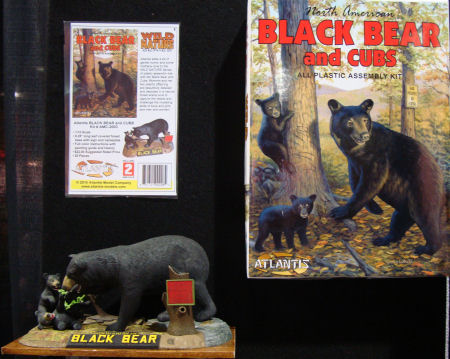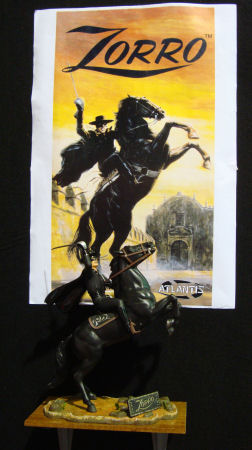 1/72 H-II Transfer Vehicle
1/32 MUSES-C Hayabusa Spacecraft
1/24 Lamborghini Countach 5000QV
---
DML
DML was present with a nice display of their current and upcoming projects. One interesting bit of news is that Bronco Models will now be imported by DML into the US. Here is a look at DML's upcoming 1/32 Bf 109 kit as well as the 1/350 USS Chevalier DD 805, 1/700 USS Independence LCS 2, 1/700 HMS Conehead, and 1/700 USS Long Beach CGN 9: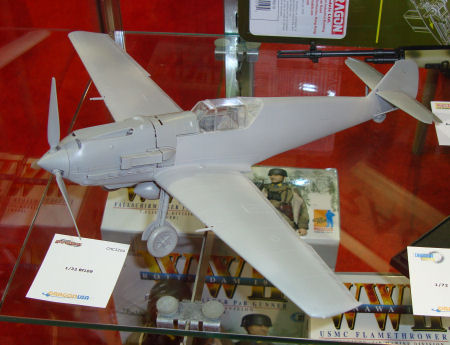 ---
Eduard
Eduard was present and had a list of kits that were coming next year, most of which are variations of existing kits. No news on the MiG-21 series and the previously announced Profipacks with the Airfix and Accurate Miniatures kits are off the list.
---
Hasegawa
Hasegawa was present with a small display within the pavillion of their new US importer - Hobbico. On display were test shots of the upcoming Casablanca-class USS Gambier Bay in 1/350th scale along with a second build showing off the photo-etch and wood deck options that will be available separately or within their superkit version.
---
Hobby Boss
Squadron Mail Order had their pavillion again this year showcasing the range of products that they import and distribute around the US as well through their online retail store. One of those brands includes Trumpeter's sister company - Hobby Boss, and on the heels of their 1/32 Il-2 Shturmovik kits will come this 1/32 Spitfire Mk.V kit.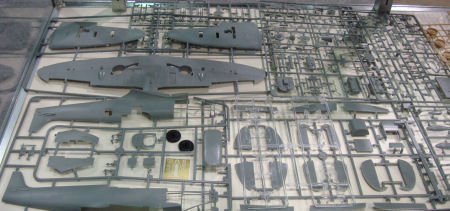 ---
ICM
Squadron Mail Order also imports the ICM line from the Ukraine and new on their list are the 1/48 Bf 109F-4/R6 and Hs 126B-1.
---
Italeri
Italeri has throttled back their development and continue to turn out reissues of existing tooling such their ESCI/ERTL tooling and more recently reboxings of Kinetic kits such as the 1/48 E-2C Hawkeye and soon the 1/48 F-16C Barak.
Italeri has also added a puzzling variation of their kits to the line-up - a combination puzzle and 1/100 scale snap-tite kit. This Tornado in special markings is joined with a Blue Angel Hornet, MB-339 Frecce Tricolore, AMX, and F-16A.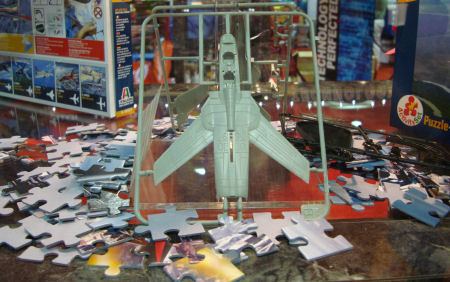 ---
Kinetic
Stevens International had the test shots on display of the upcoming 1/48 S-2F Tracker and 1/48 Mirage 2000D/N kits which are coming out in the near future. These toolings look really great and I can't wait to see what's next in their queue.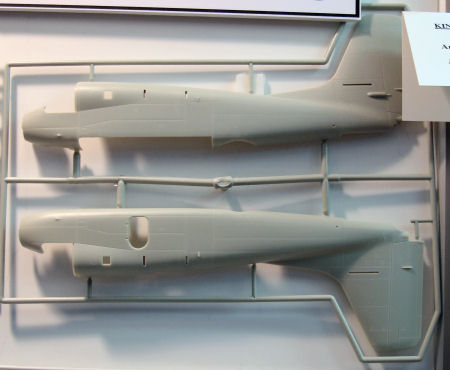 ---
Minicraft
Minicraft was showing off their new DC-4 and whoever did this display model is a master. This is how good a Minicraft kit can look with Testors' metalizers! Also on hand was the KC-135E which is still being finalized as well as a pair of newcomers that will be out soon - the Convair 580 and Convair 440, all in 1/144 scale.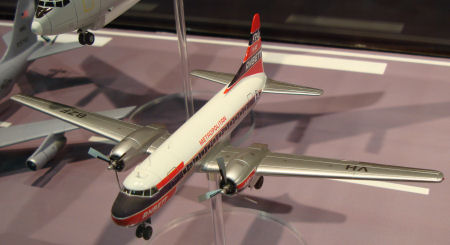 ---
Moebius
Moebius Models returned with another interesting list of new releases for the coming year. Following the Viper Mk.2 from the new Battlestar Galactica series is the Galactica herself as well as a Cylon Raider. The Moonbus from 2001 A Space Oddessey will be followed by the Pan Am space shuttle. No Moebius collection would be complete without new figures including Elvira and the Bella Lugosi-played Dracula. The 2010 Navistar truck kit is still on track for release soon and there are a few new car kits coming as well.
Automotive
'53 Hudson Hornet Business Coupe 1/25
'55 Chrysler 300 2-Door Hardtop 1/25
2010 Navistar Tractor 1/25
---
Pegasus
Pegasus took a pleasant turn last year by producing a number of notional space and science fiction kits. This year is no different as here is a peek at some of their upcoming projects: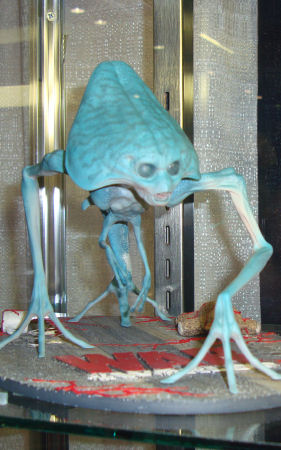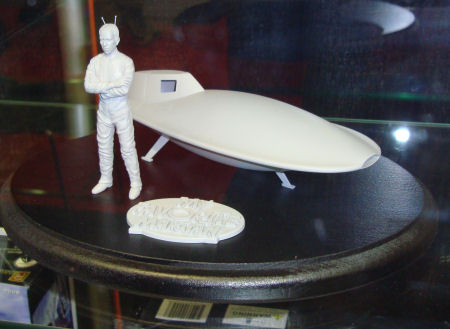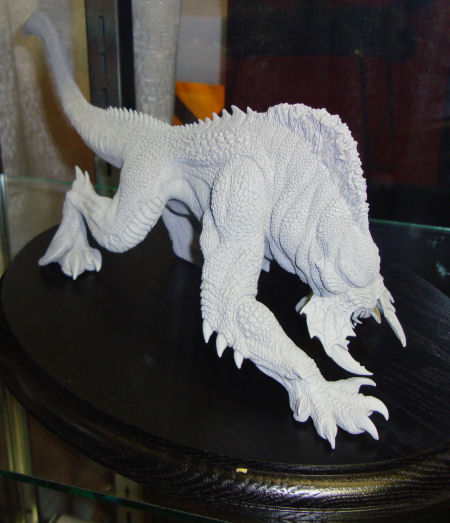 ---
Revell
Revell had a modest presence at the Hobbico pavillion and didn't have much in the way of new items on display but from their catalog:
Auto
2010 Ford Shelby GT500 1/12
2010 Camaro SS 1/25
Ferrari 458 Italia 1/24
Mercedes Benz SLS AMG 1/24
Ferrari California 1/24
'69 Chevy Nova 1/25
'62 Chevy Impala SS 1/25
Jungle Jim Vega NHRA Funny Car 1/25
'68 Corvette L88 Rebel Racer 1/25
'70 Plymouth Superbird 1/25
'97 Ford F-150 XLT 1/25
'77 Chevy Monte Carlo 1/25
2010 Ford Mustang Convertible 1/25
---
Round 2
Last year, Round 2 had an impressive line-up to showcase many of the AMT, MPC, and Polar Lights kits that they had planned to put back into production. Whle some of these kits were indeed released, many have been delayed and are coming out on a more modest schedule. For 2011, there are a few new additions and a number of variations of existing kits on their list:
Auto
'25 Ford Tall T (AMT) 1/25
'49 Mercury Coupe (AMT) 1/25
'50 Texaco Pickup (AMT) 1/25
'51 Chevy Fleetline (AMT) 1/25)
'61 Ford Styline (AMT) 1/25
'65 Chevy Chevelle Super Wagon (AMT) 1/25
'66 Ford Mustang (AMT) 1/25
'69 Hurst Olds Cutlass (AMT) 1/25
'76 AMC Gremlin (AMT)
Duke's General Lee Charger (MPC) 1/16
Fire Truck (MPC) 1/25
Fruehauf Van (AMT) 1/25
Diamond Reo Tractor (AMT)
Grave Digger Monster Truck (AMT) 1/25
Ivo Front Engine Dragster (AMT) 1/25
Li'l Hot Dogger (AMT)
Meyer's Manx (AMT) 1/25
Road Runner (MPC) 1/25 1/25
Roscoe Police Monaco (MPC) 1/25
Stake Bed (AMT) 1/25
White Road Boss (AMT) 1/25
Wile E. Willys (MPC) 1/25
---
Squadron Mail Order
Squadron Mail Order had their pavillion again this year showcasing the range of products that they import and distribute around the US as well through their online retail store. One new line they are releasing is 'Government Issue' and their first subject is this familiar-looking chap riding the hydrogen bomb out of the bomb bay.
---
Trumpeter
Stevens International was on hand to show off some of the recent releases from this prolific manufacturer as well as a look at the 1/200 USS Arizona kit coming soon. Unlike previous shows, Trumpeter hasn't announced any new subjects at the show nor in their 2010/11 catalog. While they continue to develop new subjects as we will see on some of the various chat rooms, it looks like they are going to work on the backlog of subjects that have been previously announced.