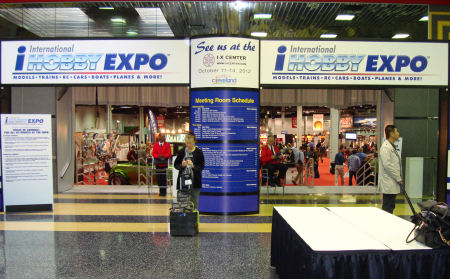 iHobbyExpo 2011 Report
Background
The mood at the show was indeed different than last year as last year the exhibitors were expressing some mild optimism that our economic woes would soon be over. This year the mood was far more realistic as the number of new and exciting kits planned for next year is a fraction of what they've been in past years. The number of exhibitors is down again from past years as were the number of attendees during the trade days. Nevertheless, business was being done at the show and it was interesting to see what was happening around the hobby industry.
What was also interesting was the announcement that iHobbyExpo would be moving in 2012 to Cleveland, Ohio and leaving Chicago in hopes for a better venue and access to a greater audience. If the Cleveland hospitality booth was any indicator (they had a beer tap in good use) then the show organizers may be on to something. In any case, the atmosphere at the Rosemont Convention Center was certainly different as the convention folks didn't bother to block off the larger areas of unused floor space in the hall nor did they lay down carpeting in the aisleways for the attendees' comfort. As with last year, there were a number of no-shows as some companies that had planned to attend were represented by empty booths.
The Kit Release Tables have been updated with the new kit announcements at the show though many of the 'new' items announced had already been revealed in various venues (including Cybermodeler Online) previously. What we'll do this year is put up a photo gallery of what was on display around the show.
---
Convention Center Lobby
---
Hasegawa
Hasegawa had their display as part of the Hobbico pavilion and showed off a few recent releases like their 1/32 Raiden as well as some upcoming kits like the 1/350 Hikawa Maru and 1/72 EA-18G Growler.
---
Revell
Revell is also part of the Hobbico pavilion and showed off some test shots of upcoming car kits as well as some new installments in the Star Wars series. There was little news for the aircraft modeling community other than a new 1/72 F-22 Raptor and some re-releases of their venerable Monogram 1/48 Avenger and Hellcat kits. Unfortunately the upcoming PV-1 Ventura wasn't on display.
---
MRC (Gallery Models/Italeri/MiniArt/Accurate Miniatures)
Some big news here is the announcement of the Gallery Models 1/350 USS New York LPD 21 kit (which means there will be corresponding Trumpeter and perhaps Revell/Germany boxings of this kit as well). MRC also showed off Italeri's new acrylic paint line and announced that they will be importing this interesting line into the US very soon. Test shots of the HMS Queen Elizabeth as well as some previously announced kits were also on display.
---
Atlantis Models
Atlantis showed off their recent T-Rex kit as well as their upcoming Blackbeard kit.
---
Squadron Mail Order
Squadron showed off the upcoming Ibex 1/48 T-6A Texan II kit, a test shot of a 1/48 of an F4U Corsair coming from HobbyBoss, and an interesting 1:1 scale tank at the center of their pavilion.
---
Round2 Models
Round2 was showing off a test shot of their announced Polar Lights 1/350 USS Enterprise (TV version) as well as the re-release of the NCC-1701C and DS-9 space station kits (among other classic reissues).
---
Stevens International (Trumpeter/Kinetic)
Trumpeter provided test shots of several upcoming kits but like last year, didn't announce any new subjects for the coming year. While that doesn't mean they won't slip in a new subject here and there, they will continue to work at a slower pace in their releases and fulfill more of the subjects that they had previously announced. Kinetic didn't have any new release news for the show this year.
---
Vallejo
Vallejo was back again with their great line of acrylics and showing off a new series of colors for the current desert warfare paint schemes. They have other new projects in the works and more news will follow in the near future.
---
Hawk/Lindberg
Hawk was back at iHobbyExpo this year in a much smaller setting. The 1/32 scale F-35 Lightning II project that was displayed two years ago was abandoned for the foreseeable future, as were several other ambitious projects that were also at that show. On display were their current reissues which consisted mostly of Wierdo figures and a the huge Chris Craft Constellation kit.
---
Moebius Models
Moebius Models continues to amaze me as they are turning out all-new subjects at a steady pace and they are evidently doing well in sales. On display were some test shots of upcoming releases like the Bride of Frankenstein, the eight-window version of the 1/350 submarine Seaview, a 1/350 USS Skipjack, a Cylon Raider (first seen last year), new figures in the Batman, Ironman, and other classic series. They also had one of their new initiatives on display - the pre-finished 1/32 scale Jupiter II which comes with great lighting effects and a metal hull..
---
DML
Dragon Models also continues to turn out a wide range of kits including a new USS Enterprise CVN 65 and USS New York LPD 21 in 1/700 scale, a group of new and reissued kits for the anniversary of the Falklands War, a new series of impressive 1/144 Boeing 747 variants including Air Force One and the NASA Shuttle Carrier, and an even more impressive 1/72 Saturn V kit!
---
Airfix
Airfix was back and their biggest news is 1/48 scale! 2012 will mark a new push into this scale with two helicopters (Merlin and Lynx), three modern tactical vehicles (Coyote, Jackal, and Land Rover), and a series of damaged buildings for dioramas/vignettes all to be released in 1/48.
---
Eduard
Eduard showed off their upcoming kits including the finale of their generation three MiG-21s, the MiG-21bis in 1/48 scale. Also on hand were some test shots from next year's series, first is the Bf 109E series in 1/48 scale which are scaled down from their 1/32 scale beauties and second is the first of the generation three MiG-21s (MiG-21MF) that will be released in 1/144 scale. Coming later in 2012 and into 2013 includes the Bf 110E in 1/72 scale (scaled down from their 1/48 series) and will be followed by others out of that series; the generation one MiG-21F-13 and the generation two MiG-21s (MiG-21PF, MiG-21PFM, etc.) all in 1/48 scale.
---
Pegasus
Pegasus is continuing to turn out some impressive kits at very reasonable prices. While they continue to develop their easy-to-build aircraft and figure kits, the stars continue to be their science fiction line that launched only a few years ago. Not only are they producing new kits, they're also producing pre-finished models of these kits including the 'When Worlds Collide' spaceship and the 'War of the World' figures. They also had their latest release, the Martian tripod on display and they had added lighting to their model which shows how easy it is to create similar effects in your models. The '20 Thousand Leagues Under the Sea' submarine Nautilus is nearing release as you can see in the shot below. The shark that was displayed last year is much closer to release as well and will now include a diving cage and diver figure. Last but not least is a build-up of their recent Mercury 9 kit which also was subject to an ambitious mix of LEDs and fiber optics to bring this model to life.
---
Summary
While iHobbyExpo was smaller this year, there were still some interesting projects coming our way. Nevertheless, the slow economy is having its affect on the hobby industry and you can see this reflected in the new kit listings we keep. Only a few years ago, we'd have nearly 400 kits listed in the aircraft section alone. Last year we had just under 300 new aircraft kits listed. This year we are down to only 180 new aircraft kits on the list. We'll hopefully see the new kit trend go back up once the global economy settles down again. In the meantime, go build something!