iHobbyExpo 2013 Report
Background
Last year, iHobbyExpo moved the show from the Rosemont Convention Center next to Chicago's O'Hare airport to a venue in Cleveland, OH. We did not attend the show in Cleveland as it didn't sound like attendance would be worth following and reports from that show were indeed underwhelming. Several major companies pulled out of the annual show and have yet to return. iHobbyExpo was ultimately moved back to Chicagoland this year, though this time it was held in a new location, a convention center in Schaumburg in northwest Chicago.
This new venue is smaller than Rosemont, but so was the overall number of exhibitors as well. In short, the location worked well for this show. I arrived on Friday, day two of the show, the last day of 'trade days' before the hall is opened to the public on Saturday and Sunday. Traffic on the floor wasn't overwhelming, but what was there was doing business. Speaking with several of the major exhibitors, this show was a success. If iHobbyExpo keeps this venue, perhaps we'll see more exhibitors next year. From a long-time observer's point of view, there are some healthy signs for the future of our hobby.
The Kit Release Tables have been updated with the new kit announcements at the show though many of the 'new' items announced had already been revealed in various venues (including Cybermodeler Online) previously. Here's a look at the show by brand name in alphabetical order: Note: Most of the images can be expanded by clicking on them.
---
Academy
The F-4C Phantom II was on display at the MRC area and this kit should be on store shelves shortly. We'll give you a closer look soon. The new 1/35 Magach 6B Gal Batash kit was open for view. Academy was 'almost' announcing their next new tool subject which we will look closer at when we receive the green light.
---
Accurate Miniatures
You'll be happy to know that MRC will continue releasing more of the kits from the Accurate Miniatures line.
---
Eduard
Eduard brought many of the same items that we saw at the IPMS/USA 2013 National Convention. One new product that they were showing is a set of dye-cut cloth and photo-etched detail sets representing seat belts and shoulder harnesses that provide better visual detail that even their color-printed photos-etch equivalents. We'll be taking a look at one of these sets soon.
---
HK Models
HK Models was on display at their US importer, Stevens International. While they didn't have a display large enough for build-ups of the recent 1/32 B-25s and B-17G kits, a build was there for the upcoming 1/32 Gloster Meteor kit. This kit looks great and I hope we'll see a Meteor F.8 to follow!
---
Italeri
MRC was showing many of the range of new releases from Italeri including a nice build of the recent PT-109 kit. A test shot of the 1/72 F-35A Lightning II was on display which we've recently completed a test-build of elsewhere on Cybermodeler Online.
Note the box art of the A-10A JAWS that was recently issued. If you do build it in one of the JAWS color schemes (and we have photos of the actual aircraft from the JAWS experiment in our A-10 Thunderbolt II Modelers' Reference Section, the JAWS aircraft were not yet equipped with chaff/flare launchers nor was the A-10 fitted with the AIM-9 Sidewinder in those days.
---
Kinetic Models
Kinetic had their upcoming 1/48 F-5B/CF-5B Freedom Fighter on display (and yes, the tip tanks are now corrected) plus a test shot of their 1/48 F-21 Kfir coming early next year. You'll have heard about the two Wingman Models' late-model Kfir releases along with two new Alpha Jet releases. Both subjects use the sprues from the Kinetic tooling plus multimedia parts to render specific versions as well as add details.
Kinetic is working through some interesting new aircraft subjects which will be announced in the near future plus more armored vehicles in 1/35 scale including the M109 Doher/Rochev, RG-33 and MaxxPro.
In a surprising twist, Kinetic will be releasing two 1/24 scale P-47D Thunderbolts - the razorback and the bubbletop. They've acquired the tooling from Vintage Fighter Series for both Thunderbolts and will be releasing these in the near future.
I had a very nice discussion with Raymond Chung and Silvia Lo from Kinetic Models/LuckyModel, the highlights of which will appear in an upcoming special feature.
---
Minicraft
On the heels of their 1/72 Mariner release, Minicraft was showing a test shot of their new KC-135 series with options coming for KC-135A, KC-135E, and KC-135R. On the wall was the new-tool subject I've been waiting years for - the 1/48 T-34A and T-34B Mentor. Minicraft says they'll be tooling the kit to also render the T-34C Turbo Mentor, but we'll see how that progresses.
---
Pegasus Models
Pegasus had a smaller display area this year but they certainly didn't have fewer subjects coming. Check this out:
1/32 MLEV-5
Terminator Kits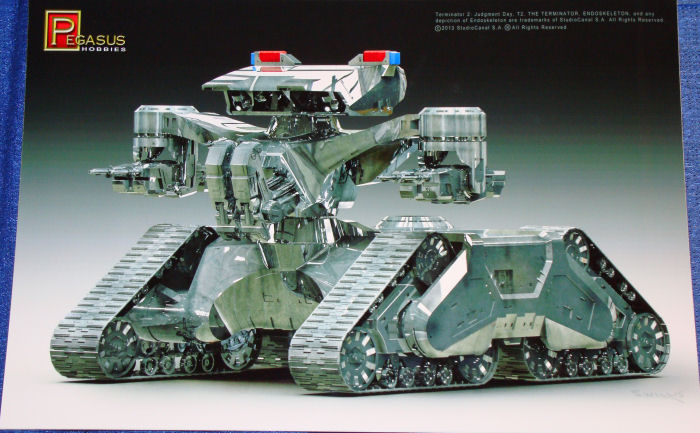 Misc Spacecraft
Dinosaurs
---
Moebius Models
Moebius Models continues to push forward new kit subjects and here are three that you'll be seeing in the near future. The B9 robot from TV's Lost in Space is 1/6 scale and due out any day. The classic Battlestar Galactica (same 1/4105 scale as the recent new BSG Galactica and Pegasus kits) and the 1/32 Cylon Raider will follow some time afterwards. By the way, that Cylon Raider model is quite large!
---
Round 2 Models
Round 2 Models was there in a big way and as usual, they had a nice variety of new subjects on display. Their brands include AMT, MPC, and Polar Lights, but I'm also gratified to see that Round 2 has also acquired the Hawk/Lindberg kits as well. Perhaps we'll see some interesting releases out of that tooling besides the focus on 'Weird-dos' from the last owners.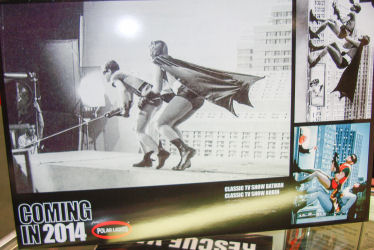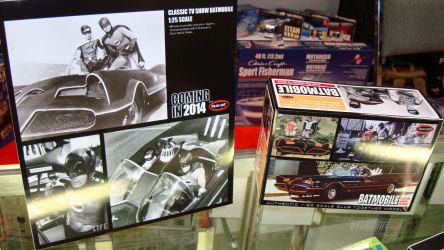 ---
Trumpeter/Hobby Boss
The upcoming Trumpeter and Hobby Boss releases were on display at the Squadron/MMD area with some additional Trumpeter previews at the Stevens International area. Take a look at the upcoming 1/200 USS Missouri kit laid out in the display case. That is one huge model!
Also on display were the upcoming 1/48 F-84F Thunderstreak and 1/48 A-6 Intruder kits in the Hobby Boss series.
---
No-Shows
Hasegawa-USA, Revell USA, Revell AG were not in attendance because Hobbico (the parernt company) and its Tower Hobbies retail component opted out of this show. Representatives from the company were walking the floors, but the only Revell kit on display was the new Revell AG 1/32 Bf 109G-6 over at the Squadron/MMD area.
Tamiya USA withdrew from iHobbyExpo several years ago and has not returned. While it was always to see what new plastic was coming from this company, they used to put on a nice show with their radio controlled armor subjects which are still being developed and produced.
DML was also not displaying this year.
---
Summary
While iHobbyExpo was smaller this year, there were still some interesting projects coming our way. The slow economy is still having its affect on the hobby industry and you can see this reflected in the new kit listings we keep. Only a few years ago, we'd have nearly 400 kits listed in the aircraft section alone but this year we are down to only 110 new aircraft kits on the list. We'll hopefully see the new kit trend go back up once the global economy settles down again. In the meantime, go build something!