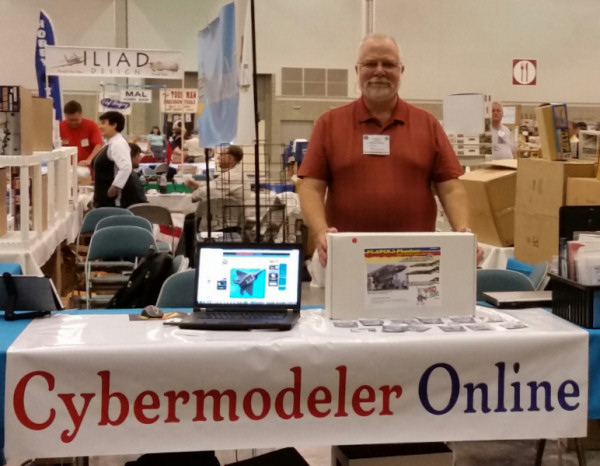 IPMS/USA 2014 National Convention Report
(Note: you can click on most of the images to see a larger view)
For a look at the hobby news from the show, a look around the vendor room, and a look at the Su-33 test shot, keep scrolling down. For a look at the contest room, click here.
The IPMS/USA National Convention was at the convention center next to the Embassy Suites in Hampton, VA (my first time here). Clearly this IPMS chapter had the experience of previous conventions and most of the logistics ran smoothly. This convention marked the 50th Anniversary of IPMS/USA and by all measures that I've seen so far, this event was a huge success. The team did have to cancel all of the tours this year simply because there was insufficient participation to cover the costs of the rented busses.
There were a good number of attendees here since the first day and many more came as the weekend approached. One good measure of success was the contest room - the judges tell me that there were over 2400 entries in there. Unfortunately I learned this right before my early morning photo session in there and realized that I was not going to have time to photograph all of the entries before the room opened back up to the convention.
This was our first year as a vendor at an IPMS convention but it was a great opportunity to meet new friends, put faces to names that we've been conversing with over the years, and otherwise have a base of operations at the show.
As many of you know, next year's convention will be held in Columbus, OH and they did announce that the 2016 convention will be held in Columbia, SC. While it is traditional for that convention to be held somewhere in the west (following an east and central convention), no western clubs came forward to bid for the 2016 convention. Perhaps in 2017...
Hobby News
Next door to us was Revell's booth and they had the new parts sprues to transform their 1/32 F-4E kit into the F-4G Wild Weasel. The parts provide the sensor fin cap unique to the F-4G along with the sensor nose fairing that replaces the M61 Vulcan gun. New instrument panels, an ALQ-119 ECM pod, a pair of AGM-45 Shrikes, and an AGM-78 Standard Missile round out the parts save one gem. They've also tooled the F-15-styled windscreen that was retrofitted to a number of F-4E and F-4G airframes. This release will get you an early F-4G but there were updates from several different companies to render later configurations as well as the AGM-88 HARM and 600 F-15 high-speed centerline tank that was added to service F-4Gs as well. Revell also had the new-tooled M48 Patton tank in 1/35 as well as the 1/144 Landing Ship Medium kit. The recently released 1/32 Bf 109G, 1/32 Spitfire Mk.II, and 1/48 Tornado were on display as well.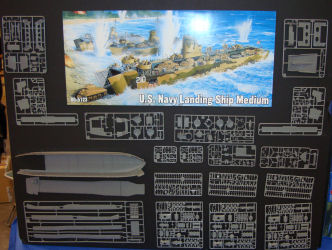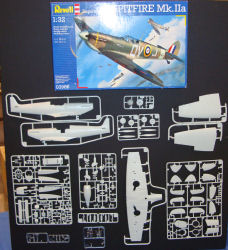 MRC was displaying their recent release of the Gallery Models 1/350 USS Intrepid kit and the completed model on display turned out nice (I'll be finishing mine soon so look for a build review shortly). Also on display were the upcoming Italeri 1/32 F-104A/C Starfighter kit and a test build of the new MRC/Academy 1/35 MH-60S Seahawk. These look quite nice!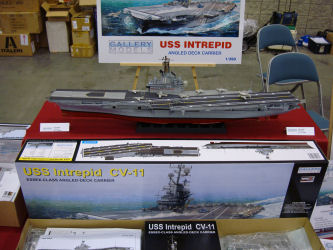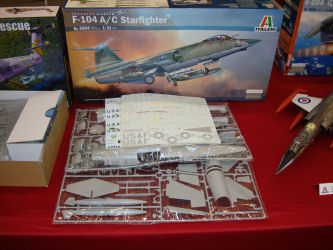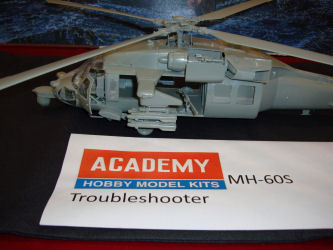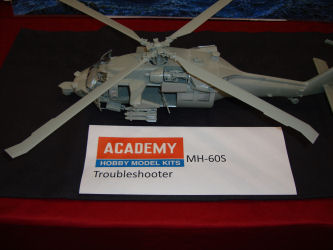 Zoukei-Mura Inc. was back with another large display pavilion along with many kits for sale. This time they had a limited number of the 1/32 Ho 229 kits that will be released in October on hand and the team did something rather impressive - they only put a limited number of these kits on the sale table every morning to ensure that those modelers arriving to the show on Friday or Saturday would also have a chance to buy a kit.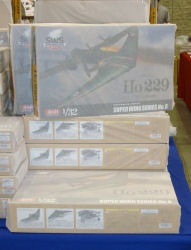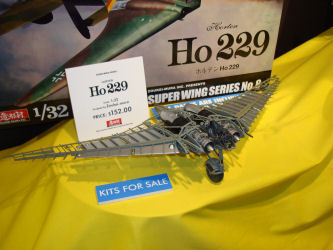 Zoukei-Mura Inc. also had some test shot/prototypes of their upcoming Do 335A kit also in 1/32 scale and like their previous releases, this looks like another beauty.
Finally, Zoukei Mura Inc. will be producing the Focke Wulf 190 series in 1/32 scale as well as introducing a new kit concept. With the SWS series of kits, you have lots of details that make up the kit and while they take time to build, the finished result is a masterpiece, They've heard the feedback from some of their customers looking for kits that are less complex but still have lots of details. The result is a new BASIC series that will use advanced molding technology to provide lots of details molded into fuselage interiors and other assemblies that would be provided as separate parts in the SWS series. The subjects coming in the Fw 190 series include:
Fw 190A-3 (Basic)
Fw 190A-4 (SWS)
Fw 190A-5/6/7 (Basic)
Fw 190A-8 (SWS)
Fw 190D-9 (SWS)
As I was leaving their display, I was surprised to see an armor kit in their line-up, but as they explained to me (and you can see for yourself), this is a 1/35 Edelweiss tank, completely notional from a Japanese anime series.
Several vendors had the new Airfix 1/24 Typhoon, Trumpeter 1/48 F-106A Delta Dart, and Kitty Hawk 1/48 F-35C Lightning II kits for sale. The Takom 1/35 Male Mk.IV kit had sold out within minutes of the opening of the vendor room. I think that answers the question about the popularity of World War I armor...
Tamiya brought a number of their new and reissue kits for display. Among the new releases are the 1/35 Mk.V Male tank, 1/48 M10 Achilles tank destroyer, and 1/700 USS Saratoga CV3 kits.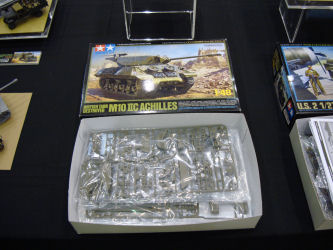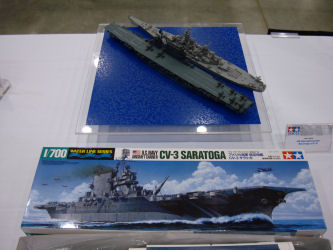 Sierra Hotel Models had their latest detail sets and conversions on display and I saw the new prototypes for the F-100D/F Super Sabre main wheels/tires in 1/48 scale. These have some amazing details cast into those distinctive wheel hubs where all you need to do is add the kit photo-etch part to each wheel, paint and install on the aircraft. They've also produce a beautiful resin F-102 afterburner nozzle that drops into the Trumpeter F-100D/F kits as well as a nicely detailed standard F-100A/C/D/F afterburner nozzle. They are finishing up a new set of F-100A wheels and hinted at an F-100A conversion coming in the near future. I was impressed with their nice conversion for the Revell 1/32 F-4E kit to render the F-4G Wild Weasel. These are the same folks that produce the corrected engine intakes for the Trumpeter 1/32 A-10, Italeri and Revell 1/48 A-10, and ESCI/Italeri 1/48 S-3 Viking. Nice stuff!
Eduard had their latest releases on display including this month's new limited edition F-14 'Danger Zone' Profipack which is an F-14 Tomcat (Hobby Boss plastic) with Brassin resin details and Eduard photo-etch in the box. Also on display is the limited edition release of the Siemens-Schukert D.III coming in November.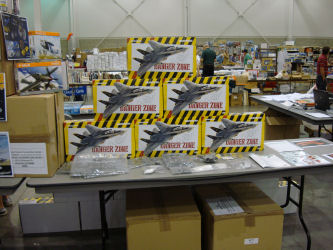 Michael Belcher of Belcher Bits is back with some resin conversions for the Occidental 1/48 T-6/SNJ kit to render the early Yale variants (fabric-covered fuselage trainer). He also has a new kits for the SNJ-1, NJ-1, and BT-9 trainers. These are nice kits that are nicely cast in resin and have great instructions.
Bert Kinzey and Rock Roszak of Detail and Scale were on hand to show off their two latest releases, the F9F Cougar and F3H Demon titles for iPad and Kindle. That's Rock next to the sign and he is the guru who has mastered the electronic publishing tools and has published a few a few titles of his own. Bert and Rock are working on some new titles which will be coming soon and if you haven't seen these latest titles, they've managed to use the best of the electronic publishing features to provide all of the viewing capabilities that we all wish we had with the hardcopy titles, especially when squinting at photos for specific details while working on a project.
Several vendors were selling the brand new 1/24 Airfix Typhoon and one was opened at the SAM Publications table.
Here are some photos from around the vendor hall.