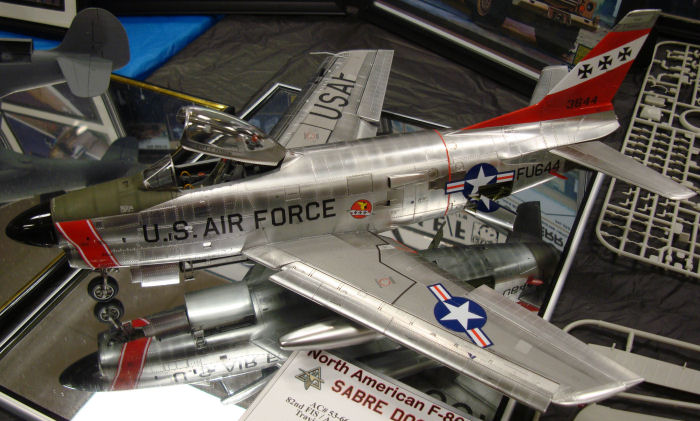 IPMS/USA 2015 National Convention
(Note: you can click on most of the images to see a larger view)
Day Four
Saturday, 25 July, Day Four and Final of the National Convention
We had fun at the IPMS/USA National Convention in Columbus, Ohio. My hat is off to the folks that ran the convention as they had to deal with a number of schedule conflicts and logistics challenges with the conference rooms but the show went off smoothly nonetheless. The surrounding area was ideal as there were terrific restaurants within easy walking distance as well as a diverse food court in the complex for coffee (essential element in the mornings) and quick lunches. Thanks for a good show Columbus!
It was great to see old friends and meet new ones as well:
Paul Cotcher was showing off his upcoming resin releases for the Trumpeter 1/48 Su-9 and Su-11 Fishpot kits under his Red Star Models brand as well as representing Skunkmodels and Freedom Models with their beautiful 1/48 F-16XL and 1/48 F-20A Tigershark kits (respectively).
Chris Bucholtz was showing off his growing line of resin details and conversions under his Obscureco brand.
Roy Sutherland (Barracuda Studios) had his nice array of resin details and conversions as well including several new detail sets for the challenging Revell 1/48 B-1B Lancer kit.
Glen Coleman was showing off the latest releases from Kitty Hawk models including the 1/32 OV-10A/C Bronco and the F-86D Sabre. The 1/32 P-39Q/N Airacobra kit was also there and his associate reseller had a case of them for sale. It was no surprise that these disappeared quickly. Glen also had an early test shot of the 1/32 OS2U Kingfisher kit on display and was contrasting the bashing of the test shot that started on one of the chat rooms against the compliments and suggestions from noted author and former National Air and Space Museum specialist Dana Bell who was at the convention selling and signing his latest titles published by Classic Warships.
The MRC team had some of the recent and a few up-coming releases from Academy including the 1/72 F-4J Phantom II and the 1/35 M60A2 kits. Of course the magnificent 1/350 scale USS Intrepid kit under the Gallery Models brand was also on display.
Floyd Werner of Werner's Wings has some new conversions, figure sets, and decals for a growing range of subjects including the Kitty Hawk Models 1/48 UH-1Y and AH-1Z kits. He also had some 3-D printed prototypes of upcoming conversions for the Revell 1/32 AH-1G Cobra kit.
Gwynne Gorr and Jef Versywvel of Squadron/MMD had a display of their current product lines including kits and the latest from Squadron/Signal Publications.
Wayne Tevlin of Yellow-Wings Decals was on hand though his latest releases did not arrive in time to make the show. Keep an eye on his website for the new subjects coming our way.
Vladimir Sulc and his team from Eduard had their usual array of kits and detail sets on hand for sale and they were showing some of the exciting new subjects coming in the next few months.
Bert Kinzey and Rock Roszak of Detail and Scale Publications were showing their series of digital publications in Kindle and iBook formats which update/replace the old page-limited titles from years ago with phenomenal references that modelers love.
Ed Sexton from Revell USA (Hobbico) had a test shot of the beautiful 1/72 C-54 Skymaster kit on display as well as build-ups of the Fine Molds Star Wars kits that will soon be released in Revell packaging.
John Vojtech from UMM-USA had his impressive array of hobby tools and detail sets on display. John is just about recovered from an illness that had slowed him down last year, but you wouldn't know it from the latest new tools he's released this year. I'm not sure how these different tools are developed, but I'm always amazed at the new stuff that I didn't know I couldn't model without!
Alex Vallejo and the Vallejo paint team were showing off their newest paint series with aviation-matched colors now in the line-up as well as some new water-based metallic paints.
Jeff Garrity of Rare-Plane Detective had his usual array of older model kits. What is interesting about shopping in his booth is that you don't know what you're going to find because he doesn't either. Many times he shows up with kits from collections he's purchased on the way to the show so you never know what cool stuff will be waiting in his stacks.
Mike West of Lone Star Models had a number of his resin kits and conversions on display including his 1/48 XB-42 Mixmaster (which I acquired last year) and his follow-up 1/48 XB-43 Jetmaster.
TAG-Team was showcasing the Vallejo brand of airbrushes and accessories. It was hard to imagine TAG-Team without Tom Grossman on hand but Tom was preparing for an upcoming show in Indianapolis. See you next time Tom!
The Tamiya team showed off some of the current and upcoming kits with the 1/32 Mosquito FB.VI garnering the attention.
Of course there were a number of private sellers and hobby shops on hand selling kits, accessories, books, etc.
I'm sure I'm forgetting some folks, my apologies. I didn't have a chance to visit every vendor nor spend much time with the ones that I did see this year.
Of course a shout-out to my friends from IPMS/Albuquerque that were at the show including Jack Morris (terrific decal artist) and Dave Straub.
The star of the convention, once again, was Mr. Hideyuki Shigeta and his talented team from Zoukei-Mura, Inc. They arrived with dozens of boxes of kits and their tables were all-but-empty by the last day of the show. On hand were the new 1/32 Ta 152H-0 kit which is a variation of their earlier Ta 152H-1 release along with looks at the 1/48 Ho 229 and 1/48 Ta 152H-1 kits. The big news centered around the upcoming family of the F-4 Phantom II in 1/48 scale which was represented by a 3-D printed prototype F-4J. They're still deciding on how many versions of the F-4 they'll produce in 1/48 before possibly switching up to 1/32 scale. Shigeta-san led a raffle that had been announced at the beginning of the convention and let's just say the room was full and the energy in the crowd was great. Many prizes were given away and there were lots of happy modelers.
I was unimpressed with the first upload of contest room images and how dark they turned out. Granted, the contest room was dark anyway, but I've re-processed the images and you should be able to see them clearly now.
One bit of news outside of the convention, Airfix has announced a Boulton-Paul Defiant Mk.I kit in 1/48 scale for next year.
The 2017 Convention will be held in Omaha, Nebraska. See you next year in Columbia, SC! We're heading home and resuming normal operations again.
Day Three
Friday, 24 July, Day Three of the National Convention
Things are settling down at the convention so it was time to photograph the some of the highlights of the contest room.
Day Two
Thursday, 23 July, Day Two of the National Convention
Lots of interesting things happening at the convention!
Zoukei-Mura, Inc.
Last year at the IPMS National Convention, Zoukei-Mura had announced a family of Fw 190 kits in 1/32 scale. Those are still under development. The previously announced 1/32 Do 335 kit is due out in the next month or so. They also had a test shot of the Horton Ho 229 in 1/48 scale as well as a build-up of the recently released 1/32 Ta 152H-0 kit.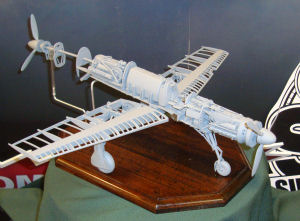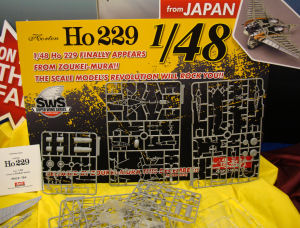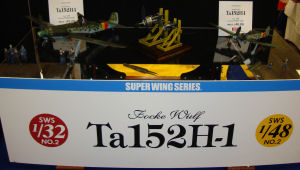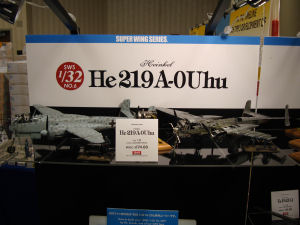 Here is a look at Zoukei-Mura's 1/48 F-4J Phantom II kit, this being an early 3D-printed prototype. Four years in development, this kit looks outstanding and according to a fellow modeler and former F-4J/F-14 plane captain, this kit is going to be the best Phantom kit yet. Where Academy was several steps above the Hasegawa Phantoms, this kit captures more details than Academy. No timeline for release yet.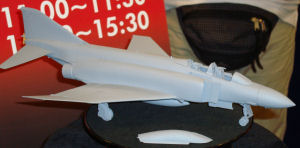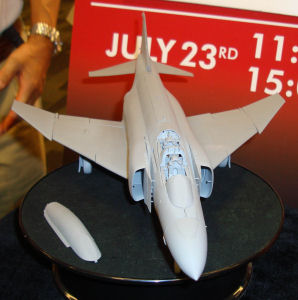 Eduard
Eduard is planning a special edition of their Spitfire Mk.VIII in RAAF service which includes a Profipack edition kit and another impressive book on the aircraft in service down under. The kit kit is due in September and will have over 40 subjects in decal options and one of the images below shows the huge size of one of the two decal sheets coming in that box. Also shown are test shots for the 1/72 Fw 190A-8 release coming in October plus a weapons sprue from a future release of the Fw 190F-8.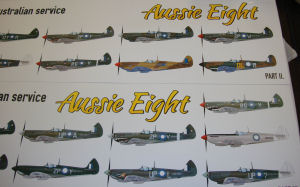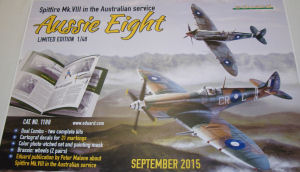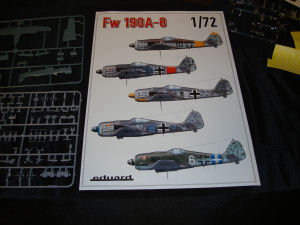 MRC
The folks from Model Rectifier Corporation are on hand with the latest releases from Academy (like the 1/72 F-4J Phantom II and 1/35 M60A2 kits) and Gallery Models including the 1/350 USS Intrepid.
Day One
Wednesday, 22 July, Day One of the National Convention
Greetings from the IPMS Nationals in Columbus, Ohio! Some of you might remember this venue from the 2009 IPMS/USA National Convention. It is situated in a nice convention center complex with great restaurants and eateries all around plus a nice lounge in the Hyatt for adult beverages in the evening.
There was some challenges on this first day since many of the vendors rooms were not available as scheduled due to back-to-back conventions happening here. While some rooms were available in the early morning, our room and another came available after lunch. I really felt bad for the folks who were in the large room that didn't become available until after 5PM. When the first day officially ended at 7PM, many folks were still getting set up.
Last year, the Zoukei-Mura team had come in early and had their impressive displays ready before most of the other vendors had finished breakfast. This year, they didn't receive their dozens of crates and boxes until late afternoon, but it was interesting to see the precision that goes into their displays. They had a long evening ahead of them...
There is lots of interesting news at this show and tomorrow I'll be meeting in more depth with several companies to see what we can publish and what will have to wait (though you're going to love what's coming!). In the meantime, here's a look at some of the kits/test shots on display:
Revell
Revell had their upcoming C-54 Skymaster kit sprues on display along with some of the upcoming Star Wars kits (Fine Molds kits in Revell boxing) and news that they'll be producing the ships out of Star Wars Episode VII.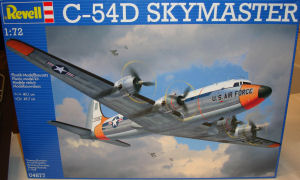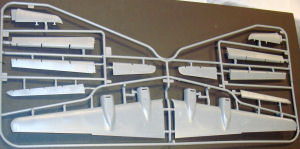 Tamiya
Tamiya had their new 1/32 Mosquito FB.VI kit on display. These kits have arrived in the US and are shipping to distributors/retailers, so you will be able to see one for yourself soon. The model is of course beautiful. Tamiya had some of their other current/upcoming kits also on display.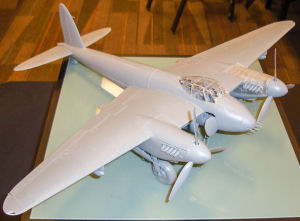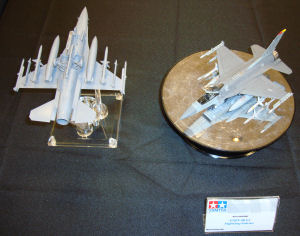 Kinetic Models
Raymond Chung of Kinetic Models brought out a test shot of their upcoming 1/48 Sea Harrier FRS.1 kit.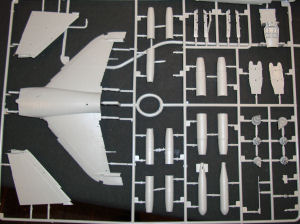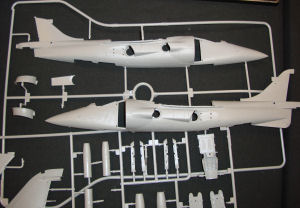 Freedom Models
Paul Cotcher of Red Star Models had a number of new releases on hand plus this test shot of the Freedom Models 1/48 F-20A Tigershark kit. This kit is due to be in the US very soon.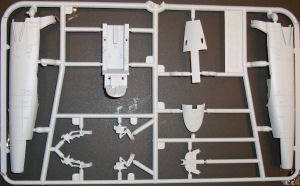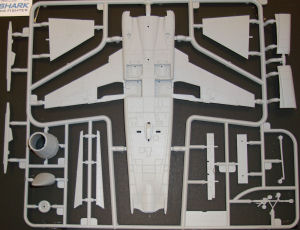 Kitty Hawk Models
Glenn Coleman has a test shot of their 1/32 OS2U Kingfisher as well as a build of their 1/32 P-39 Airacobra kit which will be arriving very soon.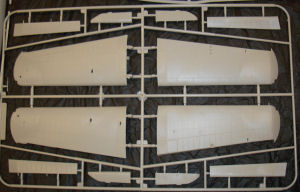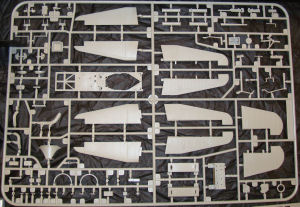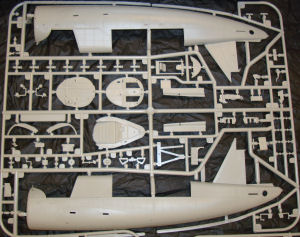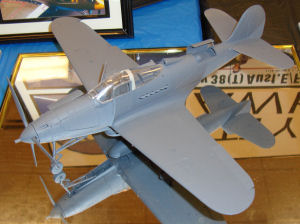 Stay tuned for more news...