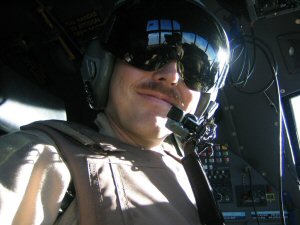 Serving 'Over There'
I know there are many opinions on the war in Iraq and Afghanistan. I can say first hand that what you see on the evening news and read in the paper is far from what is actually happening. I was shocked many times after being in the middle of an event and hearing what one of the big news outlets said about the same event. I can only caution you to not believe what you hear unless you hear it from someone who was there.
The trip started like most of the deployments I have been on. This one made number fourteen in seventeen years. Tearful goodbyes to the wife and family. Promises to stay in touch as much as possible. Letters and the more modern email is the lifeblood for a deployed soldier. You track down a buddy and help each other get all our bags together. It usually is 5 or 6 bags weighing about 300 lbs in pro gear, chem gear and personal gear to live on for the next 4 months.
You give one more look back to the family and a brief wave as you climb the air-stairs to the airliner. You do not turn back around again. You put the family behind you and then start thinking of what you have to do to get back safe and sound. The Rotator flight is a commercial flight the Air Force rents to take troops over to that side of the world. You never know what kind of aircraft you will get. It changes every time.
Just like countless soldiers before, you fly the great arch to your next refuel location. On and on. About 30 hours later, you get off the plane at your new home airfield. I am always amazed when I get off the aircraft and feel that blast of heat like someone has opened an oven door right in your face. This will be home for the next 4 months.
Like any other military, there are endless briefings and paperwork to do before you can get to the chow hall and to get your billet. Sheets, pillows and a room key from the First Sergeant gets you one step closer to sleep. The next day starts your briefings about flying in your assigned area of operation. After you are finally settled down and your sleep is caught up, you get put on the flying schedule.
Another amazing thing about flying in these countries is the landscape is some of the most formidable on earth with very unique characteristics. Some of the land is scared and twisted from eons of erosion or movement of land masses. We fly mile after mile over deserts and mountain regions. The Tora Bora area is some of the most amazingly hostile country you have ever seen. You could hide a division one valley over and no one would ever know.
You get to see things like the opulent palaces dictators made for themselves off the back of their people. War relics like one of the A-4 Skyhawks that fought off the Iraqi Air Force during the 1990 invasion, sit silently forgotten for most part. Rusting hulks of T-72 tanks scatter the desert floor. Too big for the locals to tote off. Many are grave sites.
You do most of your flying at night. You take off at sunset and fly onto the night using Night Vision Goggles. Iraq has more electricity now than it ever has had in its 2000+ year history. You pick up tired troops and bring them back. Some are going home. Some are with you for some R&R. All of them are exhausted.
When you see that your actions are doing good, peoples lives are better. Your sacrifices of being away from home are not going unnoticed or unappreciated, it makes your pride in your country and the fact that even though we are not perfect, America is a good country trying its best to help others. You will be a proud American service member.
If I said I liked going overseas for 8 months of the year, I would be lying. If I said I wasn't more than a bit nervous when I take off for another mission into Iraq or Afghanistan, again I would be lying, but I have learned to depend on my fellow airmen and my training. It hasn't let me down.
Months of flying into different countries. Always vigilant for that stray SAM or small arms fire during take-off or landing takes its toll on your nerves. Changing sleeping schedules, foreign food, heat stress, and loneliness while being surrounded by hundreds of people also wears on you. You look forward to the morale calls back home. Funny thing is you feel worse sometimes after the call than you did before. Your crew becomes your family. Some of these friendships last for years. You understand the term "Band of Brothers" like few do outside the profession of military arms.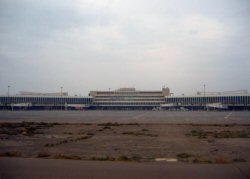 Eventually your time is due to rotate back to the states. The process reverses. Briefings, medical checkups. Turn in your sheets, pillows and room key to the First Shirt.
You drop off all your gear and are glad not to see it until you get back home. You climb up the air-stairs and don't look back hoping you will never see the place again but know better. Onto the rotator, you find your seat and try to settle down for the long ride home. Sleeping is like a time machine. When you open your eyes after a long sleep, you are that much closer to getting home to your family.
Finally you feel the plane coming back home. Gear and flaps down, you touch down on home turf. It seems to take forever to get the door open and let you out. Each person waiting for their own private homecoming on the flightline. You see your family and hugs affirm that you are back home.