Results of the MRC/Academy 2015 Global Armor Contest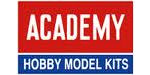 As you've seen in the entry gallery, the quality of this Cybermodeler Online global contest sponsored by MRC and Academy was very high. We had a total of 31 entries by 11 modelers from 8 countries. The countries represented include:
Australia
Bulgaria
Germany
Greece

Indonesia
Malta
Poland
USA
There were no ties or splits, so this was an easy contest to administrate. Thanks to all of you who submitted votes. Once again, the results were quite interesting. This time all three winners are from Poland, nice work. The winners of this contest are:
Kamil Feliks Sztarbala - M4A2 'Okinawa Style' - First Place - wins Academy's new T-34/85 and Tiger I Late kits
Andrzej Ligocki - M1078 LMTV - Second Place - wins Academy's new T-34/85 kit
Jakub Tomasz Sosiński - OT-130 Flame Thrower Tank - Third Place - wins Academy's new Tiger I Late kit
Academy will ship the prizes shortly. Congratulations to the winners and thanks to all who participated with entries as well as voting! Of course thanks go out to MRC and Academy for making this contest possible! We've added the builders' names, home countries, and builders' notes to each of the entry pages, so stop into the gallery for a closer look.