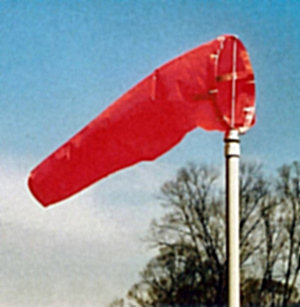 Research Into Early Aviation Sayings
Part 1 - The Windsock
I have been interested in aviation language since my pre-adult age. Many facts discover have I, but most interestingful was origin of the Windsock.
In the very early aviation days when planes were fragile and could barely fly, aviators would hold their handkerchief up and if it barely stirred then flying would be. One day a pilot held up the handkerchief but not a man, it was a delicate ladies handkerchief.
This began a collection fad and on days when flying was not the handkerchiefs would be hung on a hangar in the flying shed. Much talking would disturb the air and in turn the handkerchiefs would flutter. Thus the term "hangar flying" was born. Please notice that hangar is spelt "ar" not the modern fashion of "er".
Then one day a pilot simply glanced around and said "a light breeze from the south west, I'll fly." Amazed at the lack of a handkerchief fellow pilots quizzed him on how he knew. With a look born of fond memories the pilot pointed to the top of an aeroplane shed. There, on a pole fluttered a ladies silk stocking.
Ah you murmur, that is a windsock. But as the British say you "have jumped over the gun."
Soon every aeroplane shed sported at least one stocking and the local men began betting on which local lass supplied the stocking. An important man in those days was the bank manager called Mr. Grundy. I am not sure if his wife was who the famous Mrs. Grundy became. Mrs. Grundy was a huge woman, so big that bull elephants would mistake her for one of their females. This led to so many physically damaged elephants that circuses would avoid this town.
Mrs. Grundy ranted, raved and stormed so much over the morals of the aviators and their stockings that it soon became evident that she would make these people leave town. Now, for those who have been brought up on a diet of bikinis and G-strings, in early days of the 20th century women's undergarments were pantaloons. These were like long legged shorts ending just above or below the knee. These ends were frilly and tied with a red ribbon. For the impertinent those reading this no investigation have I made to find if these knots were slip knots.
One night one of these intrepid birdmen raided Mrs. Grundy's washing on the line and "borrowed" a pair of her pantaloons. (Early aviators were also called birdmen which is why so many aeroplanes would land in trees.) These pantaloons were so honoured that a special place where all could easily see them was arranged. Though as yet not named the future windsock already had an honoured place on an aerodrome.
Walking in town one day an aviator saw Mrs. Grundy and gave her a knowing grin. Bursting to say something but knowing the danger, Mrs. Grundy reached into her shopping bag and stuffed a pair of her husband's socks in her mouth. When this episode was told much hilarity and downing of champagne took place. The words "sock in her mouth" and "windbag" were bandied back and forth until someone came forth with the name windsock. With wear and tear, aided by the propeller of a low flying plane, the pantaloons were reduced to one leg.
If you do not have faith in my research, go you and look at today's windsock. Is it not one leg of a pantaloon, even to the red ribbon on the end!