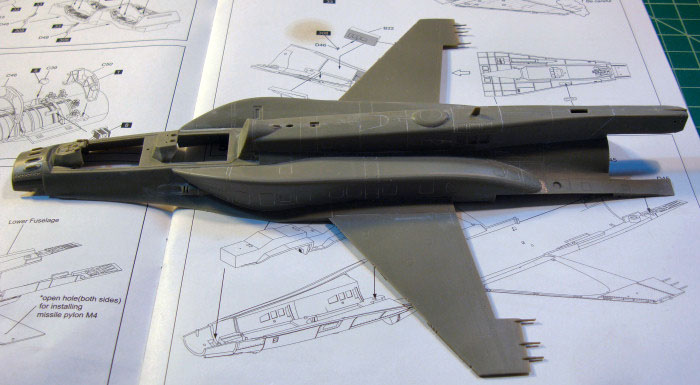 Tech Tip: A Better Way to Fill Seams
When it comes to body work (filling seams/gaps/etc.), I used to take the brute force approach - fill the offending areas with putty and then wet-sand the surface to submission. While this approach always works, it leaves lots of collateral damage in lost surface details. When I spotted a note in one build where the modeler was sanding with a cotton swab (Q-Tip), I took a closer look.
Here is a work in progress, the Kinetic 1/48 F-16D and for those of you who've seen the kit, it has quite a few inserts and modules that come together to render a given version. Most of these inserts and modules come together along panel lines, but as you know, you can see the difference between a seam and a panel line if not fixed.
If you look carefully at the image on the upper left, I've already assembled a number of the upper fuselage parts and inserts. If you look closer, you can see the putty in those seams but no collateral damage from sanding. The approach I'm using is Mr. Surfacer 500 applied with a brush (see image to the upper right), let the putty dry, then take a cotton swab dipped in Isopropyl Alcohol and rub the excess putty away (lower left). If you're making your own Acrylic Thinner, you have Isopropyl Alcohol handy. I've also used this approach inside the intake ducts of this kit to see how close to a seamless duct I can achieve. You'll see more of this build elsewhere on Cybermodeler Online.
This approach won't eliminate the need for those problems that require serious filler and sanding sticks, but it will significantly reduce the amount of sanding (and rescribing) needed on many projects. If you do inadvertently fill a panel line with Mr. Surfacer, I use a dull point to trace the affected panels and remove the unwanted filler without scratching the plastic surface.
I've received a number of interesting emails since first publishing this tech tip. One asked whether I follow the seam or rub perpendicular to the seam with that Q-Tip. In the above example, I'm rubbing along the seam because I want a slight depressing in the putty so the filled gap will look like any other panel line. Another suggested something brilliant - disposable lens cleaning wipes. These are alcohol-based and they dry out rather quickly. Rather than tossing them, reuse them! Dip them in the Isopropyl Alcohol and you can achieve smooth, flat surfaces. Another email suggested nail polish thinner which is supposed to work great if you're interested in that option.
Now go build something!