Tech Tip: Tools on the Bench Part 1 - Airbrushes
There are a number of airbrush manufacturers out there and this particular tool usually becomes a key part of any modeler's workbench. I personally started with a single action Pasche airbrush many decades ago that was powered by those interesting propellant cans. While the Pasche was easy to use, it was painful to clean and required parts changes every few years to keep it going. The Pasche was eventually set aside for a Badger double-action airbrush, and while I learned quite a bit using that airbrush, it too was a pain to maintain. Disassembly was easy enough, but reassembly was another matter. Like the Pasche, the Badger went through seals and gaskets fairly regularly and finally got to the point where it needed to be retired.
Six years ago, Iwata sent me an airbrush to review and while I had seen the Iwata brand over the previous few years, I had never thought about replacing the Badger with another brand. That quickly changed as I started putting the Iwata through its paces. Over the next two years, Iwata sent a range of airbrushes from their Revolution and Eclipse lines, all of which were nice and many of which were shared among members of the Cybermodeler team. Two of them are now among my core modeling tools. The first is the Eclipse HP-CS – it has the gravity-fed cup atop the brush and is ideal for applying paint across larger surface areas yet nimble enough to hold a fine line if I want to trace out a border edge for a camouflage color.
The other is the Eclipse HP-AH – this is a brilliant design as it has the small cup embedded in the upper surface of the airbrush for applying small quantities of paint for small jobs or touch-ups. The HP-AH has a distinctive valve under the nose to fine tune air pressure without having to stop what you're doing. Both airbrushes are very easy to clean; disassembly and reassembly are very straightforward. With my previous airbrushes, it seemed like I spent more time cleaning them than using them to the point where I dreaded painting. With the Eclipses, that dread is gone. In fact, the HP-AH is my favorite airbrush as I've used it to create paint chips from literally hundreds of paints to build the ongoing paint charts we have online. I've shot lacquers, enamels, and lots of acrylics through this airbrush and have never had a problem. Even when some of the paints turned out to be bad, the HP-AH was easy to clean. On the point of maintenance, in the years I've had these airbrushes, I have yet to replace a seal or any other part due to wear/aging.
So are these Iwata airbrushes perfect for use out of the box? Not exactly. I did use them straight out of the box, but only one of these airbrushes felt better in my hands, the Iwata TR2, and that was because the conventional trigger and the longer airshaft with the water trap installed made the TR2 feel more like a pistol than an airbrush, but it still wasn't quite right for my use.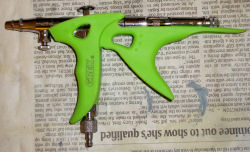 A few years ago, I saw the Grex green handles for airbrushes and the first time I held an airbrush with that handle, I had finally found something truly comfortable in my hands. I suspected that the Grex and Iwata (and several other brands) use the same core designs and standards, so I ordered a few of these handles to see if I could convert my favorite Iwatas. The conversion is quite simple, screw on a metal air shaft extension, slide the new handle over the shaft, add a nut to the bottom of the shaft to hold the handle in place, and then simply attach your air hose. The results were instantly a success and I have since converted all of my airbrushes with the Grex handles. I finally have an airbrush that I can use for extended periods without discomfort.
I didn't stop with those Grex handles. Iwata was importing a new gadget that also made airbrushing much easier – air hose quick disconnects. I have my compressor set up with two air hoses, both of which have the quick disconnects – a much smaller version of those quick disconnects you find on any automotive pneumatic tool. While Iwata was starting to make these quick disconnects more available, I found one better – the Grex version with an integral air pressure valve. These are now the connector of choice on my air compressor and the Grex is compatible with the Iwata and other adapters.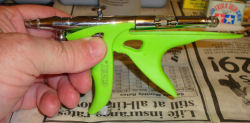 There was one lesson to learn when using this hybrid set-up. No matter which airbrush I used, it eventually had to be dismantled and cleaned. To remove the Grex handle, you first remove the air hose quick disconnect, then remove that nut that holds the handle in place. If you over-tightened that nut, you're going to have a few choice words getting it back out of that handle recess. You don't need to tighten that nut to keep the handle secure. When the nut is almost ready to come off the metal shaft, hold the airbrush with that nut against the workbench surface and push that handle down over the nut. It doesn't take much force to get the handle off the airbrush, but if you don't use that technique, you might find it very challenging to get that handle to release the airbrush.
This is the set-up I use with my airbrushes and it took some time and some lessons learned to get everything working smoothly, but now I really enjoy airbrushing with this set-up where before it wasn't much fun at all. Is this arrangement ideal for you too? Perhaps, but as I said in the introduction, good tools are a personal thing, but many folks don't know what sort of options there are out on the market. Check out some of these options and see if that makes your own airbrushing experience better for you.