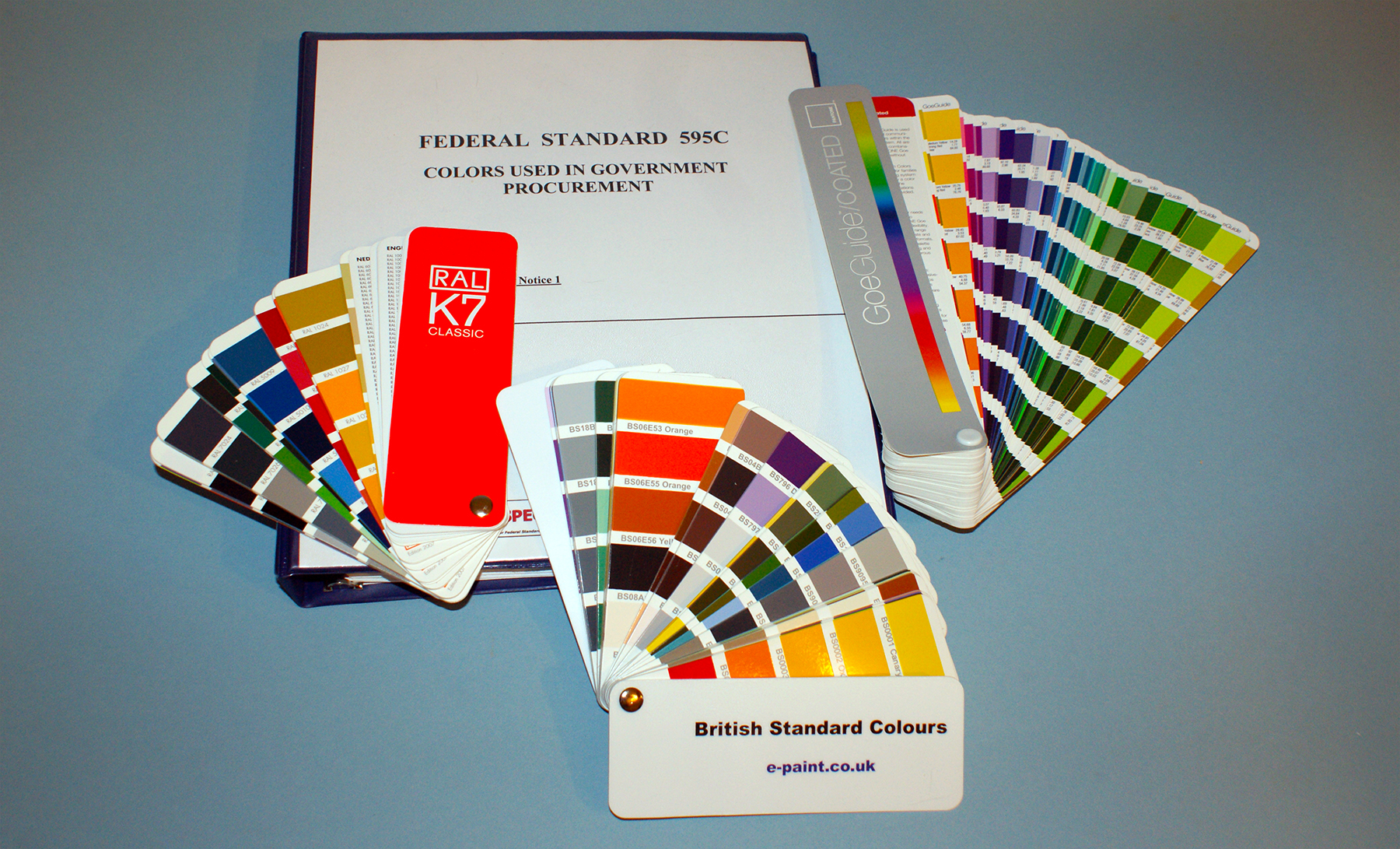 A Matter of Color
Introduction
More than 15 years ago, we began the quest of developing a usable color reference system for scale modelers. When we started, we were trying to sort out what colors were available from the hobby paint powerhouses of the time: Testors, Tamiya, Gunze Sangyo, Humbrol, and a few others. There were (and still are) numerous color equivalence tables online ("Don't believe everything you read on the internet." -Abraham Lincoln) and we found lots of interesting contradictions and even some bogus information 'out there'. After several years of trying to reconcile the contradictions, we started anew. We had color chips from Testors, Vallejo, and created color chips for Tamiya, Gunze, and a few other brands. We also compiled a library of color chips for Federal Standard 595, British Standard Colors, RAL, etc., in order to more accurately align hobby paints to the colors they're supposed to replicate. Over the last decade, we've learned a lot about the paint offerings from various manufacturers and they're strategies for providing product coverage for these various paint standards. The tools that were developed also allowed us to identify paints that were scale fades of other colors to simplify the job of replicating a paint job in scale. Fast forward to present day, and the hobby industry has changed, and so have the paints that are available. It was time to revisit our color references. If you want to skip the details and get to what's new about all of this, skip down to the What's New? section below.
Color Standards
Quartermaster 3-1 (QM 3-1): This was the U.S. Army Air Corps color management system prior to merging into the ANA system. Even after the merger, you'll still sometimes see references to the numeric suffix assigned to each color (i.e. Olive Drab 41, Neutral Gray 43, etc.) which point to the original QM 3-1 of a given color.
Army/Navy Aeronautical (ANA): Before WWII, the U.S. Navy had their own color system separate from the U.S. Army. Up until the outbreak of war in Europe, the Navy used bright colors on their aircraft to identify the aircraft carrier assignment and squadron placement of each carrier-based aircraft. The two services combined their colors to form the ANA system, and after the attack on Pearl Harbor, some of these colors were revised, though the designators remained the same. In these color references, we'll sometimes add an E (early) or L (late) suffix to distinguish between the pre-1942 and post-1942 version of a given color.
Federal Standard 595 (FS 595): FS 595 evolved out of the Army/Navy Aviation (ANA) color standard after World War II. It was revised several times over the decades with addition of new colors and the retirement of other colors. In early 2017, FS 595 was cancelled and color management for the US government was given to the Society of Automotive Engineers (SAE) and is now available as AMS-STD-595. That new designation is rather ironic given that we know AMS as 'Advanced Modelers' Syndrome'. A recent review of the current AMS-STD-595 reveals that many of the colors that were added with FS 595c are gone and the current baseline looks more like FS 595b with a few exceptions.
British Standard Colors (BSC): The British had years of experience developing a system of camouflage colors as they quickly put them into use in the late 1930s as the clouds of war began to envelope Europe. BSC 381 was the color standard in use by the British government and a subset of those colors were used by the Royal Air Force while a different (and somewhat overlapping) subset were used by the British Army.
Soviet Air Force: The Soviets had a range of camouflage colors in use during World War II, and interestingly enough, many of the colors were duplicates – one for application over wood surfaces, the other over metal. During the Cold War, colors weren't widely used on tactical or bomber aircraft during the 1950s and 1960s as bare metal was the standard, just like the U.S. Air Force in those days. Camouflage started to appear on Frontal Aviation aircraft during the early 1970s and have evolved to the present day.
Reichsluftfarhtministerium (RLM): The RLM color standards for Luftwaffe aircraft evolved from the days of the Spanish Civil War through the end of World War 2. After the war, there was little understanding of the RLM colors outside of Germany until the team of Hitchcock and Merrick published the famous 'The Official Monogram Painting Guide to German Aircraft 1935-1945' and finally created a framework to better understand that color system. The paint chips contained in that title served as the foundation for hobby paints in the 1970s as companies like Testors and Aeromaster produced them for Luftwaffe modelers. In the years that followed that title, one of the authors (Kenneth Merrick) continued his research and published his findings which contradicted the Monogram book in a few areas as new information came to light. Other authors also found good information in the German archives that corroborated Merrick's revised research while introducing additional information. The hobby paints available today are all based on that revised research, with the exception of Testors whose RLM colors are still based upon the original Monogram work.
Reichs-Ausschuß für Lieferbedingungen (RAL): The RAL color standards were also founded in Germany during the late 1920s and has evolved into the present-day color standard used by Germany and others in the European Union. During WWII, the Wehrmacht employed RAL colors for camouflaging their combat vehicles, and while some of those colors have come and gone from the postwar RAL standard revisions, they are very much in use to describe the colors of WWII subjects as well as modern military subjects.
There are other standards used by other entities like the U.S. Navy and Royal Navy camouflage colors of World War II, Imperial Japanese Army and Imperial Japanese Navy aircraft colors, etc., which are also incorporated (or will be incorporated) into this color reference. But you can see there are many different color standards used and there are numerous colors in each standard. As many of these colors are employed for camouflage, and everyone is trying to blend into the same (or similar) environment, you'll find the same dark green, olive drab, earth brown, etc., in many of these standards. These color overlaps have helped to confuse modelers over the years.
Hobby Paints
There are many hobby paint companies around the world these days, we focused on several in our new color references:
Ammo by Mig Jimenez: The Ammo brand has been around several years now and they have created an impressive array of paints to address the more widely used colors from the above standards. In addition, Mig Jimenez has been working with numerous model companies around the world providing color/paint information for kit instructions. If you use Mig paints, this is convenient, but if you don't, we want to show you alternatives from other common paint companies.
Acrylicos Vallejo: Another prolific paint brand that has gained a strong foothold in the U.S. market, and some kit instructions are based upon Vallejo paints, so like the Ammo colors, we have them on the table for your cross-reference.
Gunze Sangyo (GSI Creos) including Mr.Hobby and Mr.Color: I've used Mr.Hobby (AKA Gunze Aqueous) for many years and remains one of my favorite paint brands. Between the acrylic (Mr. Hobby) and lacquer (Mr.Color) series, there are a wide variety of colors that meet most of my needs.
Hataka: This is a relatively new paint company from Poland that has a growing list of colors in their acrylic and lacquer lines.
LifeColor: This Italian brand has been around for a while and they have produced a wide range of acrylic colors, though they tend to identify them using the closest FS 595 match, but we've been working through that.
Mission Models: This is the newest brand on the list, and while their color options are still limited, they have a nice selection of the more widely used colors by modelers as their color pallet grows. While their paints are acrylics, they require specific steps to ensure surface adhesion, but the results are more durable than many of the European acrylics if you are using photo-etch and/or white metal in your builds.
MRP (AKA Mr.Paint): This is also a relatively new brand from Slovakia that is lacquer-based, but they offer quite a few colors from paint standards not covered by other companies.
Tamiya: They have a good range of acrylic and lacquer colors, though not as prolific as other brands. Nevertheless, I love Tamiya paints as they are robust and reliable straight out of the bottle.
All of our paint tables and color profiles are now updated with these colors, though we're still filling in some blanks as we go through our references. I've received several requests to restore Testors paints to the tables, and that is a future option that we'll consider.
What's New?
So what is different with our new paint tables besides the different paint brands?
Over the last decade, we focused on matching hobby paint colors to the color standards using digital measurements of paint chips. There finally came a point where we were literally watching paint dry as we made paint chips to digitally measure and I was losing my will to live. We were also making some paint companies nervous as we found that their paints weren't always matching up to the standards and we heard things like built-in scale fade, etc. The data is archived should we want to use it again, but it was time for a new approach.
Since most of the paint companies have identified what specific color from a given standard each paint is intended to replicate, we decided to build our new tables based on the following criteria:
Use the color identification (i.e. RLM 74, FS 36118, BSC 641, etc.) to match them to a specific standard color as well as other brands using the same system
Use the derivative identification (i.e. FS 36118 is also ANA 603, G4 or No.24 is also BSC 224 Bronze Green, etc.)
Some companies will publish color cross-references, these were used with care as some of those contractions mentioned above are still there
Color matching as provided directly from the paint manufacturer
Use cases - paint colors used in various kits
Color matching from special research
While the first four steps are relatively straightforward, there was one major hole in our color research that has been there from the beginning – WWII Japanese camouflage colors. While Gunze and Tamiya produce many of these colors, the needed information has been difficult to obtain for one who doesn't read/speak Japanese. A few years ago, I made a plea for help from the good folks at Zoukei-Mura Inc. They sent me a copy of the ModelArt title 'Tamiya Color Guide Book' which includes paint chips. ModelArt has done a nice range of monographs on Imperial Japanese Army and Navy aircraft that also include relevant paint chips, but being in Japanese, I was still hampered on correlating colors. This Tamiya title has limited English text, but it does have the one missing ingredient I have sought – a correlation of their colors to Gunze colors, as well as some application notes in English. For the first time, I can now build that missing paint table.
In addition to our aircraft, armor, and naval color guides, we now have paint tables that cover Gunze and Tamiya paints, as well as tables showing available paints for FS 595, ANA, RLM, and other paint standards. We'll be adding more, including the Japanese colors, in the coming weeks.
There is one other reason why we completely revamped our color references. Until now, the color references were published as HTML tables, and from a web programmer's point of view, these are old-school that don't provide the ability to adapt to varying page sizes available on different computers and smart devices. While the rest of Cybermodeler has been reprogrammed several times over these last 20+ years to keep up with the latest programming standards, there wasn't a good alternative to tables until recently when the grid standard was adopted on all modern browsers. Once grid was fully available on Chrome, Firefox, Edge, and others, we made that transition. Unfortunately, this doesn't work with Microsoft Explorer since Microsoft stopped its support of that browser several years ago.
So here we are, this new system is easier to maintain using our underlying databases, and we'll continue to revise the information as new colors and new paints come to light. Stay tuned!
Bibliography
Federal Standard 595a, Washington DC: General Services Administration, 1984
Federal Standard 595b, Washington DC: General Services Administration, 1989
Federal Standard 595c, Anaheim: FED-SPECS, 2008
Archer, Robert D., The Official Monogram US Army Air Service & Air Corps Aircraft Color Guide Vol 1 1908-1941, Sturbridge: Monogram Aviation Publications, 1995
Elliott, John M., The Official Monogram US Navy & Marine Corps Aircraft Colour Guide Vol 1, Sturbridge: Monogram Aviation Publications, 1987
Elliott, John M., The Official Monogram US Navy & Marine Corps Aircraft Colour Guide Vol 2, Sturbridge: Monogram Aviation Publications, 1989
Elliott, John M., The Official Monogram US Navy & Marine Corps Aircraft Colour Guide Vol 3, Sturbridge: Monogram Aviation Publications, 1989
Elliott, John M., The Official Monogram US Navy & Marine Corps Aircraft Colour Guide Vol 4, Sturbridge: Monogram Aviation Publications, 1989
Official United States Aircraft Colors 1908-1993, Sturbridge: Monogram Aviation Publications, 2006
Merrick, K.A., and Kiroff, Jürgen, Luftwaffe Camouflage and Markings 1933-1945 Volume One, Hersham: Classic Publications, 2004
Merrick, K.A., and Kiroff, Jürgen, Luftwaffe Camouflage and Markings 1933-1945 Volume Two, Hersham: Classic Publications, 2005
Merrick, K.A., and Hitchcock, Thomas H. The Official Monogram Painting Guide to German Aircraft 1935-1945, Boylston: Monogram Aviation Publications, 1980
Ullmann, Michael, Luftwaffe Colours 1935-1945, Manchester: Hikoki Publications, 2008
Luftwaffe Color Chart. Eagle Editions Ltd. 1998
Colori e Schemi Mimetici Della Regia Aeronautica 1935-1943, Ediz. CMPR, 1977
Colori Ufficialmente Impiegati Dall'aviazione Italiana 1916-1943, unknown
RAL K7 Classic, Sankt Augustin: RAL GmbH, 2007
British Standard Colours, e-paint.co.uk
US Navy World War II Ship Colors Set 1, Sacramento: Snyder and Short Enterprises, 1998
US Navy World War II Ship Colors Set 2, Sacramento: Snyder and Short Enterprises, 1999
Kriegsmarine World War II Ship Colors Set 1, Sacramento: Snyder and Short Enterprises, 2000
Kriegsmarine World War II Ship Colors Set 2, Sacramento: Snyder and Short Enterprises, 2001
Imperial Japanese Navy World War II Ship Colors, Sacramento: Snyder and Short Enterprises, 1999
Royal Navy World War II Ship Colors Set 1, Sacramento: Snyder and Short Enterprises, 1999
Royal Navy World War II Ship Colors Set 2, Sacramento: Snyder and Short Enterprises, 2000
Italian Navy World War II Ship Colors, Sacramento: Snyder and Short Enterprises, 2000
Tamiya Color Guide Book, ModelArt, 2011