Agora Models 1/8 '67 Shelby GT500 Super SnakePack 01 Kit Build Review
| | | | |
| --- | --- | --- | --- |
| Date of Review | February 2020 | Manufacturer | Agora Models |
| Subject | '67 Shelby GT500 Super Snake | Scale | 1/8 |
| Kit Number | 01 | Primary Media | Die-cast metal, styrene, rubber, etc. |
| Pros | Beautiful details, prefinished parts, easy assembly | Cons | Nothing noted |
| Skill Level | Intermediate | MSRP (USD) | $129.99/month + $9.99 shipping per pack (see text) |
Build Review
There's a new company in the higher-end kit market called Agora Models. Their first offering is a 1/8th scale 1967 Shelby 500GT and when finished, will look like the car in the above. Agora Models was kind enough to offer us a chance to put this kit through its paces, and like similar higher-end kits, will be delivered as monthly packs of parts that will be completed at the end of one year (though you can elect to do this kit in two years for a lower monthly cost). If you're not familiar with the subscription kit market, there are several companies out there that will send you packets of parts each month for a fixed cost that will result in a complete model at the end of the subscription period. You can read more about Agora Models' kit subscription options at their website here. One example of a subscription kit that comes to mind is the 1:1 replica of the Millennium Falcon studio model. These kits come pre-finished (in most cases) and offer lighting and other working features. In the case of this Shelby GT500, the kit is pre-painted white with the blue racing stripes, offers working doors, hood, and trunk lid, operating lights, engine and horn sounds, and steerable front wheels. At 1/8 scale, the assembled model will be roughly 23.4"x9.1"x6.9", so you won't need a room addition to display your new wheels. Assembly is accomplished with screws and the first kit includes a nice Philips head screwdriver.
The first box arrived a day or so ago and looking inside brought back memories of the TV series MASH, where various characters were depicted mailing Jeep parts back to the U.S. so they could have their own Jeep at the end of the war. On opening the box, you can see a series of mini-kits that are well-packaged and waiting for your attention.
Here's a closer look at Pack One. This pack contains:
Front Fascia Assembly
Left Door Assembly
Left Window Assembly
Left Door Trim
Driver's Seat Backrest
Driver's Seat
Agora Polishing Cloth
Nice screwdriver
There is a nice color brochure included in this pack, but you won't see instructions. The instructions are downloaded from their website and each instruction set is made available there after each parts pack is released. The first set of instructions is 15 pages and well-illustrated, and while this might seem a bit lengthy for the parts involved, those with little or no experience with kits like this will appreciate the tutorial nature of these instructions so you're better equipped for the more complex packs to come. I simply printed the instructions so I can have them on the bench with me when we kick this project off.
So we've got three subassemblies here: front fascia, left (driver's) door and driver's seat. We'll jump into these three subasssemblies in Part One of our build review (coming very soon) and we'll add additional updates as new packs arrive onto the workbench. It will be interesting to see how long it will be before we have enough subassemblies to begin integrating these subassemblies into body, chassis, drivetrain, etc. What I see here is a thing of beauty! If you've wanted to try one of these subscription projects, I can't think of a better subject to try out.
Step One: Assembly of the front fascia. This is essentially installing the two headlight housings, lower grill, and front bumper to the fascia using small screws. Several things become apparent right away:
The powder coating/painting is flawless on the metal parts
The chromed plastic parts are good, but they were chromed before being cleaned up of any mold flash or sprue stubs
The different screws are packaged separately, and each set of screws includes an extra in case one flies off the bench or is otherwise consumed by the carpet. This is a first-class touch!
First up is the grill, which is photo-etched metal that attaches to the fascia with two screws. The force required to tighten down the screws is a little more than the screwdriver that was included in the kit is able to handle as I was getting metal shavings/chips on the tip of the screwdriver. It was here that I made a few minor changes. The tip of the screwdriver included in the kit is ideal for some of the smaller screws used, so I grabbed a slightly larger Phillips head to finish setting the screws in place. While these parts no-doubt fit together perfectly with the prototypes, the power coatings make things a little harder to work with but switching up to a larger screwdriver head compensates nicely.
Note that I have magnets attached to one screwdriver above. There are magnetic screwdrivers out there, but I can turn my screwdriver as well as the one included in the kit into a magnetic screwdriver this way. Why would you want to do this? You can put a screw in place at the tip of the screwdriver and it will stay there while you hold the screwdriver in one hand and the assembly in the other. Using this technique in the entire build, I never lost a single screw.
The left headlight housing goes into place with no problems, but the right one would not quite fit. I don't know if it was the powercoat, but I simply grabbed a small hobby file and removed a little mold flash from the bezel until the housing fit properly. Just a little patience and test-fitting solved that problem.
Step Two: Left door - this step puts the rearview mirror and exterior door handle on the door. Once again I used the small screwdriver with magnets to place the screw and get the first bit of threading started, then switched to a larger screwdriver to finish the job.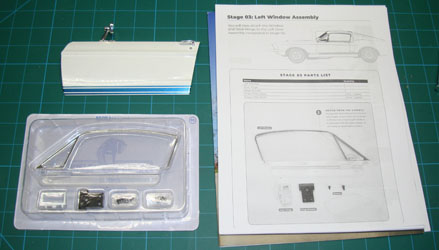 Step Three and Four: Left door interior - the door glass is mounted to the inside of the door, followed by the door hinge, and finally the door panel that includes the interior door handle and window crank. It took me a while to interpret the instructions on how that interior door handle is installed as I've never sat in a GT500 or Mustang of that era to understand what the instructions were trying to tell me. After a bit of fiddling/dry-fitting parts, I understood and resumed assembly.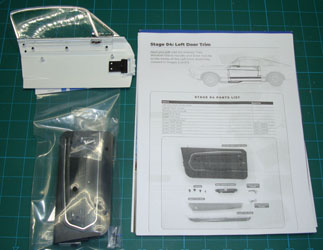 Steps Five and Six: These steps build up the rear and base of the driver's seat. No mysteries here.
So here are the three subassemblies and the set of tools I used to get here. In addition to the screwdriver included in this kit (plus magnets to hold onto the screws), I have two other Phillips screwdrivers of larger sizes to properly work the different sized screw heads in this kit. To clean up some mold stubs and flash, I used my Sujiborido plaining file, a regular file, and my X-Acto knife. The X-Acto knife was only used to remove the clear plastic housings holding the kit parts as well as opening the tiny bags of screws. As for the files, I started inspecting each plastic part and removing the stubs and flash before installing the parts. Only on the side of the rearview mirror was an exposed area where I had filed through the chrome, and this was touched up with a Molotow chrome pen.
These three subassembly projects are good choices for Agora to provide to the new builder as you get to know the parts and techniques without being able to hurt anything though be careful with the driver door as we've got chromed plastic parts on either side that can be broken if you're not careful.
My sincere thanks to Agora Models for this review sample!