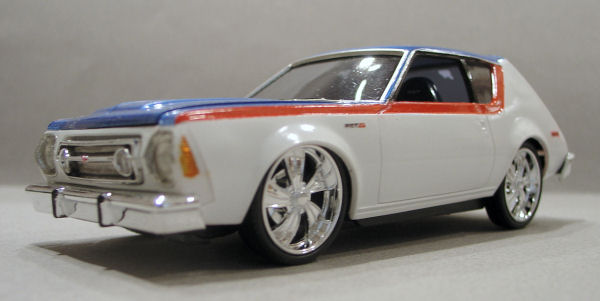 AMT 1/25 1976 Gremlin Build Review
By Ken Kitchen, Front Range Auto Modelers (FRAM)
| | | | |
| --- | --- | --- | --- |
| Date of Review | May 2012 | Manufacturer | AMT/Round 2 |
| Subject | 1976 Gremlin | Scale | 1/25 |
| Kit Number | 690 | Primary Media | Styrene |
| Pros | Stock Body | Cons | Odd shaped box |
| Skill Level | Moderate | MSRP (USD) | $29.95 |
Background
Contrary to popular belief this is not a straight reissue of the custom Gremlin issue; that issue could only be built as a t-top custom with a pretty radical custom front end treatment. Fortunately Round 2 has chosen to return the body back to its original stock configuration. They have also restored all of the "pro stock" drag parts. The drag parts include a separate pro-stock style hood, high-rise intake manifold, roll bar, and modified rear suspension.  My favorite new addition to the kit are the soft slicks with pad-printed lettering.
The Kit
Here are the basic stats from the Round 2 Models website:
Scale: 1/25
Skill Level: 2 (ages 10 and up)
Glue assembly, paint required
Molded inwhite, plus clear, smoke-tint and chrome parts

2 in 1 kit can be built stock or drag
Expanded decal sheet with multiple stripe colors
All new pad-printed rubber drag slicks
Special Original Art packaging format
Includes 11"x14" art print suitable for framing
The kit is molded in white styrene. There are 6 parts trees molded in white, plus one chrome tree and clear and smoke tinted glass. As mentioned before the body has been brought back to stock configuration and has all the pieces required to build a showroom stock 1976 Gremlin. In addition it has the parts to build it as a drag strip terror or boulevard cruiser. The decals are very nice with 2 different stripe styles in multiple colors. Personally I can't wait to throw on a set of modern 20"s and lower it to the ground.
One thing that stands out is the new box design. Round 2 has chosen the Gremlin to be the first release in AMT's new Original Art Series. Original Art Series program highlights the commercial artwork created for model kit packaging. Each Original Art Series kit includes an exclusive 11" x 14" print featuring a high-resolution, direct reproduction of the actual illustration from AMT's historical archives that was used to create the original packaging. These prints have no added copy or graphics on the face side, making them suitable for framing. While I have to admit I like having the print included in this issue I hope they will consider issuing this kit in a standard box in the future, especially as I see myself building several versions of this old friend.
Build
First of all let me say that I received this kit for review way back in December of 2011. It's been sitting on my pile of to-do kits for 8 or 9 months now. Several times I considered sticking it on the shelf just to get it out of the way. However I knew with absolute certainty that I was going to build this one. I finally got my backlog out of the way and started working on it.
First I must say this wasn't a straight out of the box build. Many years ago on one of the message boards I frequented someone posted a picture of an upgraded Gremlin. It was lowered in the weeds with 19 or 20 inch 5 spoke wheels and low profile tires. It was painted in a Black and White two-tone scheme with a red stripe. I've saved that picture for more than a decade hoping to latch onto a Gremlin kit to build it. In the intervening time period Retro designs such as the Ford Mustang, the Chevy Camaro and the Dodge Challenger have become very hot. So I decided that this build might be a Retro design for the Gremlin if it had survived into today.
With that picture in mind I started gathering parts to build it. First of all I searched for just the right wheel and tire combo. I needed something that wasn't too wide in order to fit within the wheel wells to minimize the changes to the kit. I settled on the custom wheels from the Revell 58 Chevy kit. While searching for wheels I came across a parts kit with a 6.1 L Hemi from a Dodge Magnum. Given that AMC merged with Dodge/Chrysler this engine is still in the family.
This kit went together very easily. Flash was almost non-existent, and the mold lines on the body were minimal to none. I painted it with a mix of Tamiya colors. The interior was painted in a dark blue. The body was painted with a combination of Pearl White and Metallic Blue. I painted the red stripe with Tamiya Bright Mica Red. That made the whole concept come together beautifully. The kit comes with two sets of glass one clear and one smoked. I used the smoked glass to fit with my theme.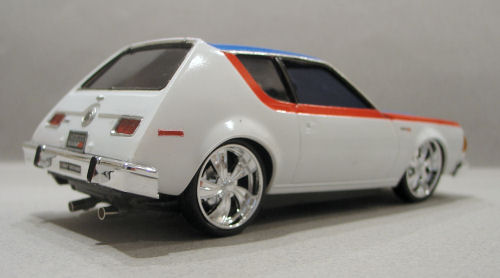 I built up the chassis per the kit instructions. I only made minimal changes for this build. First I installed lowering blocks for the rear-end. For the front since this was originally a metal axle thru-the-block kit I mounted the front wheels by drilling a mounting hole higher up in the fender well and used a plastic rod for the mounting point. I used the exhaust from the Magnum kit and had to make a couple of cuts for the mufflers to fit into the floor pan.
For the interior I wasn't happy with the kit buckets so I used a set from the parts box. I installed the back seat in the down position because I wanted this to be more of a two seater. I built up the 6.1 L Hemi per the Magnum instructions and the Hemi engine fit in the engine bay like it was intended for it.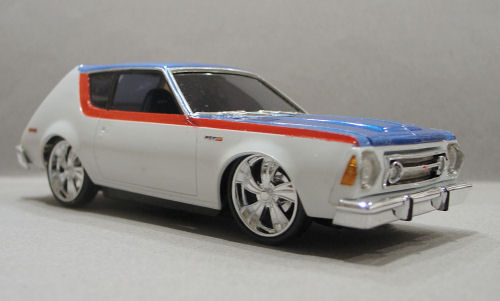 The main issue I discovered during the build was the re-tooled grille. I had to do some filing and sanding to get it to fit in the opening. It was also just a tad wide. Another issue is the fit of the hood. It just slides around in the opening. I'll have to work on something to keep it in place even in a display case on my shelf.
With some Bare Metal Foil and decals this build was finished and ready for the shelf. Not by best build by far but a nice enjoyable break from my latest in-depth project. A relatively quick and easy build with the reward of a nice looking shelf model for my collection.
Conclusion
This was a fun build well worth the wait. Now I have to go get another one so I can build a stock one to sit beside it. This kit is highly recommended!
My sincere thanks to Round2 Models for this review sample!