Bandai 1/35 Batmobile Build Review
By Dan Hamilton
| | | | |
| --- | --- | --- | --- |
| Date of Review | July 2008 | Manufacturer | Bandai |
| Subject | Batmobile | Scale | 1/35 |
| Kit Number | 134048 | Primary Media | Styrene |
| Pros | Snap-together construction, pre-finished, fast build | Cons | See text |
| Skill Level | Basic | MSRP (USD) | Out of Production |
Background
In the May 1939 issue of Detective Comics, when "The Batman" first appeared, his creators Bill Finger and Bob Kane had him driving a nondescript red coup that seemed to change design from story to story. In 1940, he most of the time drove a dark colored (like Superman's hair, comics could not print anything "black" – it could only be printed as shaded black with blue highlights) roadster. It was not until February 1941 that the term "Batmobile" was first used to describe the "Dark Knight's" ride – and it was back to being a red car, but now with a small bat hood ornament.
By the Spring of 1941, however, a big sedan with bathead grill and sculpted tail fin appeared and set the tone for the rest of the decade. In 1950, this design had become inconsistent with modern crime fighting, so it meet its end in a dramatic fall from a dynamited bridge during a high speed chase (Batman, being only injured of course in the collapse, used his recuperative time to build a new model – and I feel a great sense of accomplishment if I can work a couple of hours on my scale models when I'm home sick!) This new bubble topped design was good for another decade and a half.
By mid the 1960's, around the time he appeared on television (and did great damage to his image), the design changed again – to look a lot like George Barris' redesigned Lincoln Futura concept car. In the 1970's, this icon for middle aged fans like myself was locked away in the Batcave and Batman for the next twenty years in the comics would careen from driving unmarked stock sports cars to vehicles never seen anywhere else on the highway.
Then came the Batman movies of the 1980's and 1990's – the first two by Tim Burton ("Batman" & "Batman Returns") restored Batman to his "Dark Knight" status in live action media, and the next two by Joel Schumacher which practically killed him off again ("Batman Forever" & "Batman and Robin"). The Batmobile in the first two movies was a black corvette looking car, that apparently had been built on a 68 Chevy chassis, then became an organic looking Indianapolis 500 race car and finally an impossibly long and undoubtedly poor cornering single seat roadster. It took almost decade to recover, and then only by starting over completely in Christopher Nolan's "Batman Begins." Indeed, in the 2005 movie it's called the "Tumbler" – a Hummer on steroids. In July 2008, it returned in "The Dark Knight to fight the evil "Joker" and his minions.
The Kit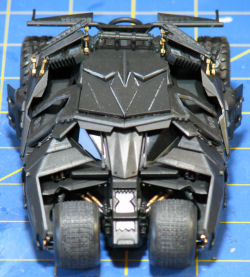 Ban Dai's "Batmobile" from "Batman Begins" (#0134048) is the first of this manufacturer's products I've ever built, and boy was I impressed! Its styrene plastic parts fit together like a dream, almost like a snap together toy but with remarkable detail. Indeed, there is so much detail that it gets lost in all the detail on every side of the model. All I could do paint-wise, was to try to highlight the angles with a wash. Do not spend time on the "passenger compartment," even the windows are barely visible – much less the interior. The only criticism I have of the kit is its scale – 1/35 when all my other kits in the Batmobile's earlier iterations are 1/25. It's a shrimp parked next to its predecessors from the 20th Century, but a beautifully detailed shrimp I have to admit.
The model was pricey, and to protect myself from potential abuse from my spouse, I cannot divulge what it cost me but I got it for somewhat less than the $39.99 I have seen it listed on the internet (if you don't count shipping).
Conclusion
Every once in a while I need a break from my attempts at historically accurate military modeling, and this was a great choice. To reinvigorate your modeling drive with a flight of fancy, you would be hard pressed to pick a better project than the Dark Knight's most current ride. I highly recommend it as your next mental break model project (as to the movie, I'll know whether I can recommend it too after my 16 year old daughter drags us off to see the newest movie in IMAX!)