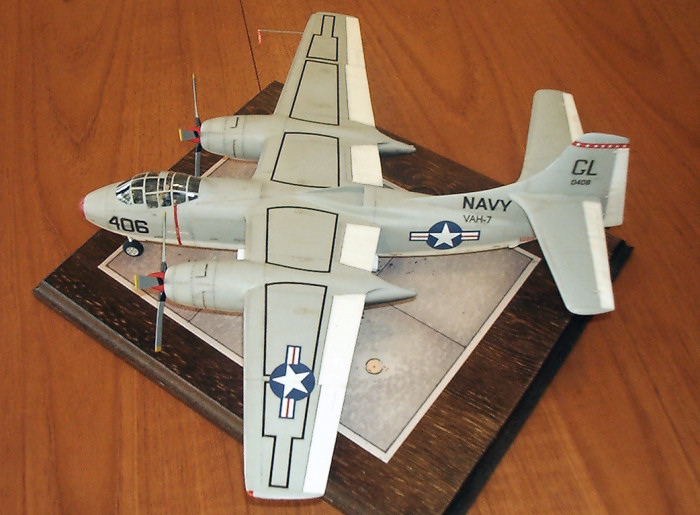 Collect Aire 1/48 AJ-2 Savage Build Review
| | | | |
| --- | --- | --- | --- |
| Date of Review | January 2015 | Manufacturer | Collect Aire |
| Subject | North American AJ-2 Savage | Scale | 1/48 |
| Kit Number | 4826 | Primary Media | Resin, Vac |
| Pros | Only kit of this subject in this scale | Cons | See text |
| Skill Level | Experienced | MSRP (USD) | Out of production |
Build Review
The North American Aviation AJ-2 Savage was a product of the great transition from props to jets. This nuclear capable carrier based bomber first flew in 1948.
With two prop driven turbocharged piston engines and an Alison turbojet the Savage became operational in 1949. A reconnaissance version followed and later a tanker version followed as well but without the jet engine. The Savage was replaced by the Skywarrior starting in 1959.
I bought my first Collect-Aire Savage kit back in the late 90s. I was most certainly convinced back then that this subject would never be released in injected plastic in 48th scale.
Through the years I acquired a few more through different avenues. I sold one to a hobby friend to build for a mural for VC-6 when they flew the AJ-1 SAVAGE with CDR Dick Ashworth being the CO of that squadron at the time. Another one I sold to another entity so that they can eventually make an injected version of the model in 48th scale. I never sell the stellar Collect-Aire kits to be copied in plastic but this one was not one of those.
After having built this kit and in retrospect, I have to say that the master was not so bad after all. Maybe a little poorly researched but acceptable for an AJ-2. What was not so good was the resin execution.
Do not even bother building this kit, if you can find one, if you do not have the Ginter book. It has all the info you need for a good build.
Out of the box you can do only so much. The canopy framing is the biggest limiting factor as there were many variations and only one is good for the later bomber. For the recon version you need mods. The kit supplies a poor representation of the 2P nose and you need a lot of work to get there.
I built this kit back in 2000 when my experience with resin kits was still limited but my enthusiasm was not! The cockpit was not bad, even if a bit sparse and I added a lot of scratchbuilt details to spruce it up. The bomb bay was very detailed for such a kit and such time era and I left it alone. I also added details to the landing gear. One thing I missed was to open the small aux air intake vent on the front of the nose cone. The model was built using the kit decals.
It is a very impressive model when done. My good friend 'Bondo' Phil (RIP) liked it very much when he visited me with his wife and grandson some years ago on his way back from the California NATS and he built his as a recon AJ-2P variant
and did a much better job than I did.
I am not sure when the plastic Savage will be out. No development has started as far as I know. Until then, and I hope this is not case, this is the best Savage in 48th scale!