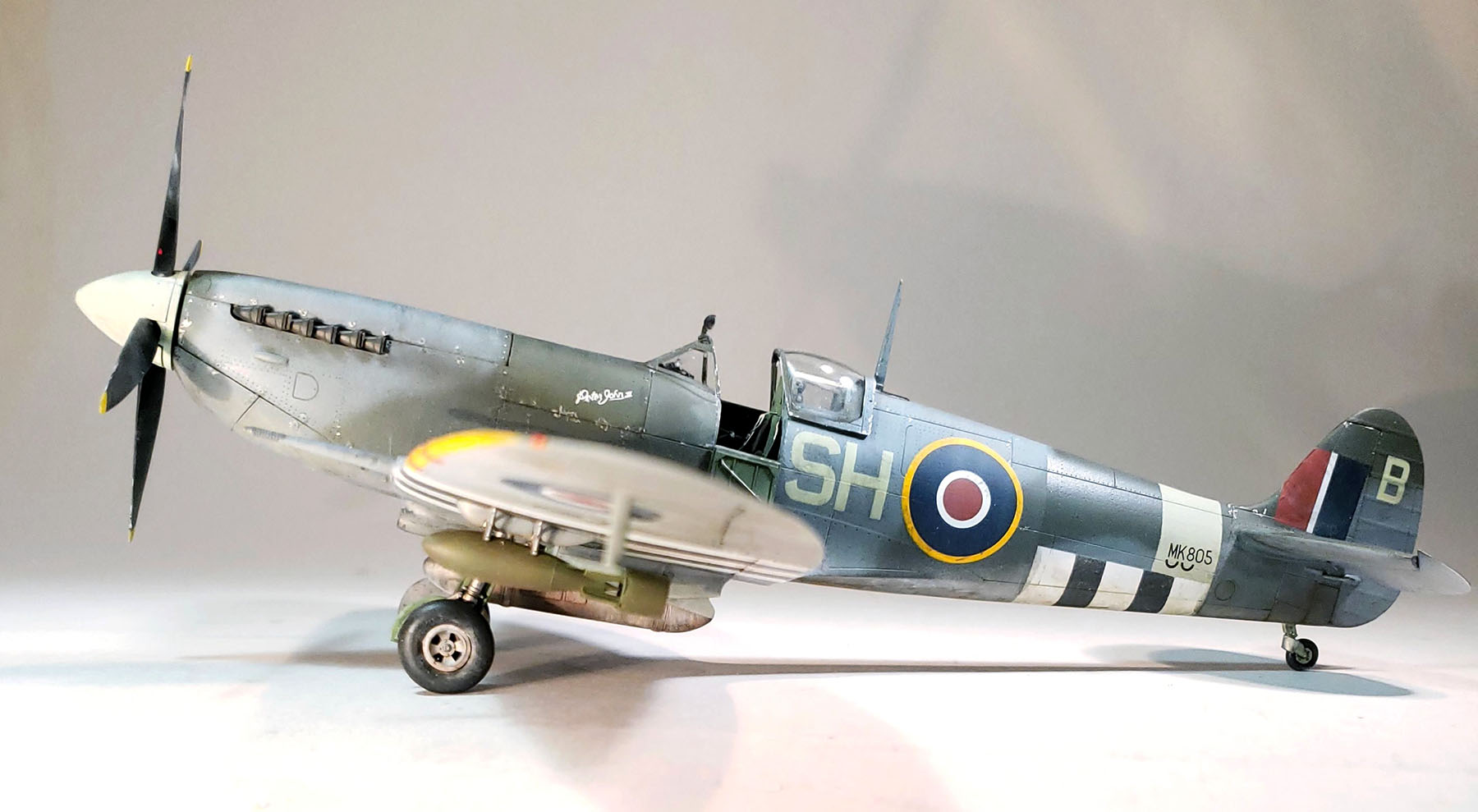 Eduard 1/48 Spitfire Mk.IXb Build Review
| | | | |
| --- | --- | --- | --- |
| Date of Review | December 2019 | Manufacturer | Eduard |
| Subject | Spitfire Mk.IXb | Scale | 1/48 |
| Kit Number | 84136 | Primary Media | Styrene |
| Pros | Cockpit is amazing, great surface detail, best ever injected exhaust | Cons | Two-piece upper engine cowl, complex wheel wells, fiddly radiator assemblies |
| Skill Level | Experienced | MSRP (USD) | $49.95 |
Build Review
No need for a history lesson on the Spitfire. If you are looking at this article, you know what a Spitfire is. But this article is about the real troubles you find on an excellent kit. Just a normal day at the bench you could say. So I started out with one of my favorite kits in years. The Eduard 1/48 Spitfire Mk.IXc. Specifically the 84136 Eduard "Weekend Edition." You can find a full build article on this site here.
I think the stock kit cockpit is just fine without a ton of extras. But there are a few companies that make excellent upgrade kits if you feel like going that direction. I find some aftermarket seatbelts and a few bits of wire strategically placed will be more than enough for most model builders.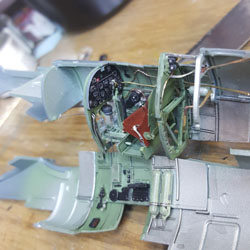 I painted it using ModelMasters Acryl British Interior Green and Vallejo Silver with controls and panels painted flat black. The seat is a custom mix to try to match the bakelite seats. This is done to your taste. There is not a definitive color or version that you can categorically state is the definitive version of any Spitfire cockpit. The assembly of the cockpit is straight forward and easy. All the parts are clearly marked in the instructions and there really are no surprises. I will admit that part F40, the little bar that ties the headrest back to the next fuselage bulkhead is a little funky to get straight but take your time and it shouldn't be a big deal.
I added some more wire and detailed up the areas with a black wash and picked out other details with a silver Pentel Gel Pen. Since I wasn't super detailing the cockpit, I used the decal instrument panel. What a surprise. It came out very good. I used a drop of Future Floor Polish in each dial and dry brushed a very very light grey wash on it. I think it came out just about as good as the photoetch panel that comes with the Profi-Pak. The Fuselage went together easily. Now to the wings and decisions that need to be made.
Since I had already built an Mk.IXe and an Mk.IXc, I wanted to do something a little different. I stumbled on a Mk.IXb from the Xtradecal sheet X48172 Spitfire MK805 SH@B flown mainly by "Peter John III", 64 Squadron, pilot F/Lt. Anthony Cooper, in the Summer of 1944. It had unique Invasion stripes, external tank, and some wing mods to bring it to an Mk.IXb configuration without a lot of work.
I looked everywhere for some kind of reference and found nothing. So I pressed on with what I thought was an Mk.IXb wing modification using an old resin conversion set for the bulges and an old P-47 prop tips for the smaller bulges closer to the fuselage. I filled and sanded some panel lines, added a few more from a line drawing I found in one of my research books. The wing modifications were easy enough. Cut off the unused inboard gun ports and replace the outboard ports with brass turned cannon barrels from RB Models. Image 05
The assembled wings glued to the fuselage as any standard construction you would do. I did use part G55/G56 "bump-less" wing roots. Fit was perfect and the only modification I did was for the short carburetor intake which comes in the kit but is supposed to be discarded for the Mk.IXc Late engine. I used a Barracuda engine upper cowl for early model Spitfires since the Mk.IXb was a transition aircraft to the "c" wing and an Eduard Brassin resin drop tank #648108. Image 06 and Image 07
The rest of the build was just standard construction. I got it primed and sanded and it was off for pre-shading. I used Vallejo for the remaining of the paint in accordance with the Xtradecal decal sheet. I also painted the 10" smaller invasion stripes using Tamiya low adhesive tape. My biggest complaint is the exhaust stacks. I just have never gotten a good feel for how they are assembled and fit in the engine cowl. It never looks right or feels right to me. Next time I am going to spring for some aftermarket stacks for my next Spitfire build. Image 11 and Image 12 and Image 13 and Image 14
Well I found a pic of MK805 and then discovered the aircraft is actually still with us! It had survived the war by losing an engine in Belgium and having to belly land. F/Lt Cooper got out unhurt and was returned to England two days later. Maintenance recovery teams got the aircraft and returned it to England where it was refurbished and put back in action in Italy. The war was focused farther North and the plane never flew a combat mission. It eventually became the gate guard at the Nettuno Firing Range where it sat for years. Eventually a group of aviation enthusiasts got the aircraft and restored it. MK805 is now a part of the Vigna di Valle Museum in, Rome Italy.
In my determination to build an Mk.IXb, which was clearly identified on the decal sheet, I had glossed over the fact that MK805 is an Mk.IXc. A period black and white photo clearly shows the wing as a "c" wing and modern photos of the restored (which you can't always use for reference) shows the same "c" wing bulges and cannon. Once I was finally convinced of MK508's true identity I decided…..well, it is what it is. Better luck next time. I am finishing this as is even though it goes against my style of building actual aircraft. Maybe later, I will repaint it and decal it but right now, it got added to the display shelf and I am off onto another project.
I think the Eduard kit is a fantastic kit. I enjoy building them and will continue to build more of these kits. They are predictable and the end result is always satisfying to the eye. You can superdetail it with open engine and machine gun bays or enjoy a Weekend Edition. It is well supported by Eduard and the aftermarket community.  I consider this to be the best kit in 10 years. But you could argue with that for sure.