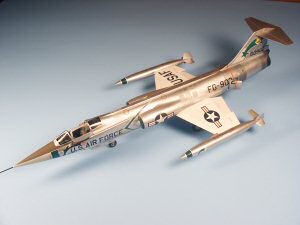 Hasegawa 1/48 F-104C Starfighter Build Review
By Boyd Waechter
| | | | |
| --- | --- | --- | --- |
| Date of Review | May 2007 | Manufacturer | Hasegawa |
| Subject | F-104C Starfighter | Scale | 1/48 |
| Kit Number | 07219 | Primary Media | Styrene |
| Pros | Beautiful detail, nice fit throughout | Cons | |
| Skill Level | Basic | MSRP (USD) | $29.50 |
Background
Since the release of Hasegawa's 1/48th scale F-104 series, there have been a great number of kit and building reviews on these Starfighter models, almost as many as those for the Mustang and P-47's! Rather than tell you again about the finely engraved panel lines, great clear parts, and gorgeous detail, I want to instead expand on some of the notes I took while building and decaling this F-104C variant.
I chose to build a 'C' model because I wanted to use a set of the markings off of the Victory Productions Starfighter sheets, VP48005. Four, letter size sheets make-up this set of decals that include markings for 20+ aircraft of all variants used by the USAF and NASA, both single seat and two seat aircraft. I also did not want to use the kit decals, because I have seen this airplane built-up several times and I wanted something a bit more unique. Until my very recent retirement, I only had 3 to 4 hrs per week to model, so I elected to build the kit OOTB due to my time limitations and the superb detail of the parts.
The Build
The cockpit parts in the kit are pretty good, though the seat lacks some of the belts it should have. Aires, Meteor, Verlinden, and Black Box all make replacement cockpits for this kit (and the two seater), so the choice is yours. I personally like the seats done by Meteor, and to save a few dollars, David Klaus sells the Martin Baker seat (used in most foreign F-104's) and Lockheed C-2 seat separately from the cockpit parts in case you want to use the kit tub with just an aftermarket seat – nice Idea David. With the canopy open, the ejection seat really stands out in this small cockpit, so I would suggest that you at least replace this item when building the model. But, a good paint job and some fine brushing will make all of the kit cockpit parts very usable. One thing I might mention concerns the installation of the instrument panel. If you follow the instructions and add it in Step 7, it is very difficult to get it in place correctly. I suggest you add it to the cockpit tub in Step 5 prior to gluing the fuselage halves together. I didn't and I ended-up having to remove the control stick in order to get the panel into the proper position.
The main gear is very well detailed and has a large number of parts. I will suggest test fitting the main gear into place and add all of the braces prior to painting. This will ensure you get them glued in place at the correct angles without marring your finish if you elect to add them later on. After painting everything silver, I gave the entire main gear assembly and wheel wells a thin wash of black using "Black-It-On", a water soluble black wash that is premixed, but can be thinned out with a bit of water if too heavy out of the bottle. This stuff is made by Long Enterprises in Fort Lauderdale and can be bought thru Micro-Mark.
Everyone seems to have their favorite natural metal finish, from automotive lacquers to Floquil's Bright and Old Silvers. For years I have been using Model Master Metalizers with great success and can easily mask over them if a couple of precautions are taken. Although they look thin in the bottle and ready to spray, I mix these paints at a ratio of about 1:1 with lacquer thinner and give the model 2 to 3 coats of non-buffing aluminum as a basis just misting it on and allowing a couple of hours of drying between applications. Once I'm satisfied with the coverage, I let the model set for 3 to 4 days before I start doing any masking for the tonality. On the tail section of the F-104C, I used various shades studying color photos as I went. The upper sides of the wings were painted Testors gloss white, the bottom sides Model Master gloss ADC grey. After the decals were all on, I gave the wings a thin coat of Humbrol Satin finish to dull them down somewhat.
Now to the Victory Production decals. As I wrote above, I chose to do a "Screaming Eagles" aircraft from the 435th TFS, 479th TFW with green shooting stars on the tail and green trim on the fuselage, nose, and wing tanks. The 434th TFS with the same markings, but in red, is one of the options on the kit decal sheet. The quality of Victory Production decals is just outstanding, but unfortunately, all four sheets had been printed about 15% too large making it very difficult to use them. For example, I had to cut-up the green trim on the shock cones into four pieces and let them overlay each other a bit to get them in place. I did use the shooting stars on the tail, forward fuselage, and wing tanks, but out of frustration, I ended up painting on the green nose and wing tank colors and then outlining them in white using some Scalemaster white stripes. I attempted to use the sheet's USAF letters for the wings putting them on individually, but when I got to the letter F it was partially on the wing tank! So, I ended-up putting down most of the major decals (letters, numbers, national insignia, etc.) from various Superscale sheets, using the kit decals, and some from my scrap box. I was really disappointed with this situation, because now I am leery of using any of the other decals from this multiple set on other 104's I would like to build, particularly the NASA F-104N's. I do not know if Victory Productions has corrected the problem, but I understand the decal sheet may be out of production. I might also mention that the Hasegawa decals that I used from the kit were first rate and laid down with no problems whatsoever. I use MicroSol to set the decals in place and then came back with either MicroSet or Solvaset to get them to snuggle down into the rivets and panel lines.
Conclusions
As all of the previous reviewers have written, this is indeed a really great kit and you can easily end-up with an awarding winning effort with an OOTB model. There are a lot of parts to this model, but by following the instructions and doing a bit of test fitting, it presents no problems. The fit of the parts is so tight that I did not use any putty on this model. The wings were painted, decaled, and then added to the model last. There must be nearly 100 aftermarket items for these series of kits, so no matter if you build it OOTB or want to go hog wild, I can guarantee you a lot of hours of pleasure building this model.